Bihar panchayat polls hit rural job schemes
While the model code of conduct doesn't disallow work on ongoing projects, no new scheme can be launched as long as it's in place.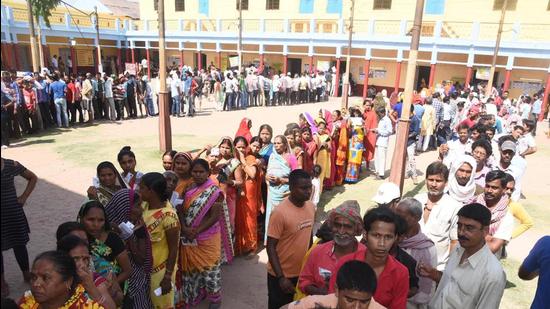 Published on Sep 02, 2021 09:42 PM IST
The model code of conduct for the 11-phase panchayat polls in Bihar, which came into effect on August 24 and will remain in place till the conclusion of he poll process in December, is set to hit the state's target of creating over 20 crore mandays to provide jobs to the rural poor under MGNREGA (Mahatma Gandhi National Rural Employment Guarantee Act), as also the construction of several lakhs of rural affordable houses under Pradhan Mantri Awaas Yojana (Grameen) during this fiscal, officials familiar with the matter said.
While the model code of conduct doesn't disallow work on ongoing projects, no new scheme can be launched as long as it's in place.
Officials said the panchayat polls, staggered from September to December, would consume four precious months during which new land related work is launched after rainy season.
The biggest impact of the disruption, officials said, will be on the rural poor, including migrants, who returned home over the last two years amid the Covid-19 pandemic and the consequent lockdown that led to loss of jobs.
Officials said work on creating assets like ponds, ahars, pynes and renovation of buildings would remain at a standstill. In last five months, the government has created 9 crore man days against its target of 20 crore for this fiscal.
Floods in over 20 districts have already slowed down the job creation associated with the afforestation drive to plant two crore saplings by job seekers under the rural employment guarantee scheme. Sources said 1.25 crore saplings have been planted so far and the afforestation drive is likely to remain a bit slow in the next few months.
"Panchayat polls will affect our target of creating man days as September to December is a key time when land related works are done," said C P Khanduja, director, social forestry, and commissioner, MGNREGA.
Khanduja said they had instead expected to increase the target to 24-25 crore man days but the slowdown in works could hit the progress.
MGNREGA is a flagship centrally sponsored scheme to provide at least 100 days of work to unskilled workers holding job cards.
"We do hope we will be meeting the target of 20 crore man days under MGNREGA because we will have at least three months, from January to March, to speed up works," he said.
Khanduja said the average creation of man days for job card holders would be around 1.25 crore during the period of model code of conduct.
Similarly, construction of rural houses under PMAY(G), wherein beneficiaries having land are given monetary assistance ( ₹1.30-1.50 lakh) to make their houses concrete (pucca) from is also set to take a hit. Officials said the backlog of completing around four lakh houses from last year's targets and construction of new houses as per this year's target of 11.49 lakh houses will be severely impacted.
"As the rural polls are highly localised exercise, it will be difficult to convince beneficiaries to complete their houses as there are issues of logistics and rural labour. Monitoring is another issue as majority of rural officials at the panchayat level would be engaged in poll exercise," said a senior officials in the rural development department.
Close Story