Jagdanand raps MLA son for jibe at Nitish Kumar
Jan 04, 2023 09:20 PM IST
In his first reaction against his son's utterances, Jagdanand Singh said that such disparaging comments made by Sudhakar are not acceptable
State unit president of the ruling RJD in Bihar, Jagdanand Singh, on Wednesday admonished his MLA son Sudharkar Singh, who has kicked off a storm with his disparaging comments against chief minister Nitish Kumar.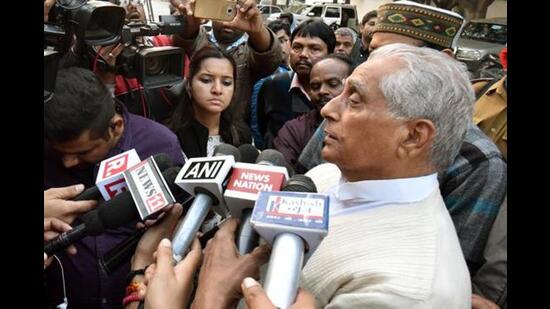 In his first reaction against his son's utterances, Jagdanand Singh said, "Such disparaging comments made by him (Sudhakar) are not acceptable. This is not tolerable at all."
Asked whether the party would take action against Sudhakar Singh, he said it was a matter to be decided by the RJD chief Lalu Prasad. "The RJD chief would look into the matter. He is the only one authorised to take action in these matters. Nobody else in the party can take a call in the matter," said the RJD veteran, who is a close aide of Lalu Yadav.
On Tuesday, deputy CM Tejashwi Prasad Yadav too had echoed similar sentiments, saying the party had taken Sudhakar Singh's disparaging comments against CM Kumar seriously and the matter would be looked into by the ailing RJD chief, who is still undergoing treatment in Singapore after a kidney transplant operation in December last year.
Earlier this week, Sudhakar Singh had likened Nitish Kumar to "Shikhandi", a eunuch character in epic Mahabharata, angering the chief minister's party JD-U.
This is the first time Jagdanand Singh has admonished his son publicly. Last year, when Sudhakar, as agriculture minister, had made allegations of corruption in his department and demanded restoration of agricultural produce marketing committees scrapped by CM Nitish Kumar in 2006, Jagdanand had defended him.
"Sudhakar has raised issues of farmers in the state. There is nothing wrong," the RJD state president had said when Sudhakar was under fire from the JD(U) for embarrassing his own government and opposing CM Kumar's policies.
Later, Sudhakar was forced to resign. The RJD state president, apparently annoyed by the unceremonious exit of his son from the state cabinet, had stopped coming to party office and even skipped its national council meeting in New Delhi. Singh resumed his work as the state president only in December, after his re-election as the state unit president.
Meanwhile, JD(U) leaders continued to demand action against Sudhakar Singh. Party MLC Rameshwar Oraon said that RJD should take immediate steps against the MLA . "We will not tolerate any disrespect of our CM. We are silent because we have been asked to stay calm. Otherwise, we also know to give a befitting reply," Oraon said.