22-year-old drowns in swimming pool at private bungalow in Khandala
Jan 04, 2023 09:42 PM IST
During the investigation, police found that no safety and security measures were in place at the private bungalow
An outing by a group of eleven friends from the city ended in tragedy after one of them drowned in the swimming pool of a private bungalow in Khandala in the early hours of Wednesday. This is fourth such incident in Lonavla since July 2022.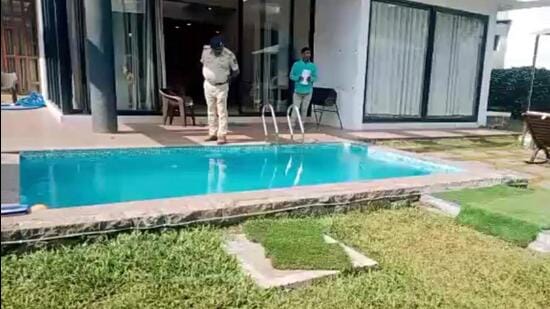 During the investigation, police found that no safety and security measures were in place at the private bungalow.
The deceased has been identified as Nikhil Sampat Nikam (22), a resident of Thergaon in Pimpri-Chinchwad. According to police, he was a computer science professional and was working in a private firm in Pune.
According to police, eleven friends working in a private company in Pune had gone to Lonavla to celebrate the birthday of one of them Gunratan Kulkarni. To celebrate his birthday, they had booked Palm Villa bungalow in old Khandala.
Police officials from Lonavla police station said, "Eleven friends arrived in Lonavla in two different vehicles on Tuesday to celebrate the birthday and moved into the bungalow in the old Khandala area that they had booked. All spent the night partying and also drank liquor. At night around 3:30 am they came to know that Nikam is missing and hence initiated a search operation. One of them found Nikam drowned in the swimming pool on the ground floor. They immediately rushed him to Sanjivani hospital where he was declared dead.''
They then informed his parents and the police. The police team immediately rushed to the spot and shifted the body for post-mortem.
According to police, all were under the influence of alcohol and as a result of which Nikam accidentally fell and drowned in the swimming pool.
Police found that no safety and security measures were in place at the private bungalow. Even after strict instructions from the police, there were no lifeguards present at the site. Police further confirmed that the CCTV cameras installed at the bungalow were dysfunctional hence they did not get any CCTV footage for investigation purposes.
Pandit Patil, chief officer of Lonavla municipal council, said, "This particular swimming tank is legal.''
After two swimming pool deaths in July, the Lonavla Municipal Council made it mandatory for the owners of the bungalows with swimming pools to legalise their swimming pools before bungalows were rented out to tourists.
Patil said, recently they had conducted a survey of bungalows with swimming pools and found that almost 50% of swimming pools in such bungalows were running without authorisation.
"We have issued notices to owners and asked them to produce necessary documents. After scrutinising all documents, we will decide on it,'' Patil added.
Officials said, considering the high rent for such bungalows, many owners constructed swimming pools without taking proper permission and following safety norms. The council has appealed to people to check the necessary safety measures while renting out such villas.
Past incidents
July 28, 2022: A 13-year-old boy from Byculla Mumbai was electrocuted after he accidentally came in contact with an electric pole in a private villa in Lonavla.
July 13, 2022: A two-year-old boy drowned on the eve of his birthday in a swimming pool at a bungalow they had rented in Lonavla. A Nashik-based family had booked a bungalow to celebrate the child's second birthday. The boy was drawn by some pool toys and entered the water.
November 27, 2022: A two-year-old girl drowned in a swimming pool at a bungalow in Lonavla. The police said the girl's family had come from Dombivli near Mumbai to the hill station in the Pune district for an outing. The incident occurred when some of the family members were having breakfast when the toddler managed to reach the swimming pool and fell in it.