Cattle run over incident halts railway movement on Pune-Lonavla route for 35 minutes
Updated on Aug 09, 2022 01:12 AM IST
A cattle run over incident on Monday occurred when a train was coming from Lonavla to Pune, halting all train movements for 35 minutes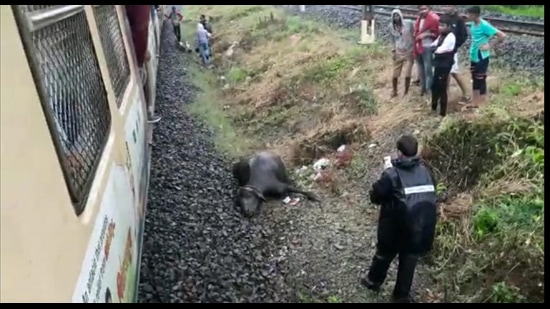 A cattle run over incident on Monday occurred when a train was coming from Lonavla to Pune, halting all train movements for 35 minutes.
The incident occurred when the train was passing from Ghorarwadi station which falls between Talegaon and Dehu road. A bullock came between the bogey and the engine. The incident happened at 6.15 pm and the track was cleared by 6.50 pm.
"Major trains did not get delayed as the track was cleared in half an hour. All the following local trains are running on time. Such incidents happen occasionally on this route," said Manoj Jhawar, public relations officer with the Pune rail division.
The Pune railway division increased four local trains from Monday. Earlier 13 local trains were running between Pune and Lonavla.
"As commuters are increasing we are increasing trains between two stations. We will add six more trains by August 15," said Jhawar.
Personalise your news feed. Follow trending topics