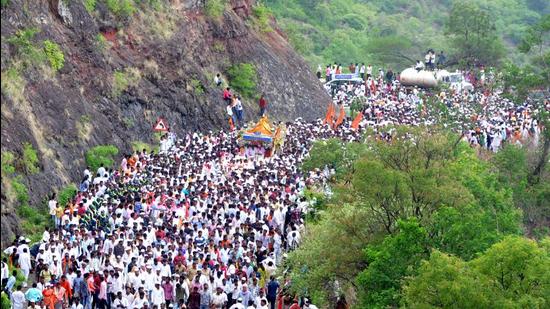 Decision on Wari processions to be taken by CM next week: Ajit Pawar
The current situation of Covid is also not good and in such extreme conditions we need to be extra cautious about the safety of people, said Ajit Pawar
By Dheeraj Bengrut
PUBLISHED ON MAY 29, 2021 04:37 PM IST
Deputy Chief Minister of Maharashtra and Pune district guardian minister Ajit Pawar said on Friday that the decision on the annual "Ashadhi Wari" processions will be taken by chief minister Uddhav Thackery next week.
Pawar held a meeting on Friday along with various representatives of the Warkari community and temple trustees of Sant Dnyaneshwar Alandi Devsthan and Sant Tukaram Deu Devsthan. The meeting was held at the Vidhan Bhavan, Pune and state home minister Dilip Walse Patil along with other ministers and senior government officials were present.
"There is a significant importance to the Wari tradition in our state, but due to Covid-19 pandemic, it couldn't happen last year. The current situation of Covid is also not good and in such extreme conditions we need to be extra cautious about the safety of people," said Pawar.
"I am taking forward all the suggestions and expectations given by the Warkari community to the state ministry and the final decision will be taken by the chief minister," he said.
Advocate Vikas Dhage Patil, the trustee of the Alandi temple committee, said, "Warkari community is ready to follow all the rules and regulations. State government can decide how many people can attend the procession."
This year's Ashadhi Wari first prasthan from Dehu of Sant Tukaram Maharaj Palkhi is scheduled on June 14 and a day later the Sant Dnyaneshwar Maharaj Palkhi will move towards Pandharpur. Whereas the Ashadhi Ekadashi the day when both the Palkhis reaches Pandharpur is on July 5.
Close