Farm policies of Modi govt in same direction as UPA: Sharad Pawar
Jan 22, 2023 10:41 PM IST
Nationalist Congress Party (NCP) president Sharad Pawar has expressed satisfaction over the current, Prime Minister Narendra Modi-led government's agricultural policies which he claims are in the same direction as those framed by the Congress-led United Progressive Alliance (UPA) government between 2004 and 2014 of which he was part as union agriculture minister with his party a constituent of the UPA government
Nationalist Congress Party (NCP) president Sharad Pawar has expressed satisfaction over the current, Prime Minister Narendra Modi-led government's agricultural policies which he claims are in the same direction as those framed by the Congress-led United Progressive Alliance (UPA) government between 2004 and 2014 of which he was part as union agriculture minister with his party a constituent of the UPA government.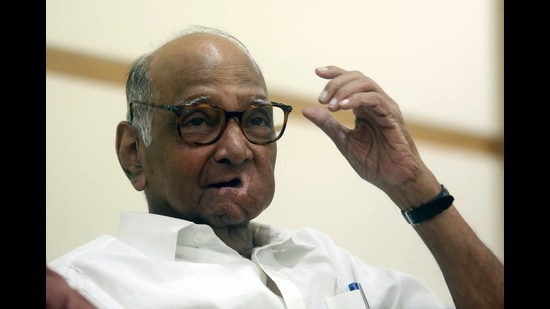 "During our times, the policies we designed, are now being implemented on a bigger scale. We saw in the exhibition here that 80 to 90% of the decisions we took when we were in power were to take the country in a particular direction. Today, steps are being taken to go in that direction which is a good thing," Pawar said while responding to a question about the agricultural policies of the Modi government vis-à-vis those in the UPA era.
Pawar said that the farm output has now increased because of the farmers' hard work. "I don't think the agricultural policies of the current times are weak. When I relinquished the ministry, the farm output was 252 million tonnes. Now, we have taken it beyond 300 million tonnes. This is due to the farmers' hard work," he said.