Global Village Idiot: New-age katta support base
Aug 26, 2022 05:06 PM IST
If you have lived long enough in Pune city, walked around the city, know the different aspects of the city's culture, its seasons, you learn that people here make the time to have deep conversations about life matters
I have been a Puneite (cosmo term) for 26 years now and while I haven't quite been able to become a proper Puneri (salt of the earth term) on account of my Mumbai lineage and upbringing, some of my Pune friends have come to consider me part of their katta, the extended family. And in turn, there are many who are part of my katta.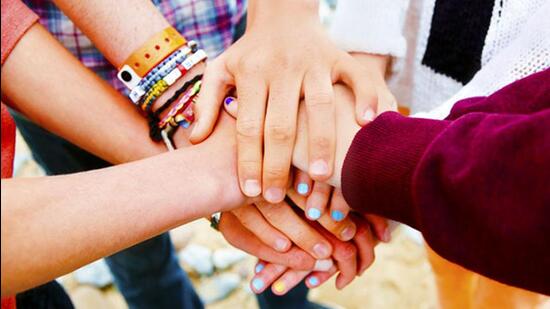 Last week when my friend Vinod Hanchat from Dhayari called to tell me he was blessed with a baby girl, I started smiling as I always do when I am talking to him.
I met Vinod when he was in his early twenties, a restless, energetic, and highly creative youngster. Originally from Solapur Vinod came to Pune as a teenager to study at the iconic Abhinav Kala Mahavidyalay. Over the past decade and a quarter, Vinod has grown up to become a wise man, a guardian of good traditions, a builder of relationships, a learner of new attitudes and skills open to new influences but always grounded in his traditional value system. As he was telling me about the baby, I realised he had always unobtrusively included me in what's happening in his life, his marriage, his growth, preparations for Ganpati celebrations, daughter's education, discussing options, asking my opinion, and asking after my family and always being there in times of difficulty and little joys.
A month ago, another creative youngster from Warje, Ketan Bhate had shared an achievement that was important to him, an award he won from his company. Since we had worked and problem solved together for the better part of a decade, we have always kept in touch and I felt moved by his gesture to share the update. Ketan is the kind of professional I prefer working with - focused only on learning, performance, and finding solutions to challenges without getting distracted by angst or external factors. Very mature for his age, Ketan always knew what matters. A talented music composer and an intelligent programmer, like Vinod he is first a supportive spouse, doting father, responsible son and citizen, and then a professional or artist. As I think of his family, I am smiling because they also share a similar value system: to connect, build, and strengthen their social relationships with sincere and genuine affection.
Also in Dhayari lives Onkar Tarkase. I have just met him, three months ago. A brilliant music producer, singer and composer, Onkar (whose Sanskrit name literally means the sound of the sacred syllable, Om) is an uninhibited, open communicator who has invited me into his life simply by talking about important existential matters in an everyday manner. I have been listening to his latest single, Aana Tera, most evenings and it reflects his positive personality, global awareness and traditional value system.
Across town in Kondhwa, lives Tarannum Attar. We spoke earlier this week (after quite a few months), and I got caught up in the energy and excitement about the new role she has just transitioned into, the awe that she feels for her company, Michelin and its sincere employee-centric thought process. A natural leader built for the evolving digital age, Tarannum is grounded in traditional values of continuous learning, sincere social relationships, honest communication, and goodwill to society.
Another person I talk to with some regularity is Aarti Irani, who heads communication and public relations at Jehangir Hospital. We have known each other since we were colleagues at a national newspaper two decades ago. Catching up with Aarti is always informative since she's very tuned in to the city, but what makes it fascinating is her unique take on situations. She is a natural social connector (tweaking a phrase from Malcolm Gladwell's Tipping Point and Outliers) and she brings a diverse range of perspectives to any dialogue since she straddles many worlds. Conversations go seamlessly from healthcare to technology to design to children's education to anything under the sun and all with a treasure trove of meaningful information.
A few weeks ago I also spent a good hour talking to Taher Shaikh, the Chief Business Officer of Pansoft Technologies. A deeply philosophical technology business analyst, young father, and articulate thinker, Taher is adept at connecting complex concepts to every day contexts, provide meaning to technology products in a manner that anyone from management executives to laypersons can understand. In fact, it was a series of conversations with him that led me to study blockchain. We usually talk in hypothetical contexts since the dialogues essentially serve to help both of us understand matters that are out of our respective areas of knowledge.
Going back across town to Ravet is artist Sanjay Khilare. We exchange messages once in a while but I have been meaning to visit his house and studio since he's a fascinating individual. His studio is full of sculptures and paintings and artworks that he creates as a response to social and existential challenges he perceives in society and the depth of his thought process combined with his ease of communication in Marathi, Hindi and English keeps me occupied for hours.
And that's what I love about Pune. If you have lived long enough in the city, walked around the city, know the different aspects of the city's culture, its seasons, you learn that people here make the time to have deep conversations about life matters. May not be every day, maybe once a year or once every few months, but they connect sincerely, matter-of-factly with no whining.
The physical katta may not be as prominent a fixture around the city these days, but the concept of the Puneri katta is very much ingrained in our consciousness. And true to their nature, Pune citizens are busy innovating in the face of digital age realities to transform the katta to a space-agnostic concept, evolving across linear timelines and social fabrics. My katta is currently very extensive and it ranges from all corners of Pune to Mumbai, Kolkatta, Kaza and Bengaluru to Boston, Singapore, San Francisco and beyond. We all make and expand and modify our katta as we grow and evolve.
After all, at the end of the day, the katta was and still is a support system to understand and negotiate through life.