Old Mundhwa Road residents bear brunt of Pune civic body's lax approach
Jan 06, 2023 11:44 PM IST
Residents here have been irked by unregulated traffic diversions, illegal parking, footpath encroachments, and bad road infrastructure
As the city prepares to welcome G20 delegates with refurbished roads and structures, the infrastructure on internal roads in the city continues to suffer and one such area is Old Mundhwa Road. Residents here have been irked by unregulated traffic diversions, illegal parking, footpath encroachments, and bad road infrastructure.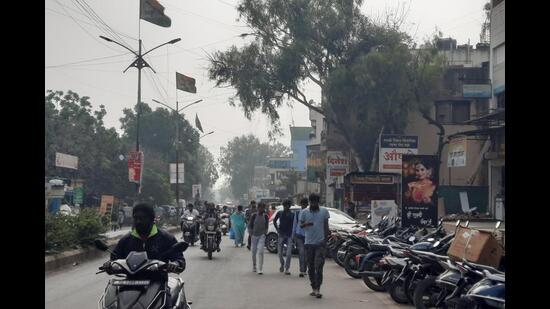 Old Mundhwa Road, a stretch home to Chandan Nagar police station, has continued to pose a threat to commuters and pedestrians.
"A large crowd of labourers gather every morning to wait for the bus, obstructing traffic movement and pedestrian space as there lacks a proper bus stand facilitating this process. The traffic movement generally is highly unregulated with both sides being crowded with pedestrians and vehicles. The road in itself is highly unruly in construction and has multiple potholes risking our already dangerous stride through the street," said Jaikrishna, a resident of a housing society located on Old Mundhwa Road.
The footpaths are encroached by stalls, illegally parked vehicles, and abandoned stalls too sometimes, said the residents. Upon inspection, it was found that the road's bus stop is a crowded turning corner on the street, causing reckless accidents and unprecedented jams.
"The footpath is encroached by stalls and illegal parking. As a senior citizen, it is almost impossible for me to walk through the area," said MV Kalyankar, another resident.
Madhav Jagtap, deputy commissioner, anti-encroachment department, said, "Shops extending to the road and obstructing pathways will not be tolerated. We will send notices to the respective stalls, and if the same is defied, they will be shut down completely, sealing their stores."
The Kharadi bypass turning to Old Mundhwa Road can be a hassle for most commuters as no traffic warden attends the junction. Vehicles rush contesting to reach while moving in prohibited lanes and directions. When asked about any action that has been taken regarding this, police inspector Santosh Sonawane, Viman Nagar traffic police division, said, "The ward office has so far not observed any cases reported regarding this so far. We look at the highways and main roads, but the inside lanes can sometimes pose huge problems. We try to keep a check, however, once this has been reported regular inspection will be done. I will be personally looking at the matter and take immediate action."