Pune-Mumbai route: Pragati Express resumes service, gets Vistadome coach
Published on Jul 26, 2022 12:37 AM IST
After two years, Pune-Mumbai Pragati Express, a daily intercity express train, resumed service on Monday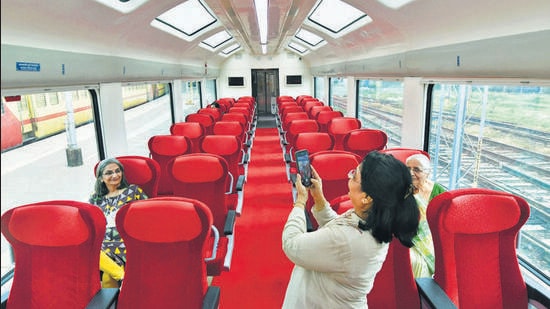 PUNE After a gap of two years the Pune-Mumbai Pragati Express, a daily intercity express train plying between Pune and Mumbai, resumed service on Monday. It is one of the major trains which provide intercity service and has 15 coaches.
The third Vistadome coach was also introduced in the Pragati Express (train no. 12125/12126) beginning its journey from Pune towards Chhatrapati Shivaji Maharaj Terminus (CSMT) Mumbai.
"Passengers of Pragati Express will have an add-on experience of viewing the other side of Matheran hill as it will traverse through Karjat – Panvel route to Mumbai apart from enjoying the scenic beauty and experience being with nature while Songir hill (near Palasdhari), Ulhas River (near Jambrung), Ulhas Valley, areas of Khandala, Lonavala, etc. and the waterfalls, tunnels on south-east ghat section," said Manoj Jhawar, Pune railway division spokesperson.
"The unique Vistadome coaches, have a glass rooftop has several extra-ordinary features like wide window panes, LED lights, rotatable seats and pushback chairs, electrically operated automatic sliding compartment doors, wide side sliding doors for Divyangs, etc. Last but not the least, the viewing gallery," he said.
There is also a demand from passengers to increase the coaches to 20 as it is beneficial for thousands of people who travel to the Konkan region via Panvel.
Harsha Shah, the president of Railway Pravasi Group, said, "We are happy that the Pragati Express train has resumed service. As it goes via Panvel station, it is one of the important trains for thousands of passengers travelling to the Konkan region. Soon the Ganpati, Navratri and Diwali festivals will start and there will be a rush of passengers going to their villages. So, the coaches should be increased to 20 from the existing 15 coaches."