Slowing economy, shrinking jobs: India has a 'missing middle' problem
Updated on Oct 02, 2017 07:26 AM IST
Experts have warned against the risks of the 'missing middle' – mid-sized companies that bridge the gap between limited large-sized firms that have lesser jobs with higher growth and small-sized firms with more jobs but slow growth.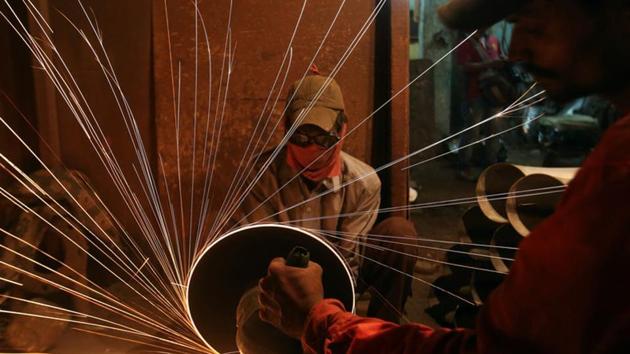 The horrific tragedy at Mumbai's Elphinstone Road station could have been averted if authorities had acted on earlier warnings that a stampede was waiting to happen on the foot overbridge at this important landmark on the city's local rail network. The 35-year-old bridge was long declared unfit to handle the tens of thousands of Mumbaikars who use it for their daily commute to Parel – now a major hub of commerce and finance. Yet, no urgency was shown to build a new bridge, and when a stampede did happen this Friday, it took 23 precious lives.
Much like the tragedy in Mumbai, the Indian economy is fast sliding into a full-blown crisis because policy makers have either ignored or failed to address a major gap in its growth story – the "missing middle" in manufacturing. In economic parlance, the "missing middle" refers to mid-sized firms that typically employ workers in the hundreds, with a turnover of $2 million to $100 million.
Historically, these mid-sized manufacturing units played a key role in the capitalist transformation of economies like the United States or in the rapid economic expansion of Asian economies such as Japan, South Korea and Taiwan. They not only drive productivity growth through innovation and efficient resource allocation but create new jobs and sustain a strong pool of middle-class consumers.
In contrast, India's manufacturing has thus far been the story of a limited number of large-sized firms and a preponderance of small, household enterprises, with a gaping hole in the middle.
About 50% of manufacturing jobs are in firms that employ less than 50 employees and a quarter is in firms with 500 or more workers (in most cases, these actually run in thousands), according to data from the National Sample Surveys conducted by the government. The former represents low-productivity, low-skilled manufacturing, which constrains the economy from growing faster, while the latter tends to lean on capital-intensive techniques and, therefore, creates commensurately lesser jobs with higher growth.
Ever since India switched from a mixed-economy to a market economy in the early 1990s, economists and experts have repeatedly pointed to the imminent risks associated with a failure to address the "missing middle" problem. The risks are now evident.
A Carnegie study titled "Can India Grow", published last November, provides ample empirical evidence over how the Indian economy is hobbled by the "missing middle," not just in manufacturing and farm production, but also in consumption and market fragmentation.
Citing a comparative study of 35-year-old firms in India, Mexico and the United States by the International Finance Corporation, the Carnegie paper termed the Indian experience as "deeply troubling." The IFC study found that the size of Indian firms had declined by a fourth since the time of starting up, while in Mexico it doubled and in the US, the average size grew 10-fold over the three decade period.
"As firms age, they are expected to get larger and employ more people," the Carnegie paper said. "Since India's experience is orthogonal to this expectation, something in the Indian business ecosystem is badly broken."
Indeed, the Indian ecosystem is badly broken; and it shows. First, the competitiveness of Indian exports took a hit and lately, the smaller enterprises have increasingly found it difficult to keep the domestic consumers from embracing cheaper imports from countries in Southeast Asia and China. This is reflected in either output contraction or sluggish growth in areas such as manufacturing of food products, electronics and electrical goods. This was highlighted in the previous edition of my column.
As a result, after an unprecedented five-year boom through 2004 to 2009, the Indian economy has steadily decelerated. The deceleration has gotten worse in the past year, thanks to such policy misadventures as demonetisation and a messy implementation of a nationwide goods and services tax. The broader economy expanded 5.7% in the April-June quarter, its slowest in four years, while inflation is beginning to firm up on the back of rising oil prices and a widening current account deficit.
Inequality has widened amid jobless growth; what was once seen as a demographic dividend in a nation of youth is being increasingly viewed as a liability with serious political and social consequences. The crisis has triggered a blame game within the ruling Bharatiya Janata Party and provided the opposition with fresh ammo to attack the government of Prime Minister Narendra Modi.
On his part, Modi can turn this crisis into opportunity, if he chooses to focus on the "missing middle. But make no mistake, there are no quick fixes. Building a robust class of mid-sized enterprises would require bold institutional reforms including scrapping of outdated labour laws, carefully crafted fiscal and monetary incentives, and, above all, a massive increase in investment in education to create highly skilled workers and trained entrepreneurs.
Modi could ask his newly set-up panel of economic advisors to design a comprehensive policy that addresses these issues. Most importantly, such an effort should resist any temptation of immediate results or electoral dividends. Modi should also know that fixing the "missing middle" problem holds the key to his vision of a "new India" by 2022.
Rajesh Mahapatra is the chief content officer, Hindustan Times.
Follow the author at @rajeshmahapatra
Personalise your news feed. Follow trending topics