Four key reasons why PM Modi is in the game for a second term | Opinion
Updated on May 19, 2019 11:10 PM IST
All upper castes have consolidated behind Modi. They see in Modi's BJP a force not just for Hindutva, but for what they see as "merit", which they fear the minorities and the "less meritorious" lower castes will take away because of their voting power.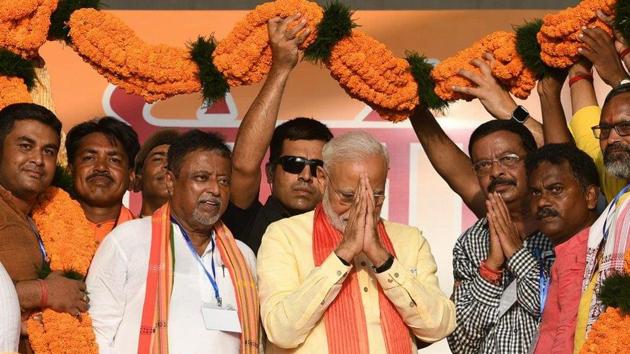 In his opening statement at his joint press conference with Bharatiya Janata Party (BJP) president Amit Shah, Prime Minister Narendra Modi pretty much declared victory in the elections. He also added that the 2019 electoral verdict will be that rare occurrence in Indian politics when an incumbent with a majority wins a second term, again with a majority.
The exit polls might have given us some indications, but we have to wait until 23 May to fact-check this claim. Given the state of our economy, massive, visible joblessness and farm distress, Modi's adversaries had reasons to expect overwhelming anti-incumbency. There has been very little evidence of that as yet (including in the exit polls). This may look counter-intuitive to those schooled in classical, old-fashioned analysis of the political mood. But in extensive travels tracking the campaign across the country, four points stood out. Whatever the BJP/National Democratic Alliance (NDA) numbers are finally, these four have greatly contributed to dulling the economic pain and anti-incumbency.
Here's a look at exit poll numbers:
1) A formidable new vote-bank: A new, pan-national, caste-based vote-bank has risen. It consists of the upper castes. Since 1989, these had leaned increasingly towards the BJP, but there were always divisions. Some Brahmins continued voting for the Congress for nostalgic reasons. Individual Thakur leaders swung some vote in the heartland, especially Uttar Pradesh. The Jana Sangh/BJP always attracted the upper castes, but the only caste really committed to them were the Banias. That's why Indira Gandhi always called them a "Bania party", never a Hindu party.
Now all upper castes have consolidated behind Modi. They see in Modi's BJP a force not just for Hindutva, but for what they see as "merit", which they fear the minorities and the "less meritorious" lower castes will take away because of their voting power. This new vote bank is as cohesive as, say, the Muslims are when they vote against the BJP. In my travels, I rarely found an upper caste voter who wasn't with the BJP. This helps Modi counter Muslims and other castes such as Yadavs. The last caste census was in 1931, but at anything between 22-25%, upper castes form the largest single vote bank in India, bigger than Muslims, Dalits or any cohesive Other Backward Class (OBC) group.
2) Trumping disastrous macroeconomics with effective microeconomics: At the BJP press conference after the campaign ended, Shah claimed his party's government had focused on the last-mile delivery of its schemes. He is right. We found that toilets, cooking gas connections (Ujjwala), housing (Pradhan Mantri Awas Yojana), Mudra and rural electrification are schemes whose benefits have by and large reached the recipients. Nothing is perfect, of course. Toilets are often short of water, many recipients of cooking gas connections can't afford refills and Mudra loans haven't always created employment. But, across the country, you can see that these have reached people. As have the first instalments of the farmers' direct benefit subsidy. For the really poor and far-out, this is a big change. So much that is visible and tangible has reached their hands, mostly without having to pay bribes. The Print's Remya Nair and Manasi Phadke reported recently that 48.1 million people received Mudra loans totalling ₹2.4 lakh crore. These schemes have touched far too many people in quick time to not matter to them. They neither understand nor bother about whether the GDP is up or down, reliable or fudged. They are too poor to yet be in the organised job market. Getting a few things from the government in quick succession matters to them.
3) Building what the United Progressive Alliance (UPA) planned and abandoned: The Modi government has a much better record in building hard infrastructure — highways, ports, metros, bridges, other urban infrastructure — than UPA-2, and it is visible to the naked eye. The Congress can say with justification that it did well in UPA-1, and that many of these projects were imagined, planned, even initiated by it. But it will have to look within to see why these were abandoned `midway, or blocked/banned for one reason or the other. The most visible case study is the big infrastructure projects in Mumbai. The north-south metro, trans-harbour link, Navi Mumbai Airport and the coastal road were all planned by the UPA. All were denied one clearance or the other and blocked. So were the big, landmark bridges across the country, especially Assam. The BJP simply blew away the cobwebs, picked up the baton, and ran with the projects. This is working for it.
4) A new 'Bhakti Cult' of those under 22: Anybody born between 1997 and 2001 became a voter for the first time in this Lok Sabha election. Rich or poor, these are all digital natives. They've known only one leader, heard just one message, have no reference to the pre-Google context. Most important: They mostly haven't yet gone out in the job market. They've risen as an unprecedented support base for Modi. They like his extroverted style, aggression, his hugging of foreign leaders, and are more likely to buy into the "after (and even before) Modi, the deluge" idea. Another important insight is that they detest the entitlement of the dynastic elites. Unlike in 2014, they no longer snigger at the mention of Rahul Gandhi's name. But they ask what he has done so far, what is his experience. The line we heard most often in this campaign was: Rahul needs to work hard for some more time, get some experience. Modi is self-made and experienced, so why look for an alternative?
As a writer and editor, I eschew the description "bhakt" for Modi loyalists, or any such labels for others. In this case, I am consciously describing this young cohort as Modi's 'Bhakti Cult' because that is how strong their devotion is, often traversing caste and clan loyalties. Caveat: We found this doesn't apply to Muslims, Yadavs and Jatavs in Uttar Pradesh.
Finally, a health warning. Remember, I told you the four factors that worked for the BJP, and without which its fortunes would have certainly been sunk by its dismal performance on the economy, on the jobs front and the recklessness exemplified by demonetisation. How many seats will these win Modi, don't ask me. You have a choice of exit pollsters. All I'd stick my neck out to say is that but for these four big factors, he would've struggled to go past 150, making a second term almost impossible.
I must stop here. In an epoch when the world's best psephologists have been bested by voters in America (Trump, 2016), Brexit, Israel and now the Australian elections, it would be nuts to venture any further.