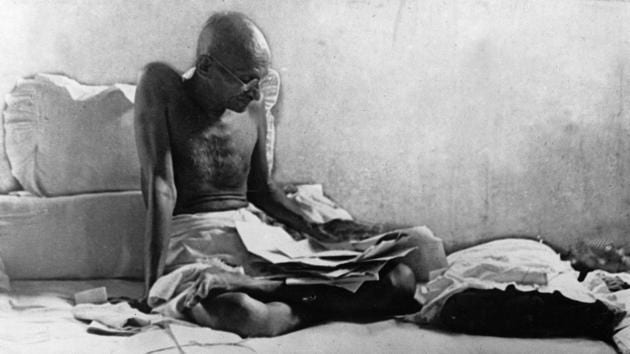 In polarised times, a Gandhi in Kashmir, a Gandhi for Kashmir, writes Barkha Dutt
J&K needs a facilitator of conversations among soldiers, politicians, people. It needs a strategist
UPDATED ON OCT 04, 2019 07:16 PM IST
This week, as the country commemorated Mahatma Gandhi, it seemed to have all but forgotten about Jammu and Kashmir. No matter what your view is on the abrogation of the special status and article 370 (it can be argued persuasively either way), what is more disconcerting is how the issue has fallen off our headlines and faded from public attention, even as scores of mainstream politicians remain under detention.
Our lack of interest might be even worse than our lack of empathy.
Our wavering attention span applies as much to the soldier in uniform, who has always carried the cross for shifting political policies and failures, as it does to the residents of the state.
In this column, I have repeatedly argued that while there may be multiple security considerations for the restrictions on the Internet and mobile data, the missing piece in the Kashmir jigsaw puzzle is the arbitrary detention of elected representatives who have always stood with India.
But, I have also been puzzled by the lack of immediate and visible pushback from many of these politicians. In the initial aftermath of the arrests, only two leaders — Shah Faesal and Yousuf Tarigami — filed habeas corpus petitions in court. Faesal then ended up withdrawing his, arguing that hundreds of other Kashmiris did not have access to legal recourse. It would be several weeks before other detained leaders petitioned the courts against their arrests.
Here's what I wonder: Why have we not seen an Anna Hazare, Medha Patkar, Irom Sharmila-inspired response from the detained politicians? The classic Gandhian protest — non-violence and fast-unto-death — did not just give him a permanent moral upper hand; it was also a master class in mobilisation and political communication. A Gandhian response — let's say a collective dharna by the scores of politicians who have been housed in Srinagar's Centaur hotel, or a refusal to consume solid food, by Omar Abdullah or Mehbooba Mufti who were kept in solitary detention till not so long ago, or a dharna by veteran patriarch Farooq Abdullah — could have pushed the administration on the backfoot. It would have also sent the street the message that there was still some authentic fight left in the mainstream politicians. At the moment, there is a dangerous lack of sympathy for them among ordinary people. I call it dangerous, because, in this political vacuum, separatists may get the upper hand.
A Gandhian resistance could have been a game-changer, both morally and strategically. It would have possibly also made it harder for the rest of India to explain its lack of feeling. At the moment, one of the reasons there is such domestic endorsement for the Narendra Modi government's Kashmir clampdown is because the valley is imagined only in picture frames of volatile young men, armed with stones, locked in pitched street battles against Indian soldiers. That, combined with the aggressive and obsessive endorsement of Pakistan and the persistently long shadow of terrorism, explains why the Modi government has received resounding political backing for its risky and disruptive move. By contrast, though Irom Sharmila's opposition was against the immunity provided by the Armed Forces Special Powers Act (AFSPA) in Manipur, her idiom of protest — a peaceful 16-year-long fast — made it very difficult for anyone, no matter what their view was on AFSPA, to tag her as anti-national or unworthy of empathy.
What Kashmir needs is its own Gandhi — a new leader who can mobilise people without losing moral legitimacy in the eyes of other Indians. Equally, you don't just need a Gandhi in Kashmir; we need a Gandhi for Kashmir. The Mahatma's great skill was that he was a reconciler and consensus-builder who could carry opposing views and sides with him. He had firmness of vision and yet never lost the softness of the human touch.
In today's polarised times, when we are called upon to take extreme sides on the Kashmir issue — and frankly, neither side has any right to the entire truth — we need a modern day Gandhi who can bridge this gaping and growing divide more than ever. We need a leader who will be the facilitator of a conversation among soldiers, politicians, people — a woman or man who can reconcile contradictions and paradoxes, and has the capacity to process complexity and simultaneous truths. We need a figure who holds on to some absolute non-negotiables but is flexible in understanding that politics is, in the end, the art of the possible.
Gandhi was, both, head and heart. He was a masterful strategist who never lost his moral compass. And he could carry warring sides into a truce.
As the Jammu and Kashmir debates pulls us into needlessly sharp opposing camps, we need like never before, Gandhi for the 21st century.
Close