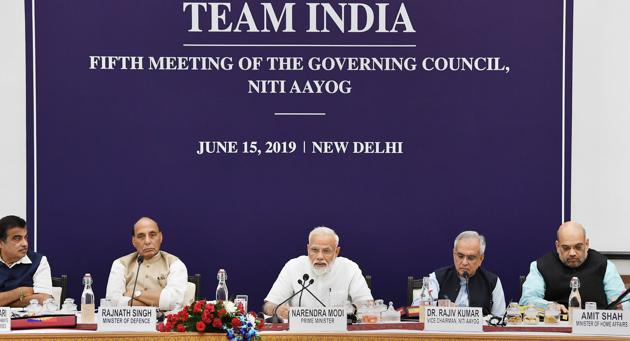 Keep the Centre-state channel open
Even as state governments complained about the centralising nature of the Planning Commission, the commission provided an institutional platform through which states could dialogue (and complain) with the Centre. The challenge for the new Modi government will lie in creating a renewed institutional space for political deliberation and negotiation of Centre-state relations
By Yamini Aiyar
UPDATED ON JUL 02, 2019 08:16 PM IST
In its first term, the Narendra Modi government presided over significant shifts in India's fiscal federal architecture. These included the dismantling of the Planning Commission; the establishment of the NITI Aayog and the GST Council as new institutions for negotiating Centre-state relations; and the implementation of the recommendations of the 14th Finance Commission (FFC) that sought to enhance fiscal decentralisation to states by reducing central government control over state spending. Importantly, these changes took place against the backdrop of increased political centralisation. For the first time in decades, India saw greater political congruence between the Centre and states with the Bharatiya Janata Party (BJP) ruling a large number of state governments. The BJP's dominance in Parliament also meant that regional parties began to lose their hold over New Delhi in ways that influenced the political dynamic of inter-governmental co-operation and Centre-state relations.
Together, these shifts in the federal architecture have brought to the fore important fault lines in the centralisation vs decentralisation tug of war that has dominated the dynamics of fiscal federalism in India. The future shape of federalism in India will depend significantly on how the new government navigates these fault lines and the institutional shape this takes.
A critical fault line that will need negotiation emerged as, arguably, an unintended consequence of dismantling the Planning Commission. This long overdue reform was welcome especially as the commission was widely regarded to have contributed to entrenching centralisation by financing expenditure in areas that were the constitutional responsibilities of states. But this created an institutional vacuum for addressing national development goals and ensuring that all citizens, regardless of where they live, receive a minimum standard of public services. In recent months, several of India's leading economists have reflected on this institutional vacuum and argued for the need for a renewed federal institutional arrangement that addresses this critical gap while avoiding the pitfalls of the old Planning Commission.
Two important facts need to be considered in making this argument. First, even as state governments complained bitterly about the centralising nature of the Planning Commission, the commission, along with the National Development Council, provided an institutional platform through which states could have dialogue with and complain to the Centre. In the absence of such an institutional space, decisions over the transfer of resources to states has now been entirely appropriated by central line ministries and, importantly, the ministry of finance. This, combined with increased political centralisation, has, in fact, entrenched centralisation rather than enabled decentralisation, despite the 14th Finance Commission. It is instructive, as Rathin Roy in a recent essay on changing fiscal dynamics highlights, that the central government financing of state-specific subjects has, in fact, increased in recent years. In 2016-17, central sector (CS) and centrally sponsored schemes (CSS) — the primary fiscal instrument used by the Centre to encroach on states by funding social programmes, together accounted for 9% of total central expenditure. In 2019-20, the share of central sector schemes has risen to 12% while CSS account for 9%.
The second fact is India's regional disparity. Drawing on a study ranking service delivery performance across states, Sudipto Mundle highlights the large and persistent development distance between states in terms of per capita income and service delivery outcomes. Importantly and unsurprisingly, governance (bureaucratic capacity and decision-making processes) is the critical ingredient for moving the needle on service delivery improvements in low-income states like Bihar and Madhya Pradesh. This exposes, as Mundle argues, a real tension between high-income states and low-income states. High-income states have the capacity to design and implement their own schemes and can better leverage fiscal decentralisation. Low-income states need CSS with their centralised design and implementation structure, simply because they lack planning capabilities. This is an argument I have heard from states in my own research on the impact of greater fiscal decentralisation following the FFC. Fiscal centralisation is arguably necessary for small states.
The response to this institutional vacuum isn't one of simply re-introducing the financing function of the Planning Commission albeit in a different form. This is because a third fact muddies the waters. Low income and weakly governed regions are simply unable to utilise CSS funds. As central schemes increased in the last two decades, the central spending increased in richer rather than poorer states. Based on an analysis of six key schemes, the 2016 Economic Survey highlighted that India's poorest districts received barely 40% of the total funds allocated to a state. Roy's analysis shows that, in 1990-91, CSS and CS spending accounted for 1.22% of total expenditure in Gujarat and 13.9% in Rajasthan. This reversed in 2013-14. Spending in Rajasthan dropped to 3.2% and increased in Gujarat to 13.12%.
The primary fault line in India's fiscal federal architecture is this: the fiscal centralisation, important for poorer states, has, in fact, benefited richer states. Negotiating this fault line will require radical reforms in the design of central schemes. Specifically, it will need a careful rebalancing of the centralisation vs decentralisation dynamic in ways that provide necessary governance support to poorer states while ensuring fiscal autonomy. This is a challenge the 15th Finance Commission report, whose controversial terms of reference push for greater fiscal centralisation, will have to grapple with. But doing this right will need more than technocratic inputs. Ultimately, this is about careful political negotiation, especially in the context of greater political centralisation. The challenge for the new Modi government will lie in creating a renewed institutional space for political deliberation and negotiation of Centre-state relations.
Yamini Aiyar is president and chief executive, Centre for Policy Research
The views expressed are personal
Close