More financial inclusion means more empowerment for women
Believe it or not, 358 million Indian women have bank accounts, that is a whopping 61%, a sharp jump from 2014, when only 48% of women had accounts. Now for the bad news. While so many women do have bank accounts, many of them still rely on the informal sector for transactions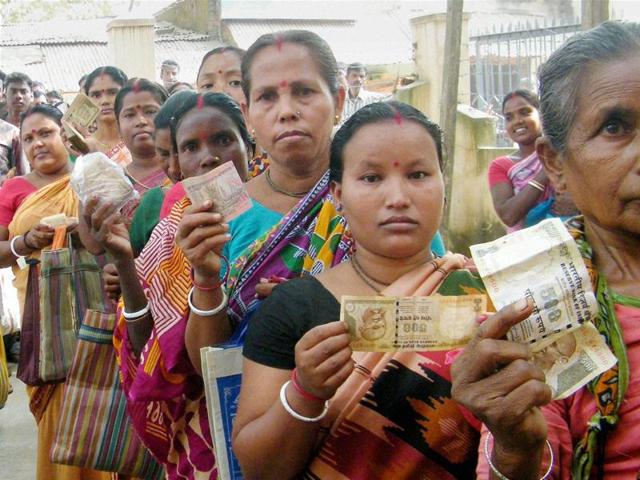 Updated on Nov 19, 2016 10:45 PM IST
The long queues at banks and ATMs, reports of people dying of shock at the demonetistion of currency, the restrictions on the amount of money which can be withdrawn in a day — all these raised apocalyptic visions of an economy about to implode. One issue that has been raised again by people is what happens to women domestic workers, daily wagers and agricultural workers, many of whom are thought to have hoarded their savings in currency away from the grasp of their husbands or other family members. Indeed, such was the case with a lady who worked for me.
Read: A cruel world: Widows of farmers who committed suicide face 'living death'
But before we kvetch and grumble, as is our wont, when any change is sought to be brought about — and this one was indeed pushed through with little planning — the situation as far as women are concerned is not as hopeless as is being made out. Yes, women will suffer enormous hardship in changing their currency nest eggs but the popular belief that Indian women have little access to formal banking is wrong. I have read in many learned periodicals that though a dazzling array of women lead many banks in India, the ordinary women are left out of the loop.
Believe it or not, 358 million Indian women have bank accounts, that is a whopping 61%, a sharp jump from 2014, when only 48% of women had accounts. Now for the bad news. While so many women do have bank accounts, many of them still rely on the informal sector for transactions. This is due to many reasons, one being that banks tend not to lend very easily to women and therefore, they rely on traditional methods of accessing loans, that is from moneylenders.
Read: 8 of 10 Mudra scheme borrowers are women
Women's inclusion in banking has a huge impact on empowerment. Studies suggest that when a woman has ownership of an account and access to money, it is used in to benefit the family's health or educate children. Women are also found to be more regular in loan repayment than men. When the Pradhan Mantri Jan Dhan Yojana was set up, it was aimed at broadening financial inclusion and was not gender-specific. But a positive fallout of it seems to have been the eagerness of women to access banking. Whatever the drawbacks, here is an opportunity to build on this.
One very powerful way of ensuring greater gender equality is through the financial route. But poor education levels have kept women away from availing themselves of not just banking but other financial services to which they are entitled. When we talk of Skill India and vocational education, it is rarely in the context of women. The government could easily push for a scheme to provide women job-related skills at the rural level. Women in rural areas have few opportunities beyond farming. If this were changed and they were to be trained in basic healthcare and education, not only would their literacy levels improve, it would have a domino effect on the whole socio-economic situation in rural areas.
The government is very big on Make in India, but the focus has been on heavy industries and inviting foreign companies to set up shop in India and generate employment here. But, what stops the government from pushing more women into business ventures. I have often heard women put themselves down, saying they have no head for business. But I have observed micro-finance and credit schemes in remote tribal areas and women's ability not just to understand financial intricacies and also their adherence to the rules when it comes to paying back loans. Entrepreneurship should be encouraged much more at the rural level and the panchayat system should be made to work for women. Giving women sewing machines is a favourite with our political parties. As though women cannot conduct any business besides stitching clothes for people in the locality. Even in farming, much more investment must be made in women to enable them to understand and execute the business of farming.
Read: Women vendors who exist on cash income hit hardest by demonetisation
Women should be far more involved, again I speak of the rural areas, in management, marketing and maintaining books. These are not rocket science and gaining skills in these areas will help women break out of the dependency syndrome. Today, financial work, even in urban areas, is seen as a man's job. I have friends who proudly say that they leave all financial planning to their husbands. I have often asked these women what they would do if the husband upped and left one fine day, leaving them up the creek without a paddle. India has made a huge stride forward in empowerment with banking, hopefully, this crisis will impress upon more women how important it is to be in the formal banking sector and how this puts them more in control of their own destinies.
Close Story