Overhaul the medicine supply chain
Given the problems in the old system, many countries have developed more scientific models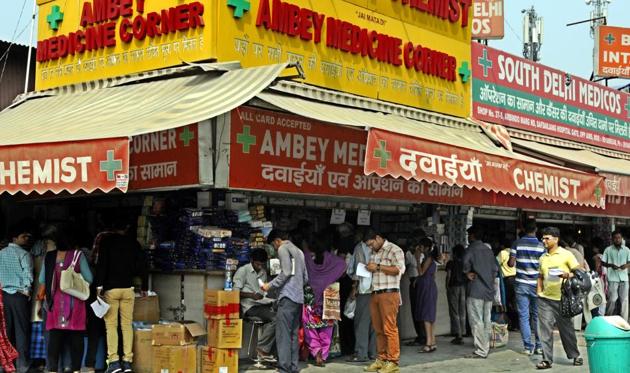 Updated on Aug 30, 2018 12:36 PM IST
Nachiket Mor and Prashant Yadav
Health systems around the world are benefitting from recent advances in supply chain technologies to deliver essential medicines to patients more effectively. Traditional lines between public, private, online, and physical are starting to blur and, as a result, direct-to-home and online pharmacy models have developed more quickly in emerging markets like India than many had expected. A commonly used supply chain architecture for essential medicines in most developing countries has historically been bulk procurement by the national or state/provincial government and then distribution to districts and health clinics owned by the government. This approach, even when well implemented, may suffer from many problems which are linked to, among other things, multiple levels of complexity, long resupply intervals, uncertainties in financing, and diffused accountabilities. Many countries have, therefore, developed alternative supply chain models based on modern day supply chain science and technologies.
South Africa, for example, is now implementing a model in which the government negotiates prices and select suppliers, but the suppliers deliver the medicines directly to health clinics or district hospitals. In the past, such models were not feasible because of the challenges in verifying whether the supplier delivered the right quantity of products to the clinic. In South Africa, a new supply chain visibility platform enables supplier-direct-delivery by providing government procurement managers with unprecedented visibility into stock, receipts, and consumption at each health clinic.
One of the main sources of underperformance within supply chains stems from the lack of information capture and sharing. Modern supply chains have adopted information and communication technology such as the Electronic Vaccine Intelligence Network, being used in public sector in India, to improve information flow and decision making across these supply chains.
In Senegal, the government has started contracting private, third-party, logisticians for last-mile deliveries of all essential medicines from district warehouses to individual health clinics. Healthcare workers in clinics no longer have to determine order quantities for medicines or travel to district headquarters to collect medicines stock. The third-party logisticians deliver an assortment of 100+ medicine to each clinic and use tablet computers to collect stock and consumption data. This data, coupled with advanced analytics, allows for more precise forecasts of how much to ship to each clinic in the next round of delivery. As a result, medicine shortages have practically been eliminated in Senegal, that too at a reduced cost.
Around the world there is also a concern that distribution reach of the private sector is confined to more concentrated urban areas whereas those living in rural and remote regions depend on the public-sector medicines distribution system. Australia is one of the most sparsely populated countries in the world. Stocking products which are infrequently ordered and delivering them to remote rural pharmacies/clinics means minimal or no profit for private wholesalers and distributors. To remedy this incentive problem, the government of Australia runs an incentive pool which pays a small bonus to wholesalers who supply the full range of medicines to pharmacies in designated remote areas at or below the negotiated price. The Community Service Obligation (CSO) Incentive pool is overseen by an independent agency which monitors compliance and conducts regular audits of the distributors. Managing such an incentive pool requires strong government oversight and enforcement, but new digital technologies could also enable such structures in fragmented markets with lower enforcement capacity.
The private distribution network for medicines in China (not unlike India) is a complex multi-tier network with multiple middle men between the manufacturer and the end clinic. Some of the channel intermediaries charge additional markups adding to overall healthcare costs. The multiple product handoffs from one intermediary to another lead to the lack of transparency in the system and increased risks for fake products entering the supply chain. Modelling studies have shown the multiple benefits of reducing the number of tiers in the supply chain. Learning from them, China has now implemented a "two-invoice system" whereby only two invoices can exist between a manufacturer and a clinic. Each manufacturer sells to a distributor and that distributor sells directly to hospitals and clinics, eliminating multi-tiered distribution. In its phased implementation, rural areas which require "fine mesh distribution" would be allowed up to three invoices till national distributors can expand their distribution coverage to all regions.
As countries around the world, including India, attempt to ensure the timely availability of a full range of medicines to each and every one of their citizens, they would benefit greatly from studying some of these newer approaches that have been implemented, and developing appropriate solutions to their own challenges.
Prashant Yadav and Nachiket Mor are employees of the Bill & Melinda Gates Foundation
The views expressed are personal
Close Story
Personalise your news feed. Follow trending topics