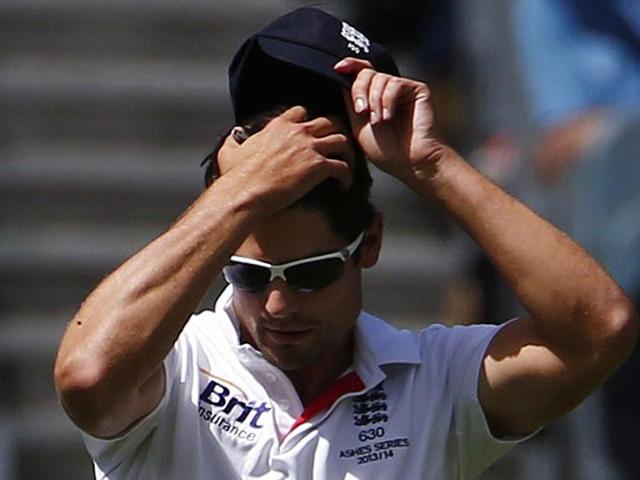 Alastair Cook's Indian recipe versus Virat Kohli's master plan
England skipper Alastair Cook's tremendous record in India stands as the biggest challenge in Virat Kohli's plan to sweep the Test series starting Nov 9
PUBLISHED ON NOV 05, 2016 05:04 PM IST
Kolkata
Among England's top five Test run-getters, skipper Alastair Cook is the only batsman to make his debut in India.
That probably explains his love for batting in India, 866 runs in just eight Tests at an average of 61.85, making him a constant threat to Virat Kohli's ambitions. The numbers the England skipper has stacked up --- crossing 10,000 runs in 135 Tests in a decade --- stand out even more by the fact that he has opened in 230 of his 243 innings.
However, it isn't just India where Cook has weaved his charm with the bat. It all started at Nagpur in 2006 after he was flown in from Antigua as an emergency replacement for skipper, Michael Vaughan, who broke down with a knee injury.
Start with a bang
Against a bowling attack comprising Harbhajan Singh and Anil Kumble, Cook impressed with 60 and an unbeaten 104. That set off events which quickly proved Cook's mettle. He got a hundred at Lord's within five Tests, announced his arrival in Australia in the 2006 Ashes series before making hay against West Indies at home.
Read | India vs England: Cricket business as usual as BCCI spar with Lodha committee
But it was not until the 2007 tour of Sri Lanka, after a home series loss to India, was Cook able to cement his place as a frontline batsman. Soft hands and playing close to his body gave Cook career-lifting knocks of 81 and 62 that helped England draw at the SSC, Colombo. A fourth innings 118 in the next drawn Test at Galle meant England could return with a respectable 0-1 series scoreline. Although England lost, it marked the arrival of a batsman who was ready to apply himself not just in Australia but also in the subcontinent.
Making all the difference
When it comes to India, some English batsmen, Graham Gooch, David Gower and Kevin Pietersen in particular, have been successful, but no one came close to the consistency Cook showed. Three of the four centuries he has scored helped England either draw or win in India. That's as good as Cook's record in Australia where he has scored four centuries so far --- one each in a loss and draw and two in huge England victories.
That is the assurance Cook brings to the side --- England win marquee series when he bats well. Like in the historic 2012-13 win in India where Cook scored 562 runs in eight innings, with centuries in the first three Tests. Or the 766 runs in the 2011 Ashes in Australia that England won 3-1.
If the early 30s is considered the most productive phase for a quality batsman, then expect another run feast from the 31-year-old Cook in India this time. Not playing one-day cricket made him look a bit rusty in Bangladesh, but Cook finally got going with a fighting 59 in Mirpur.
England have arrived in India with three batmen who are leading the run charts this year --- Jonny Bairstow (1118 runs), Joe Root (986) and Cook (901). Not only does Cook have the chance to reach 1000 Test runs in 2016, he is also just 134 runs away from completing 1000 runs in India, which no England batsman has accomplished.
Close