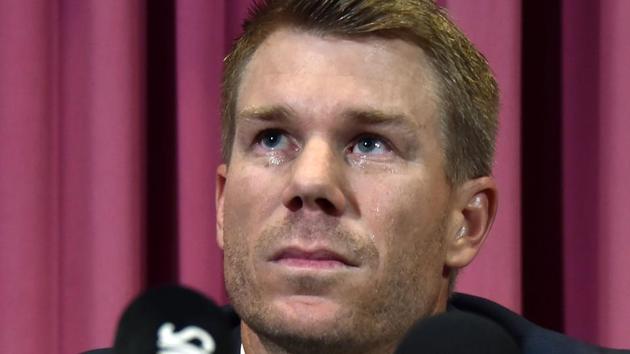 David Warner can play for Australia again, says James Sutherland
Cricket Australia chairman James Sutherland's comments come in the wake of David Warner's admission that he may never play for Australia again.
UPDATED ON MAY 01, 2018 02:52 PM IST
Cricket Australia (CA) chairman James Sutherland said on Tuesday that the banned vice-captain of the national team, David Warner, can still make a comeback to the side.
Warner was handed a one-year ban and a lifetime suspension from leadership position in the wake of the ball tampering row in the Cape Town Test during Australia's tour of South Africa earlier this year.
Along with Warner, captain Steve Smith and opening batsman Cameron Bancroft too were banned for a year and 9 months respectively, with the skipper to be considered unfit for leadership role over the next two years.
While all three cricketers accepted their punishments and did not contest the CA rulings against them, Warner admitted that his international career could be over implying that he may never play for Australia again.
But CA chairman Sutherland says each of the banned troika has the chance of making a comeback to the Australian cricket team.
READ | Indian cricket team favourites for 2019 World Cup: Sourav Ganguly
"Absolutely, I think everyone deserves their chance and their own personal redemption story is very much in their own hands now," Sutherland was heard saying the on Melbourne radio station SEN.
"Each of them have to go about that during the time they're out of the game and prove that their worthy (and) prove to the Australian selectors that they should want them back. They deserve that opportunity."
Sutherland extended his sympathies with the cricketers who made a terrible error during the fourth Test against South Africa at Cape Town, sparking a world wide protest against the way Australian cricketers conducted themselves on the field and approached the game.
"I feel for all three players. I feel forgiveness for all of them. I feel sympathy for them and I want to see them all come back and play their best cricket. I believe they all can.
"Part of the design within the sanctions was to allow them to stay connected with the game. I also see part of our role is to support them with their state associations and their clubs, to help them stay hungry and come back and play their best cricket."
Warner's selection as vice-captain was right
Sutherland backed CA's decision to appoint Warner as the vice-captain after the team went through an overhaul in late 2015.
READ | Cricket Australia appoints Ethics Centre to review running of the sport
"David was very focused on being a better cricketer, being a better leader, being a better person and he worked very hard on those things. There were certainly good signals in that regard. You've only got to go to the end of our season in Australia before the team went to South Africa where he captained the team (in) a successful tri-series T20 competition to victory," Sutherland said.
"All of the reports were that he led the team with aplomb. His leadership in all that was outstanding. On one hand, it's easy to look back in hindsight and say all those kinds of things but there were a lot of good positive signals around him in terms of how he was responding as a leader," he concluded
Close