Elphinstone Road station tragedy: 'Human life is cheapest thing', grieve cricketers
Updated on Sep 29, 2017 05:17 PM IST
Indian cricketers Rohit Sharma and Virender Sehwag were among those to have expressed their sorrow over the Mumbai's Elphinstone Road (Prabhadevi) station stampede that left more than 20 dead.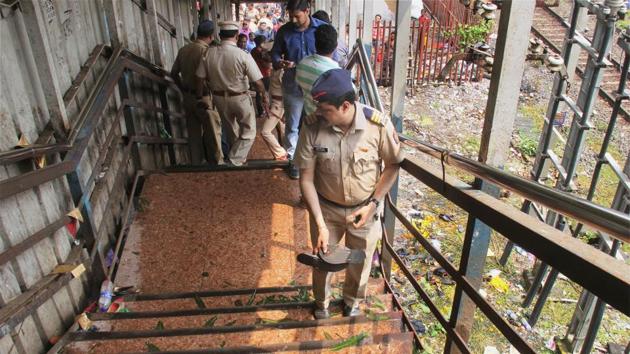 Indian cricket fraternity was left shocked too after a horrifying stampede incident at a Mumbai local suburban railway station, Elphinstone, saw more than 20 people losing their lives and several suffering injuries. (Live updates)
India and Mumbai cricketer Rohit Sharma was the first ones to take to Twitter to express his feelings after the Elphinstone Road station (also known as Prabhadevi station) tragedy, while Virender Sehwag conveyed his thoughts in a series of tweets. (INDIA vs AUSTRALIA CRICKET NEWS)
Former cricketers VVS Laxman and Mohammad Kaif were also among those to have expressed sorrow on the Elphinstone Road station incident on the day of the 'Navratri' festival.
Rohit Sharma wrote, "Heartbreaking to see what happened in Mumbai earlier today."
Virender Sehwag, in his long message, said, "Human life is unfortunately the cheapest thing. Such a heart wrenching incident, innocent people dying even after paying taxes #Elphinstone."
He added, "Deepest condolences to the innocent people who lost their lives in the stampede today for no fault of theirs #elphinstone". (sic)
Virender Sehwag called for better security measures for thousands who face the risks associated with travelling in the Mumbai local train services. "In the city of dreams, people travel with such high risks. Before anything else,citizens security is the need of the hour,long been ignored," (sic) he said.
VVS Laxman, too, paid his condolences to the families of those who lost their kins in the Prabhadevi station incident.
Mohammad Kaif was also among the Indian cricketers to have expressed his sorrow.
The Elphinstone Road station tragedy should be an eye-opener to cricket's Mecca - Mumbai, a city that boasts of some of the finest sports facilities.