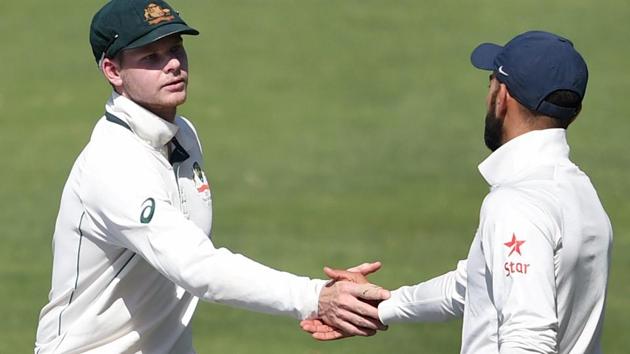 Ian Chappell thumbs down sledging, says Australia cannot 'throw stones' at India
Ian Chappell has urged cricket administrators to come down hard on sledging and has rubbishes claims that teams are talking about it as a planned tactic
UPDATED ON MAR 14, 2017 10:37 PM IST
The current India vs Australia series has witnessed plenty of sparks. The controversy surrounding the DRS row involving Steve Smith and Virat Kohli in the Bangalore Test set the tone of hostility. Before this, there was Kohli's toilet gags against Matt Renshaw and Ishant Sharma making monkey faces
After the Bangalore Test, there were attacks by the Australian media on India skipper Virat Kohli, right from comparing him with animals to the pitch preparation for the third Test in Ranchi, the series has seen plenty of hostility.
Ian Chappell, writing in Wide World of Sports, has stated that a lot of bad blood has existed between the two countries because of the intense cricket that they have played. However, he has criticised the cricket administrators for being too lax while dealing with the issue of sledging.
"Administrators are foolish if they're going to allow all this talking to continue on the field. It's been allowed to escalate over the years, and nobody is stepping in to stop it. It's going to cause a huge problem one day on the field," Ian Chappell wrote.
The former Australia skipper has said Australia are in no position to complain about the current state of things.
"I also don't think the Australians are in any position to start throwing stones. They're no choirboys themselves. It's ridiculous to allow that much chatter to occur on the field."
In addition to the heat generated by the DRS fiasco, following the end of the Bangalore Test, the BCCI posted a video on their Twitter handle which saw Cheteshwar Pujara and Ravichandran Ashwin slege David Warner for his poor form. To this, Warner stated that it was just banter and that he would not respond to the 'sledging'.
Ian Chappell added that if teams wait for the ICC to step in and do something about the issue of sledging, then nothing will ever happen.
"You've got all sorts of other people there and yet nothing is done. Administrators don't understand the game properly and they've been really lax in a lot of those areas. It's time they smartened up."
Virat Kohli, an emotional character
Ian Chappell also stated that if there is one criticism of Kohli, it is that he is a very emotional person.
"I've always thought as a captain that it's best if you keep your display of emotions pretty even, but Kohli doesn't. To say he's worse than somebody else is unfair as everyone does it, and some blokes do it differently to Kohli.
With the four-match Test series tied 1-1, there is plenty at stake for both teams heading into the third Test.
A win for Australia will ensure that they retain the Border-Gavaskar trophy while a win for India will ensure that their unbeaten run at home since their last loss in 2012 remains intact.
Close