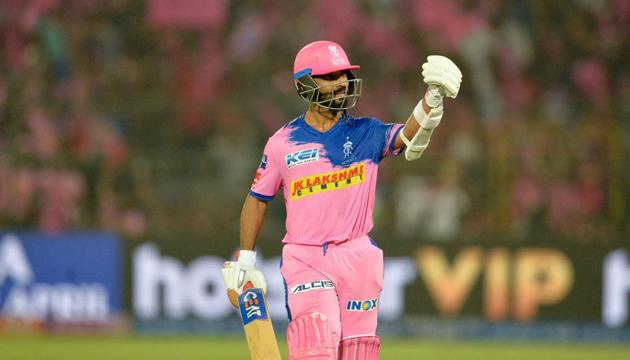 ICC World Cup 2019: Consistency key to India's Cup hopes - Ajinkya Rahane
Speaking on the sidelines of the CEAT Cricket Rating Awards, the Test vice-captain discussed his form, World Cup omission, IPL and the upcoming County stint with Hampshire.
UPDATED ON MAY 15, 2019 10:30 AM IST
Ajinkya Rahane's middle-order batting was crucial in India's run to the semi-finals of the 2015 World Cup. Four years on, his name was not even discussed despite the focus on a No 4 batsman before India's 15-man squad for the World Cup was picked. In the IPL, he led Rajasthan Royals in phases of the tournament but failed to inspire them to a play-off berth.
Speaking on the sidelines of the CEAT Cricket Rating Awards, the Test vice-captain discussed his form, World Cup omission, IPL and the upcoming County stint with Hampshire.
ALSO READ: Sourav Ganguly speaks about Pakistan, predicts India-Pakistan outcome
Excerpts:
How would you sum up your IPL season?
I thought I really did well as a batsman throughout. As a team we could have done better, we had those chances, moments in two-three matches but didn't capitalise on them. In T20, one or two overs can change the game. A lot to learn from this season as a team, and I'm sure the guys will come really hard next time as improved players.
Would you say batsmen let Rajasthan Royals down?
Not really. People always see the big runs. What one has to see is the impact runs you score for your team. The number doesn't matter to me. I feel the couple of 30s, 40s and the hundred I got were really impactful. You got to think about your team, you cannot think about yourself.
Talking about impactful shows, your thoughts on Riyan Parag?
He is a very talented and confident cricketer, it's good to see him do so well. He hardly played five-six games (seven), but the temperament he showed was incredible. I'm sure he will learn many things from this season and come out an improved cricketer next year.
You batted at No 4 in one game. Is that your favourite spot?
I am always an opener, especially in T20. That's my favourite number. I came at No 4 (against Kings XI Punjab) because the team wanted me to stabilise the position and get the innings going. I always believe whatever the team wants, you should do. In ODIs, I have batted many times at No 4 and done well. I did well as an opener too but it's always what the team wants from me.
ALSO READ: Don't compare Virat Kohli's IPL captaincy record with that of India - Sourav Ganguly
How do you rate India's World Cup chances?
India's chances are really high. I feel we are the favourites. But it is important to play consistent cricket. The (all teams play each other) format is new and if you get momentum early on, you have to carry it into the knockouts, where consistency will be very important.
Where do you think you missed out on a berth?
If you see my ODI record, it's really good. Whenever I got an opportunity as a No 4 or opener, I did really well. I can only focus and control that, scoring runs. Other things, I cannot control. For me, I did exceptionally well in ODI cricket in the last 2-3 years in whatever limited opportunities I got. I always believe in myself and focus on controllable things. If I can play cricket with a good attitude and passionately, other things will fall (in place) automatically.
How difficult is it to switch from T20 to a 50-over World Cup?
I don't think it is difficult because we are all used to it. We play Test cricket and then next day we go play T20. Players are used to this format and every player will adjust to it very quickly. It's all about having that good mental space and mindset. Recovery is very important for each player. The IPL season was very hectic. Recovery and rehab and all the strengthening sessions, apart from your cricketing skills, are very important.
Your thoughts on playing County cricket with Hampshire.
I am really excited. It's my first stint with Hampshire and I'm looking forward to it and (hope I) get to learn many things about batting and in general about cricket. It's going to be a different experience altogether. I spoke to Rahul Dravid and Sachin Tendulkar, (and) they told me 'we learnt so many things from County stint … just enjoy yourself, enjoy your cricket and give your best.'
Close