India hold the aces on this England tour
Virat Kohli is genuinely aggressive and fearless. His team is bound to imbibe some of it. It's one of the things that made the Lord's win possible.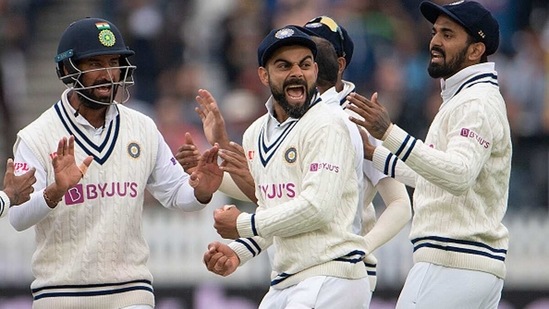 Updated on Aug 20, 2021 07:09 AM IST
A Test match is a long-drawn affair spread over five days, but it's made up of moments one has to grab to win.
India won two very important moments or phases, if you like, in the second Test which eventually resulted in them winning the Test in style.
The first was when Indian openers batted absolutely brilliantly after having lost the toss and were forced to bat in overcast conditions on a sluggish pitch.
When the ball is swinging and the pitch is slow, it's a nightmare situation for today's batters. It's completely outside their comfort zone, limited overs cricket being their main cricket, where pitches are 'belters' and the white ball has a very short swinging life and hitting on the up, through the line, is a basic instinct.
Rohit Sharma and K L Rahul, who both play all white ball cricket there is, showed brilliant defensive play, the absolute opposite of T20 batting--a still bat in defence, leaving balls outside off and spending hours at the crease at a strike rate of 20.
Also Read | 'Virat Kohli was all over them like a cheap suit. England were spooked by India'
Rohit Sharma has been a revelation in this regard. His defence is technically now the best in this Indian team and the Pujara like defiance until he gets to 30 is just amazing for one who has three double hundreds in one day cricket.
KL Rahul is one important reason India was close to winning the first Test and for winning the second.
I was skeptical about his success as a Test opener considering his long-term failure in that role. That he was picked mostly on T20 form also did not make any cricketing sense to me.
Be that as it may, his one big problem from before - of being completely clueless outside off, whether to leave a ball or play - seems to be under better control now.
He keeps his bat close to the body in a playing mode and if the ball leaves him, he just keeps it there and does not go prodding outside off,. It's done marvels to his batting because all his other strengths are still intact.
the openers put India in a strong position, when losing the Test on day one itself in those conditions was a distinct possibility, considering the form of our no 3, 4 and 5 batters.
The second moment for me was late evening, Day 3.
When, out of the blue, Jasprit Bumrah started a relentless attack of short balls aimed into the body of no 11 Jimmy Anderson. It was very un-Bumrah like. Normally you would expect him to bowl a fast, full delivery into the stumps to Anderson to finish off the innings quickly like he did in the first.
Also Read | 'They are 1-0 up and fully deserve it': Gower hails India's 'stunning' show
I am guessing this was Virat Kohli's plan executed by Bumrah.
Go after the main guy in the opposition, soften him up a little, stir him up a bit or may be injure him in a way that the main English weapon was blunted. Whatever the reason, I just loved it.
Why? Because right through my playing career no captain of mine - barring one - did this to any opposition fast bowler fearing the backlash.
This is Virat's great attribute. He is genuinely aggressive and fearless and he is in your face. His team may not be as demonstrative of this trait, but they are bound to imbibe some of it.
At the end of Day 3, while walking out you could see Anderson was genuinely affected. He had lost his calm as a competitor. It seemed to me his ego was bruised a little.
This resulted in England's big blunder on Day 5.
When Bumrah came out to bat, they came hard at him, seeking vengeance for their star player.
After Rishabh Pant was gone, this was England's game to win but they let their emotions rule over logic. Bumrah too was all fired up and his resistance as a no 10 grew manifold because of being hit on the helmet twice.
Mohammed Shami too joined in. This was India now standing strong, together as a team, giving it right back to England, fighting fire with fire.
That Bumrah-Shami show on the final day put India in a commanding position but there was still the time element. India had to still take 10 wickets in just 60 overs to win the Test.
That's when England's own reality confronted them, their ordinary batting line up.
Only one batter averages over 40 in their team and there are a couple who have played over 50 Tests and still average in the mid and early 30s.
In the preview of this series here I had suggested that England's batting line up gives India hope no matter what and vice versa.
But India have found in Rohit and Rahul two unexpectedly huge bonuses. England haven't found any yet.
Enjoy unlimited digital access with HT Premium
Subscribe Now to continue reading
Close Story