India vs Australia: It's win or bust in cool Dharamsala
Updated on Mar 24, 2017 11:23 PM IST
India cricket team, with fingers crossed over Virat Kohli's injury status, needs to find fresh momentum to win the final Test and regain the Border-Gavaskar Trophy vs Australia cricket team, who can dash that hope with a draw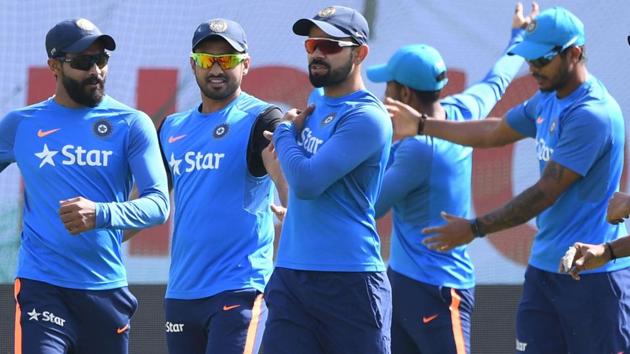 After six months and 12 Tests, the Indian season will climax at this picturesque new venue when the fourth and final Test against Australia cricket team starts on Saturday. (LIVE STREAMING)
India cricket team may have dominated New Zealand, England and Bangladesh but Australia have surprised them with their resilience that has left the series deadlocked at 1-1 going into the decider.
All eyes are on skipper Virat Kohli, who is desperate to be fully fit for the crunch game but has acknowledged that he is fighting a difficult battle. Shreyas Iyer is set to make his debut if Kohli is out.
Read more | Steve Smith takes dig at Virat Kohli, calls Ajinkya Rahane 'less emotional'
The Indian selectors added Iyer and Mohammed Shami to the squad on Friday evening. It is an indication that the pace bowler, who has not played after the third Test against England in Mohali due to knee trouble, may replace Ishant Sharma, who has struggled for wickets.
ALL OR NOTHING
The stakes are high for both teams in this attritional series. For India, not winning in Dharamsala would partially undo the grand success they have had in a jam-packed home season.
A win or draw for Steven Smith's side will help them retain the Border-Gavaskar Trophy. It will also be seen as a massive strategic triumph for a squad that has gone to great lengths to mark a turnaround in their poor run against sub-continental rivals.
CLEAR DISCOMFORT
On Friday morning, Kohli seemed to be feel discomfort in his shoulder as the players began their warm-up. However, he didn't seem to have any issue while batting in the nets.
Read more | Shaun Tait 'turns' Indian from Australian with Overseas Citizen passport
Losing Kohli for the game will be a big blow, but the skipper himself was objective. "Me being 100 % fit is the only condition that I will play."
The pitches for the series have gone from a rank turner to one where the pacers could find more purchase, with the altitude too providing more carry. However, the grass was shaved off on Friday, and it remains to be seen how much watering has been done in the last few days.
If the HPCA Stadium pitch is dry, the spinners could come into play as the game progresses. The chief curator, Sunil Chauhan, though has said the pitch will play well and help the new ball bowlers.
Read more | India vs Australia: Jackson Bird may boost Australia pace attack in Dharamsala
Will India go for a third pacer? Unlikely if they persist with six batsmen, especially if Kohli is unable to play. Bhuvneshwar Kumar, who can swing the ball in these conditions, too had a long spell on Friday.
Australia though have indicated they could play Jackson Bird as the third seamer if they feel the new ball bowlers can do the job.
Personalise your news feed. Follow trending topics