India vs Bangladesh Highlights, World Cup 2019: Rohit, Bumrah fire India into semi-finals with 28-run victory
Jul 03, 2019 04:50 PM IST
As it happened: Jasprit Bumrah clears up the tail and ends up with a four-wicket haul as India win the match by 28 runs. Courtesy of this victory, India have qualified into the semis. They become the second team after Australia to seal a place in the final four after Australia this term. Earlier, Rohit Sharma slammed his 26th ODI ton as India ended their innings at 314/9 in 50 overs. Mustafizur Rahman was the star of the day for Bangladesh as he ended with a five-wicket haul. This after India won the toss and skipper Virat Kohli elected to bat first.Read India vs Bangladesh highlights below:
23:05 hrs IST
India win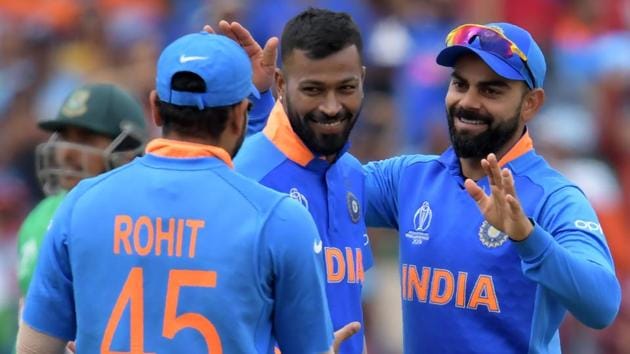 Jasprit Bumrah clears up the tail and ends up with a four-wicket haul as India win the match by 28 runs. Courtesy of this victory, India have qualified into the semis. They become the second team after Australia to seal a place in the final four after Australia this term.
23:00 hrs IST
Bangladesh 9 down
Jasprit Bumrah picks his third wicket of the day as he gets rid of Rubel Hossain for 9. The batsmen missed the yorker and it rattled into the stumps. India one wicket away from securing a place in the semis.
22:55 hrs IST
Delaying the inevitable
Bangladesh batmen are just delaying the inevitable as they continue to score runs. just enough to frustrate the Indian bowlers and not enough to threaten the target. Bangladesh now need 36 off 18 deliveries.
22:50 hrs IST
Bumrah leaks runs
A length delivery from Bumrah and it is hit for a boundary by Rubel Hossain. In total, Bumrah gives away 8 runs in the over. Bangladesh now need 43 off 24 deliveries and with two wickets in hand, it seems like an uphill task for them.
22:45 hrs IST
Six and out
Bhuvneshwar Kumar picks his first wicket of the innings as he gets rid of skipper Mashrafe Mortaza for 8. The right hander had hit a six off the previous delivery but off the next ball, he is caught expertly by wicket-keeper MS Dhoni. India two wickets away from entering the semis now.
22:40 hrs IST
Bumrah strikes
Jasprit Bumrah returns into the attack and straightaway provides the breakthrough that India needed. He bowls a slow delivery and Sabbir Rahman missed it completely and is castled for 36. Bangladesh have lost their seventh wicket now.
22:35 hrs IST
Excellent over from Bhuvi
Bhuvneshwar Kumar stops the flow of boundaries and concedes just five runs off his over. There were couple of wides in the over as well but still, the pacer managed to keep the runs down.
22:30 hrs IST
Four and four
Mohammed Shami cannot stop of the flow of runs as he concedes couple of boundaries in the over and gives away 11 runs off his eight over. Bangladesh need 75 off 48 deliveries and these two have put together 61 off 49 so the target seems it can be overhauled.
22:25 hrs IST
Fifty partnership
Sabbir Rahman and Mohammad Saifuddin have now put together 50 runs off 43 deliveries and it is because of them Bangladesh are not out of this match yet. They are scoring runs at a good pace and Indian fans will feel a bit threatened now.
22:20 hrs IST
Excellent spell from Pandya ends
Handik Pandya completes his full quota of 10 overs and he concedes 6 runs off his last over. In 10 overs, he gave away 60 runs and picked up three crucial wickets. 90 runs needed by Bangladesh in the final 10 overs.
22:14 hrs IST
Another expensive over
Saifuddin and Rahman now hit one boundary each off Yuzvendra Chahal as the spinner concedes 11 of the over. Bangladesh are not going down without a fight and this is certainly frustrating times for the Indian skipper.
22:09 hrs IST
17 runs off the over
Shami bowls an expensive over as he concedes 17 off the 38th over of the innings. Sabbir Rahman hit consecutive boundaries off the first two deliveries and Mohammad Saifuddin hit a four on the last ball to take Bangladesh score past 200.
22:03 hrs IST
Required rate jumping up
Bangladesh's required rate has creeped up to almost 9 and with just four wickets in the kitty, it seems like an impossible task for them. Indian bowlers have done well to keep them under check in this contest.
21:57 hrs IST
Stat attack
Shakib is dismissed by Pandya for 66 (74)
Hardik Pandya picks up his 3rd wicket
This is the 4th 3-fer for Hardik Pandya in ODIs
Shakib is now the 2nd highest run getter in this WC with 542 runs
Highest: Rohit Sharma with 544 runs
21:52 hrs IST
Pandya strikes again!
Hardik Pandya has done the trick for India as he gets the prized wicket of Shakib Al Hasan for 66. The southpaw hits a slower delivery into the hands of Dinesh Karthik in the covers. Bangladesh have lost their sixth wicket and are staring down the barrel in the chase.
21:48 hrs IST
Stat attack
Mosaddek Hossain first single digit score coming after 8 ODI inns. Back to back bowled dismissal for the right-hander. The last time Mosaddek Hossain played against India at Birmingham (CT 2017), he was dismissed by Bumrah as well.
21:43 hrs IST
Bumrah strikes!
Jasprit Bumrah picks his first wicket of the day as he castles Mosaddek Hossain for 3. The right-hander fails to read a slow delivery from the Indian pacer and the ball crashes into his stumps. Bangladesh have lost half their side now.
21:37 hrs IST
Edge but safe
Hardik Pandya bowls short and Mosaddek Hossain went for the pull shot. The ball took an inside edge but landed in front of Dhoni. Hossain survives a close call as Pandya cannot believe his luck and is sitting on the ground. He conceded three runs in the over.
21:31 hrs IST
Pandya strikes!
Hardik Pandya picks his second wicket of the day as he gets rid of Liton Das for 22. He had hits huge six over long on two balls earlier and went for a pull shot this time but ended up giving a catch to Dinesh Karthik at short mid wicket. Bangladesh are four down in chase now.
21:26 hrs IST
First six of the innings
Liton Das hits Hardik Pandya for a huge six over the long on and this is the first six of the innings for Bangladesh. This partnership is crucial for Bangladesh as both the batsmen can hit the ball a long distance. India need wickets to keep a check on the run rate.
21:20 hrs IST
Shakib fifty
Shakib Al Hasan completes his half-century off 58 deliveries and this is his 46th fifty in ODIs. But even the star all-rounder would know the job is only half done yet and if they are to get anything out of this match, he has to stay in the middle for most parts of the game.
21:16 hrs IST
Run-out chance
Liton Das went for the suicidal double after hitting the ball towards Yuzvendra Chahal at deep mid wicket. But he was sent back early by Shakib Al Hasan and when he Dhoni took off the bails, the batsman was well inside the crease. Close shave for the batsman as Bangladesh would have lost their fourth wicket in this already touch chase.
21:10 hrs IST
Good over from Shami
Mohammed Shami bowls a good over and concedes just 6 runs from his over. He has now bowled 6 overs, conceded 33 runs and picked up 1 wicket. Virat Kohli has now introduced Bhuvneshwar Kumar as well from the other end as India look to pick more wickets.
21:04 hrs IST
Bangladesh need a partnership
Shakib Al Hasan has held the innings from one end but his partners have changed twice on the other end. Liton Das has joined him in the middle and Shakib will now hope he will provide some resistance to the Indian bowlers, who have bowled well so far.
20:58 hrs IST
Chahal strikes!
Yuzvendra Chahal has provided a timely wicket to India as he gets rid of Mushfiqur Rahim for 24. The right hander hits the ball straight into the hands of Mohammed Shami at short mid-wicket. Bangladesh are three down in chase.
20:52 hrs IST
Stat attack
Shakib Al Hasan becomes the first Bangladesh player to complete 500 runs in a single World Cup. Also, he becomes the first all-rounder to complete a double of 500 runs and 10 wickets in a single edition of the tournament.
20:44 hrs IST
100 up for Bangladesh
The two batsmen have put together 30 runs off 29 balls and with that, Bangladesh have crossed the 100-run mark.This is the dangerous partnership that Indian bowlers will be looking to end soon. At the moment, both Shakib and Mushfiqur are looking steady as ever.
20:38 hrs IST
Four and four
Mushfiqur Rahim hits couple of boundaries in the over from Yuzvendra Chahal as Bangladesh rake in 10 runs from the over off the spinner. Bangladesh's run-rate is good at the moment and that will keep India on their toes.
20:32 hrs IST
Stat attack
Soumya Sarkar departs for 33 (38). In his last ODI inns vs India, he was dismissed exactly on 33. His 3rd caught dismissal in this WC. Mushfiqur Rahim joins Shakib Al Hasan in the middle as the two look to rebuild the chase.
20:26 hrs IST
Pandya removes Sarkar
Hardik Pandya comes into the attack and straightaway gets rid of Soumya Sarkar for 33. The batsman hits the ball into the hands of Virat Kohli in covers. Bangladesh are two down in the chase are in a spot of bother now.
20:21 hrs IST
Shami leaking runs
Soumya Sarkar and Shakib Al Hasan slam one boundary each as Mohammed Shami concedes 10 runs in the over. India will have to break this partnership soon as they are scoring runs at a good pace. They have been scoring runs better than a ball.
20:15 hrs IST
Fifty up for Bangladesh
Yuzvendra Chahal concedes 6 runs off his first over of the innings as Shakib Al Hasan and Soumya Sarkar are building a good partnership after the dismissal of Tamim Iqbal. These two have already put on 20 runs off 21 balls.
20:09 hrs IST
DRS drama
Shami traps Sarkar in front of the wicket but the umpire says not out. India opt for the DRS and the third umpire shoots it down by saying there is no conclusive evidence to suggest the ball hit the pads first and not the bat so he gives the decision in favour of the batsman. Sarkar survives but Kohli is letting his feelings known to the umpires.
20:02 hrs IST
Shakib starts well
Jasprit Bumrah bowls a bit full and Shakib Al Hasan hits him down the ground for a glorious boundary. He has been in glorious form in the tournament and this will be the prized wicket that Indian bowlers will be hoping to get as soon as possible. Seven runs from that over from Bumrah as he still searches for his first wicket of the day.
19:56 hrs IST
Shami strikes!
Mohammed Shami has provided the breakthrough to India as he gets rid of Tamim Iqbal for 22. The southpaw edges the ball on to his stumps and has to head back into the hut after a good start to the game. 13th wickets of the tournament for Shami.
19:51 hrs IST
Shami taken for runs as well
Tamim Iqbal now takes the attack to Mohammed Shami as he hits him over the point fielder's head for a boundary. Shami concedes six runs in the over as India still cannot find a breakthrough.
19:46 hrs IST
India's search continues
Bhuvneshwar Kumar concedes four runs off the over as Tamim Iqbal and Soumya Sarka continue to defy the Indian pacer. They have added 28 runs for the first wicket in seven overs and are looking increasingly dangerous with every passing over.
19:41 hrs IST
Bonus runs
Bangladesh have been gifted four bonus runs by Hardik Pandya as he took a shy at the stumps and Yuzvendra Chahal, who was backing up at short mid wicket, could not stop the ball. Then, Bumrah bowls a short ball and Dhoni could not catch hold of it behind the stumps and the batsmen scamper for a single. 6 runs came off Bumrah's over as Bangladesh continue their bright start in the innings.
19:35 hrs IST
Bumrah hits back strongly
After conceding eight runs off his first over, Bumrah hits back hard and bowls a maiden over to Soumya Sarkar. India need early wickets as Bangladesh seem to be steady in the chase a the moment.
19:30 hrs IST
Another boundary for B'desh
Tamim Iqbal hits his third boundary of the innings and this one comes off the bowling off Bhuvneshwar Kumar. He eases into the square drive and the ball powers past the fielders on the off side. Seven runs came from that Bhuvi over.
19:26 hrs IST
Four and four
Jasprit Bumrah is uncharacteristically off to a bad start as he concedes couple of boundaries in his first over of the innings. Tamim Iqbal hit him for couple of boundaries on either side of the wickets as Bangladesh are off to a good start in the chase.
19:21 hrs IST
Good start for Bhuvi
Bhuvneshwar Kumar concedes just 1 runs off the first over as India are off to a good start in the Bangladesh chase. Jasprit Bumrah will now bowl the second over as India search for early wickets.
19:15 hrs IST
Chase begins
Bhuvneshwar Kumar has the new ball in his hands and he will bowl the first over of the innings. Tamim Iqbal and Soumya Sarkar are opening the innings for Bangladesh as they chase 315 to win.
19:05 hrs IST
India eye early wickets
Indian bowlers will look to dent Bangladesh chase early in the innings as the 'Bangla Tigers' have already shown in the tournament that they are capable of chasing big targets. If they are allowed to score runs freely, it will be troublesome for India.
18:55 hrs IST
Milestones for Rohit
Rohit Sharma's 104 played a pivotal role in take India's score to a formidable one. He set couple of record in during the course of his innings. You can read it here -
Rohit Sharma slams 4th World Cup 2019 ton, equals Sangakkara's massive record
Rohit Sharma becomes second Indian after Sachin Tendulkar to achieve this World Cup feat
18:48 hrs IST
Innings over
Mustafizur Rahman picks two wickets in the last over and finishes with a five-wicket haul. In total, there were three wickets in the last over as Bhuvneshwar Kumar was run-out. India end their innings at 314/9 in 50 overs.
18:40 hrs IST
Four and four
After India crossed the 300-run mark, he MS Dhoni took the mantle in his own hands and hit couple of boundaries off Mohammad Saifuddin in the penultimate over of the innings. Saifuddin concedes 11 runs in the over and in 7 overs he has now given 59 runs at an econ of 8.4
18:36 hrs IST
Karthik departs
Mustafizur Rahman picks his third wicket of the innings as he gets rid of Dinesh Karthik for 8. The right hander went for the pull shot but ended up giving an easy catch to Mosaddek Hossain at mid on. India have lost their sixth wicket now.
18:33 hrs IST
Karthik shows intent
Dinesh Karthik hits Mohammad Saifuddin for a boundary in between point and covers as this is his first four of the innings. India are edging closer to the 300-run mark with Karthik and Dhoni leading their chase in the death overs.
18:29 hrs IST
Good over for India
MS Dhoni hits a boundary off the first ball of the Mustafiqur Rahman's 46th over as India score 9 runs off it. India need more of such over to get past the 300-run mark in the innings. Four overs left to be bowled in the innings.
18:24 hrs IST
Stat attack
Rishabh Pant misses out on his fifty. However, this is his highest ODI score. It has been 12 ODI innings since a number 4 Indian batsman scored a fifty in the 50-over format of the game. The wain continues!!!
18:20 hrs IST
Shakib gets Pant
In trying to get hit a boundary and cross the 50-run mark, Rishabh Pant has been dismissed for 48 by Shakib Al Hasan. India have lost their fifth wicket and are in danger of finishing the innings weakly. Dinesh Karthik joins MS Dhoni in the middle.
18:15 hrs IST
Four and four
India score couple of boundaries in the over as Rubel Hossain concedes 9 runs in the over. The first boundary was a leg bye off the pads of Risbabh Pant but the second was a stunning shot from MS Dhoni towards mid-wicket.
18:10 hrs IST
Pant nears fifty
Rishabh Pant is closing on to his maiden World Cup fifty and it has been a good innings from his so far. Just what the doctors ordered for India after the loss of two quick wickets in Virat Kohli and Hardik Pandya. Seven overs left in the innings as India look for final flourish.
18:04 hrs IST
Good over from Shakib
Against the run of play, Shakib Al Hasan bowls a good over to the Indian batsmen. The spinner concedes just four singles in the over and keeps a check on the scoring rate of the Indians. Bangladesh need more of such overs in as we approach the final phase of the innings.
17:59 hrs IST
250 up for India
Rishabh Pant hits three successive boundaries off Mohammad Saifuddin as he concedes 14 runs in the over. With that, India have also gone past the 250-run mark in the 40th over of the innings.
17:53 hrs IST
Pandya falls as well
India have lost two wickets in quick succession again as Hardik Pandya is dismissed by Mustafizur Rahman for 0. The right-hander edges the ball into the hands of Soumya Sarkar in the slip region. India have lost their fourth wicket as MS Dhoni joins Rishabh Pant in the middle.
17:50 hrs IST
Kohli departs
India have suffered their third blow of the innings as Virat Kohli is dismissed by Mustafiqur Rahman for 26. The right hander hits the ball straight down the throat of Rubel Hossai at mid wicket. India in a bit of bother as three top order batsmen have departed now. Hardik Pandya joins Rishabh Pant in the middle.
17:46 hrs IST
Another good over for India
Rishabh Pant went down on his knee and hit Soumya Sarkar for a boundary past the fine leg fielder. 10 runs came from that over as India move ahead nicely in the innings.
17:41 hrs IST
Four and four
There is no stopping boundaries as Virat Kohli and Rishabh Pant are making merry out there in the middle. Both slam one boundary in the over as Shakib Al Hasan concedes 10 runs in the over. India poised for a big score as they have eight wickets in hands and 13 overs to go.
17:36 hrs IST
Partnership building
Soumya Sarkar gives away six runs in the over as Virat Kohli and Rishabh Pant are building a good platform for the final assault. They have added 22 runs off 20 deliveries and are scoring runs easily at the moment.
17:30 hrs IST
Six and Four
Rishabh Pant makes his intentions clear early on in the innings as he hits Mosaddek Hossain straight down the ground for a huge six. Then, Virat Kohli hits Rubel Hossain for a boundary towards mid wicket. Indian batsmen are looking to attack in order to release the pressure that was put upon India due to the fall of two quick wickets.
17:25 hrs IST
Time for Pant to shine
Rishabh Pant looked nervous on his World Cup debut against India but things are relatively easy today and the wicket-keeper-batsman can take his time before taking the attack to the bowlers. Kohli and Pant will have to put on a good partnership here.
17:20 hrs IST
Rahul departs
KL Rahul becomes the second Indian batsman to fall as he is dismissed by Rubel Hossain for 77. The right-hander edges the ball into the hands of the keeper as his 92-ball innings comes to an end. India will have to build the innings again as two new batsmen will be in the middle now.
17:15 hrs IST
Decent over from Sarkar
Soumya Sarkar bowls a good over as he doesn't concede a boundary and give away just 6 runs. Rahul and Kohli are trying to build a partnership before taking the attack to the bowlers. Rahul is the set batsman and Kohli will look to get his eye in before playing his shots.
17:10 hrs IST
Kohli arrives
Rohi Sharma may have departed but Bangladesh's problems don't look like ending anytime soon as KL Rahul is being joined in the middle by Virat Kohli. The India skipper is due of a big score in the tournament and by the looks of things, he can do so today as time is on his side.
17:05 hrs IST
And he departs
Soumya Sarkar with the wicket... well.. well... Fullish ball on off, the pace is taken off the ball, Rohit wants to launch it over mid-off, does not time it too well and is caught by the man at covers. He hangs his head and trudges off, but it has been one commanding innings by the opener. Over to the rest of the batsmen to take this score beyond Bangladesh's reach.
17:03 hrs IST
Rohit slams a ton
26th ODI ton for Rohit Sharma, this has been a commanding innings by the opener. He might now just erupt, India are rattling along, how much is enough, with Rohit out there, nothing is quite enough. Stunning innings by the right-hander, his fourth World Cup hundred!
16:55 hrs IST
Rohit is eyeing a century
India in a very strong place right now, Rohit is eyeing his century and it is only the 27th over. A big score is most definitely on the cards. How much will Bangladesh be able to chase down? How much will be enough for India?
16:34 hrs IST
Rohit on the move
He has taken on the offie, 1 six, 1 four and India have flicked on a higher gear. The run rate keeps climbing as Bangladesh look for their first wicket. This can go south pretty soon for Bangladesh!
16:30 hrs IST
Rahul 50: Stat attack
His 4th ODI fifty
His 2nd fifty of this WC
This is the 9th time for India in the WC that both the openers has scored atleast 50 runs each
The 3rd such instance in this WC itself
16:21 hrs IST
50 for Rahul
After bagging a duck in the previous match, Rahul has found some form here. He was watchful to begin with and then now has slowly found his groove. This has been a great start for India and with the batting to follow, this can be a huge score in the offing!
16:11 hrs IST
Rohit 50 - Stat attack
His 43rd ODI fifty
His 5th fifty+ score of this WC
His 3rd fifty-plus score in his last 4 ODI inns vs Bangladesh
His 4th half-century in WC matches
His 7th ODI fifty in England
16:08 hrs IST
50 for Rohit
The form just continues for the opener, another 50 and this one has been one of his most attractive innings. He now has to kick on and make it big. KL Rahul is slowly opening up at the other end. These are ominous signs for Bangladesh.
15:56 hrs IST
Good start by Shakib
He has been Bangladesh's best player all tournament and as expected, he has made a solid start. 3 runs in the first 2 overs. Rohit wants to go after him, but is not getting no freebies
15:47 hrs IST
69 runs in 10 overs
No lack of intent here. both the openers have sprinted off the blocks and India are now on 69 runs after the first 10 overs. Bangladesh need a wicket and they need it quickly. India have bossed proceedings here!
15:36 hrs IST
Rahul gets going
A full ball on the pads is clipped away past short fine leg and then walks into a beautiful cover drive. Rahul is starting to find his timing, these are not very good signs for Bangladesh. They need to find the first wicket here, India's batting is a long one today.
15:31 hrs IST
Better powerplay for India
After scoring 28 runs in the previous match against England, India are placed better in this match. Rohit has been more aggressive as he is looking for his strokes while KL Rahul is trying to dig in and see off the new ball.
15:23 hrs IST
Rohit dropped
The plan was in place perfectly. There was a square leg in place on the boundary, Mustafizur bowled a short ball, Rohit pulled, Tamim ran across from his position and was in position only to shell the catch. Huge reprieve for India, Bangladesh has been sloppy in the field in these initial stages.
15:12 hrs IST
Mustafizur in
Only 1 over for the skipper Mashrafe Mortaza, he has brought on Mustafizur, and well, he will be a threat. Rahul looks cautious, Rohit is looking far more in the aggressive mood. This can be a good tussle.
15:06 hrs IST
'Intent' shown
Yes, Rohit stands tall and wallops a shortish ball over deep mid-wicket to get going. He then chips down the track, taps the ball towards mif-wicket and gets a brace. India's innings is up and running and this has already been a good start.
15:00 hrs IST
Out walk the players
Rohit Sharma and KL Rahul walk out, the Bangladesh side sprint out. Mashrafe Mortaza will take the new ball, he needs to find form. KL Rahul marks his guard, this will be vital phase for both the sides. India need good impetus up front, Bangladesh need to get into India's middle order as soon as possible.
14:56 hrs IST
National Anthems
Well, it is a sea of blue at Edgbaston, but the Bangladesh contingent is not too quiet either. The National Anthems are being sung in proper cohesion, everything is building up perfectly. India have won a vital toss, now they have to put up a score on the board.
14:43 hrs IST
Playing XIs
Bangladesh (Playing XI): Tamim Iqbal, Liton Das, Shakib Al Hasan, Mushfiqur Rahim(w), Soumya Sarkar, Mosaddek Hossain, Sabbir Rahman, Mohammad Saifuddin, Mashrafe Mortaza(c), Rubel Hossain, Mustafizur Rahman
India (Playing XI): Lokesh Rahul, Rohit Sharma, Virat Kohli(c), Rishabh Pant, Dinesh Karthik, MS Dhoni(w), Hardik Pandya, Bhuvneshwar Kumar, Mohammed Shami, Yuzvendra Chahal, Jasprit Bumrah
14:37 hrs IST
Mashrafe speaks
Not a bad idea to bowl them against India. We love to win this do-or-die match. We have to play at our best. Miraz is not playing; Rubel is playing. Unfortunately, Mahmudullah isn't playing; Sabbir Rahman comes in.
14:36 hrs IST
India bat first
Kohli has called correctly and India will bat first. Dinesh Karthik and Bhuvneshwar Kumar replace Kedar Jadhav and Kuldeep Yadav.
Virat Kohli: We are gonna bat first. It's a used pitch. In the last game, it was getting slower and slower. Looking at the shorter boundaries, one of wrist spinners - Kuldeep - misses out. Bhuvi comes in. Kedar is not playing and Dinesh Karthik replaces him.
14:23 hrs IST
Pitch report
"Bright, sunny morning here at Edgbaston. From Birmingham end, 59m boundary square on the leg-side (for a right-hander). Looks very interesting. England bowled a lot of cutter here. There's a lot of patches; dried patches. There are footmarks just outside the off-stump for a left-hander. The surface will bring spinners into play. We'll see a lot of cutters. A good toss to win, the team winning it will want to bat. Bangladesh will enjoy playing India in these conditions" - Ganguly and Bishop with the pitch conditions
14:12 hrs IST
Do we need to talk about Dhoni?
MS Dhoni always walks in to bat amid a roar of approval reserved for South American revolutionaries. Maybe the fans in the stands remember the young, swashbuckling Dhoni—him of the golden-mane fame, who eventually trimmed his hair but not his reputation to finish cricket matches on his blade. Or, maybe the fans have accepted who Dhoni the batsman has become over the last few seasons—the pragmatic accumulator of choppy runs; gritty and granular runs akin to the white five-o'clock shadow on his chin.
More on the man here.
14:04 hrs IST
Building up nicely
Perfect setting for a game of cricket 👌👌#TeamIndia #CWC19 pic.twitter.com/5mvDUXqaWN

— BCCI (@BCCI) July 2, 2019
14:01 hrs IST
Jadeja in?
As per the latest visuals, the left-arm spinner is marking his run up and is speaking with the bowling coach. He could be in the side, and could take the spot of Kedar Jadhav!
Good move on this pitch which has already been used once.
13:54 hrs IST
Player battles
India's flawless campaign in the World Cup received a reality check in the game against England and this will force the management to take a call as far as the combinations are concerned.
These are the important player battles in this match.
13:45 hrs IST
India predicted XI
In the match against Bangladesh, they will have the chance to right the wrongs, starting with the opening combination. KL Rahul, despite all his promise has struggled to get going and now, the Indian management would be tempted to use Dinesh Karthik as the opener for the match against Bangladesh.
Here is India's predicted XI for the match against Bangladesh.
13:27 hrs IST
Bangladesh predicted XI
Bangladesh, still, have an outside chance of qualifying for the semifinals, when they face off against India, who will be entering the contest after suffering their first defeat in the tournament against the hosts England. The problems in India's middle order were exposed by the Three Lions and Bangladesh will be eager to target the same with the trail by spin, which almost earned Afghanistan a win over the men in blue.
Here is Bangladesh predicted XI against India.
13:02 hrs IST
Weather, pitch, conditions update
Just like Sunday, Tuesday too promises to be bright and sunny with scattering clouds providing some respite in between. The rain has left for good, making it ideal conditions to play cricket. The temperature is likely to be around 14-20 degree Celcius, it may come down slightly towards the evening.
12:35 hrs IST
Mashrafe urges Bangladesh to raise game
Mashrafe's side have seven points after three wins and a washout, three points behind fourth-placed England.
To retain any chance of qualifying from the 10-team group phase they need to win both of their final fixtures, against India and Pakistan, and hope results elsewhere go in their favour.
"India are very strong in this World Cup and it is not going to be easy but we have to play hard and be at 100 percent in every area," he said.
12:10 hrs IST
Will Bhuvi play?
Bhuvneshwar who suffered a hamstring injury in the team's match against Pakistan on June 16, was ruled out from the team's next two-three games. Mohammed Shami was brought in as his replacement in the playing XI and the pacer has taken 13 wickets in just three matches. This has made Bhuvneshwar's path back into the team a bit more difficult.
"Bhuvneshwar is fit to play. He was fit to play against England as well," Bangar told reporters at the pre-match conference.
11:53 hrs IST
What they said:
"Shakib doing what he can do - batting, bowling, fielding, everything that he can do. To me, he has been the best performer in this World Cup. I hope he can keep doing what he has been doing and end up well" - Mashrafe Mortaza
"It's a fresh game. It's going to be on the same track, so we have a bit of an idea of how the track will behave and how the dimensions of the ground are. So we'll try and maximize them" - Sanjay Bangar
11:39 hrs IST
Updated points table
Sri Lanka held off a West Indies charge at Chester-le-Street on Monday to win an exciting battle of two World Cup also-rans by 23 runs, with watching pop idol Rihanna left disappointed.
Both teams came into the match aware they could not reach the semi-finals but the Caribbean side made a good attempt at what would have been the highest successful chase in World Cup history.
Here is the updated points table.
11:20 hrs IST
What people have been saying about Dhoni
Virat Kohli: I think MS was trying really hard to get the boundary but it wasn't coming off. They bowled in good areas and the ball was stopping, hence it was difficult to bat towards the end.
Sourav Ganguly: I don't have an explanation for that...I can't explain these singles. It's also the length and the bounce that has deceived the Indian batsmen. You can't be chasing 338 and still have five wickets in the end.
Sanjay Manjrekar: I wish that team management tells Dhoni to maintain a run a ball start and then see how it goes. I love Dhoni best when he has gone in to bat like the warm-up matches. I like when he scores 30 runs from 30 balls. If the team is 12/2, then I can understand his approach of defence. Once he is in around 20-22 overs, then he should look to play run-a-ball
Nasser Hussain: I am completely baffled. What's going on! This is not what India needed. They need runs. What are they doing? Some Indian fans are leaving now. Surely they must want to see Dhoni go for his shots, even if he slogs it off in the air.
11:10 hrs IST
What to do with Dhoni?
MS Dhoni has come under severe criticism for his approach in India's last three World Cup matches. The debate got to another level when Dhoni and Jadhav added just 39, scrambling singles but failing to find the boundary regularly, when India needed more than 13 runs per over. Dhoni was unbeaten on 42 off 31 deliveries while Jadhav was 12 not out off 13 balls.
11:00 hrs IST
Hello and Welcome
Hi everyone and a very warm welcome to the live coverage of the India vs Bangladesh World Cup match at Edgbaston Birmingham. This is the new Asian rivalry, giving tough competition to the India-Pakistan one and it promises to be even more intense with Bangladesh's place in World Cup on the line.