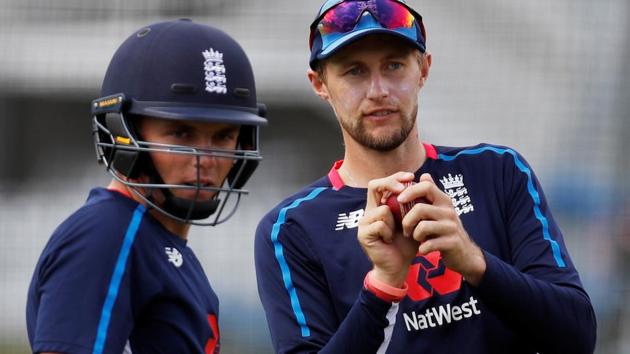 India vs England: How social media has changed cricket - Joe Root explains
Joe Root said that the internet has changed the way cricket is play and he believes that the art of leaving the ball, key to success in English conditions, has changed since he began playing.
Hindustan Times, London | By N Ananthanarayanan
UPDATED ON AUG 09, 2018 11:16 AM IST
England skipper Joe Root has in recent months shown anxiety both to overturn his poor fifties-to-centuries conversion rate in Test cricket as well as to step up scoring and bag a regular spot in the limited-overs squads.
Root, who competes for the tag as the world's best Test batsman with Virat Kohli, Kane Williamson and Steve Smith, joked on Wednesday when asked how the art of leaving the ball, key to success in English conditions, has changed since he began playing.
"Social media came in! Without trying to get too much in depth into the way the world has changed, people want things more, now," he said ahead of the second Test against India at Lord's.
READ: Joe Root survives injury scare, hints at Moeen Ali's inclusion at Lord's
"People want things now all the time. That creeps into everything else that you do. Naturally the game has got quicker. T20 has come in and guys are playing all three formats; it's always going to have some impact in your game. It's not just our team and India's team that are wanting to hit the ball a lot more. It's a general rule in world cricket. It's the way the game has moved forward.
STYLE QUOTIENT
"Of course, there are certain players that have different styles: some like to leave the ball more consistently, some want to hit the ball a lot more. Ultimately it's about scoring runs. It doesn't really matter how you do it. You see a number of different players that are right at the top of the game and have completely different techniques and different styles.
"The challenge to every individual that plays Test cricket is finding the best way that suits them. If that's hitting every ball, then so be it. There'll be different surfaces, different situations which might dictate you play slightly differently. But ultimately you've got to try and find a way to get your own game in the best possible way for as long as possible.
"That's my message to our team: to be as true to themselves and try and be the best versions of themselves. Rather than doing stuff that doesn't necessarily come natural to him."
ROOT'S CONVERSION
Although Root has struggled to convert fifties into centuries – he has gone 12 Tests without one but has 11 half-centuries in the period. However, the 27-year-old took positives from scoring back-to-back centuries in the ODI series win over India.
READ: Batting collapses not due to flaw in technique - Virat Kohli
"There's been a lot of talk about this. I look at this summer and twice I've managed to get past 50 and go on to make hundreds in succession. It might have been in white-ball cricket but I still see that I've made an improvement in that area and I wanted to take that forward into this format.
The twin centuries must have pleased Root, who went unsold ahead of IPL 2018 while 12 England players featured in the latest edition of the T20 tournament.
"The frustrating thing about last week was that it wasn't poor batsmanship that got me out, it was a poor passage of play in terms of running between the wickets," he said referring to Virat Kohli running him out for 80 in the Edgbaston Test.
Close