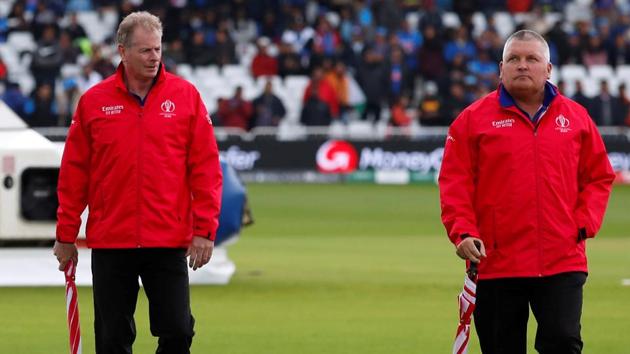 India vs New Zealand Highlights, ICC World Cup 2019: Match abandoned due to rain
India vs New Zealand As it happened: The match was abandoned due to rain as both India and New Zealand were awarded one point each. Both the teams continue to remain unbeaten in the tournament after this wash-out. Virat Kohli and his troops will next face Pakistan in Manchester on Sunday. Follow India vs New Zealand highlights here:
UPDATED ON JUN 13, 2019 07:45 PM IST
19:40 hrs IST
Captains corner
Virat Kohli: It is unfortunate (match being called off). But we cannot control the weather. It is good that the players didn't have to go on a pitch like that. It still early days in the tournament and players could have picked some kind of injuries in these conditions.
19:33 hrs IST
Match called off
The officials have confirmed that the match has been abandoned due to rain. Both teams have been handed one point each. The umpires hailed the job done by the ground-staff but the weather didn't give them a chance. India will next take on Pakistan on Sunday and we hope the weather will be better there
19:17 hrs IST
Final inspection?
The official handle of the World Cup has Tweeted that the umpires will take a stock of the situation at 7:30 PM IST. It could be the final inspection before they decide to call off the match.
19:00 hrs IST
Still raining
The match is now heading towards a wash-out as there is still no change in the weather. Rain is still lashing down hard at the venue and the covers are still on the pitch.
A quick update from Trent Bridge 👇 pic.twitter.com/dARTL0QvTY

— Cricket World Cup (@cricketworldcup) June 13, 2019
18:25 hrs IST
Nothing has changed
It is still raining in Nottingham and nothing has changed over the last half an hour. It has started to rain a bit heavily and that is the only change. The covers are still on at Trent Bridge.
Mood. pic.twitter.com/ELYm5thCWx

— Cricket World Cup (@cricketworldcup) June 13, 2019
18:07 hrs IST
Rain returns, again!
Rain continues to play hide and seek at Trent Bridge as it has once again started to fall down hard. The covers are back on the pitch and live pictures suggest the surroundings have gone darker in the last hour. Things are not looking good at the moment.
17:58 hrs IST
Why washout will hurt India
If rain washes out India vs New Zealand match then it will affect India more than New Zealand. The Kiwis, with already three wins in three matches will take a major step towards ensuring semi-final qualification if they get a point against India. Three more wins in their next five matches will more or less guarantee them a top two finish.
17:42 hrs IST
'Raining heavily'
Harbhajan Singh, who is in England for commentary durties, says that it has now started to rain heavily in Nottingham. He also suggests that there could be no cricket today.
Bad news raining heavily in Nottingham.. No cricket 🏏 pic.twitter.com/6PdUWVIIlF

— Harbhajan Turbanator (@harbhajan_singh) June 13, 2019
17:20 hrs IST
Rain is back!
This is not a good sign as rain is back in Nottingham and the covers are back on. This BCCI have posted an update from Trent Bridge on their Twitter page to announce this bad news.
Covers are back on as it has started to drizzle again 😑#CWC19 pic.twitter.com/N5B09s3reh

— BCCI (@BCCI) June 13, 2019
17:12 hrs IST
Umpires not happy
The official word from the venue is that the next inspection will take place at 6 PM IST. The umpires aren't impressed with the ground conditions and want to take a look at it once more before they could take a decision.
17:05 hrs IST
Inspection underway
The two umpires don't seem to be happy with the pitch conditions as they are using their umbrellas as pitchforks to check the ground conditions. Super soppers are still doing their job relentlessly. We will get to know about what the umpires feel about the ground conditions in sometime.
16:48 hrs IST
Cover coming off
The covers are being taken off by the ground-staff as the rain has finally relented in Nottingham. The pitch inspection is supposed to take place soon and then we will have an official confirmation as to if and when the match can start.
16:22 hrs IST
Rain returns
How many times have we written this today? Really running out of adjectives and vocabulary now. Rain has returned for the umpteenth time and so have the covers.
16:15 hrs IST
Next inspection at 5 PM
The umpires are not happy with the outfield and they want to conduct another inspection at 5 PM IST.
UPDATE - It's a waiting game here as the next inspection will take place at 12.30 PM local time #CWC19 pic.twitter.com/kyBdwgyjOp

— BCCI (@BCCI) June 13, 2019
16:03 hrs IST
No official word yet
The official inspection time of 4 PM IST is past but there has been no word yet from the match officials.Apparently , the umpires did make their way out into centre but went back into shade without giving any comment. The wait continues.
15:54 hrs IST
Covers coming off, again
Just six minutes before the scheduled inspection, the covers are being taken off. We won't say fingers crossed, even they are tired of being crossed for such a long time.
15:42 hrs IST
Hardik Pandya wants the cup
"On 14th July I want to have a Cup in my hand, that is the only thing. Even when I think of it it gives me goosebumps. My plan is simple - win the World Cup. I am hoping that and I expect that from myself," said Hardik Pandya. (Here's the full story)
15:32 hrs IST
Rain returns
Would you believe it! Just as they removed the covers, the rain returns again and ground staff are forced to bring them back on. Frustrating times at Trent Bridge.
15:20 hrs IST
Covers coming off
All the covers barring the main hover cover are coming off. The groundstaff have sprang into action with super soppers running all over the ground.
15:16 hrs IST
Next inspection at 4 PM IST
A slight correction on the next inspection time. BCCI says it will be at 4 PM IST instead of 3.30 PM.
UPDATE - Next inspection at 11.30 AM local time.#CWC19

— BCCI (@BCCI) June 13, 2019
15:10 hrs IST
Grumpy Kohli
Live pictures from the dressing room and the Indian captain Virat Kohli does not look very happy. He sure doesn't have any reasons to be happy right now. He's just 57 runs away from becoming the fastest to 11000 ODI runs but for him to get the record, there needs to be some cricket today and that looks unlikely at the moment.
15:00 hrs IST
Next inspection
The official broadcasters say the next inspection will be carried out at around 3.30 PM IST. Fingers crossed for something positive
14:55 hrs IST
Rain update
The word from the venue is that it is drizzling again and the wicket is still covered. The official inspection was supposed to take place at 3 PM IST but it looks like it will be postponed. Stay tune as we try to gather all the information from this damp day in Nottingham.
14:37 hrs IST
A word from the umpires
The umpires Paul Rieffel and Marais Erasmus do not seem confident about a start anytime soon. A gloomy weather, clouds and no wind mean 'it's a slow drying day'. There are lot of areas of concerns around the outfield. "The pitch is fine but just because we've had lot of rain in recent days, so we want to give it some time. Yes, safety is important and it's early in the tournament, so we got to consider all these things. It's a damp kind of day with no wind or sun. We have to sit and wait for things to dry. It's got to be reasonable to play an international game of cricket. There will be areas that shall be more damp than others. As we speak, we can feel some drops, so I reckon there's more rain around. We've got those 75 minutes (that can be added) and maybe a shortened game. There's a lot of time and we shall have to wait. Seems like a slow-drying day."
14:32 hrs IST
Google CEO's cricket mantra
As we wait for some cricket from Nottingham, you might be interest in knowing that the CEO of Google, Sundar Pichai is 'ardent cricket fan' and he was also predicted the finalists of the ICC World Cup 2019. (Click here to read the fully story)
14:22 hrs IST
Toss delayed
If there is no further rain, there will be an inspection at 10.30 AM local time (3 PM IST), which confirms a delayed start at Nottingham.
Update - If there is no further rain, there will be an inspection at 10.30 AM local time#CWC19

— BCCI (@BCCI) June 13, 2019
14:10 hrs IST
Umpires inspecting
The umpires are out their in the centre inspecting the outfield which has relieved a lot of rain in the last couple of days. No official word yet but we are only 20 minutes from official toss-time. Only a miracle can start the match on time now.
13:45 hrs IST
Players wait in the dressing room
The good news it's not raining at the moment in Nottingham. The bad news is, there are forecasts of showers in the next two hours. The Indian team is waiting in the dressing room. We'll keep you updated as soon as we find something from Trent Bridge.
13:30 hrs IST
Latest from Trent Bridge
It does not look good. Looks like the toss will certainly be delayed.
Hello and welcome to the Trent Bridge. Slightly dark at the moment, but no rain 🤞. Parts of the ground under cover at the moment. pic.twitter.com/nbFR0AQiPh

— BCCI (@BCCI) June 13, 2019
13:15 hrs IST
Harbhajan provides a weather update
Looks like rain is going to be the winner today not india not zealand .. raining in Nottingham.. #IndvsNz #Worldcup19 @icc @StarSportsIndia @aajtak pic.twitter.com/8rAyCPkuhi

— Harbhajan Turbanator (@harbhajan_singh) June 13, 2019
13:00 hrs IST
Player battles
Rohit Sharma vs Trent Boult
Virat Kohli vs Lockie Ferguson
Colin Munro vs Jasprit Bumrah
Martin Guptill vs Bhuvneshwar Kumar
Kane Williamson vs Yuzvendra Chahal (Read full story with stats here)
12:42 hrs IST
Head-to-Head and stats
India have a great recent record against New Zealand. They have won last six of their seven encounters and also have a good World Cup record against the Kiwis in World Cups. But the New Zealand pacers have the best numbers in the world since 2015 World Cup. (Here are all the important stats and head-to-head details)
12:30 hrs IST
Another record awaits
India captain Virat Kohli is just 57 runs away becoming the fastest to 11000 ODI runs. Who will he beat? (Click here to find out)
12:20 hrs IST
Predicted/Likely XIs
India Predicted XI: Rohit Sharma, KL Rahul, Virat Kohli, Dinesh Karthik, Kedar Jadhav, MS Dhoni, Hardik Pandya, Bhuvneshwar Kumar, Kuldeep Yadav, Jasprit Bumrah, Yuzvendra Chahal. (Read full story here)
New Zealand Predicted XI: Martin Guptill, Colin Munro, Kane Williamson, Ross Taylor, Tom Latham, James Neesham, Colin de Grandhomme, Mitchell Santner, Tim Southee, Lockie Ferguson, Trent Boult (Read full story here)
12:10 hrs IST
Simon Doull gives an insight to India's plans
It's been 🌧️ in Nottingham, but the clouds cleared enough for @Sdoull to get a glimpse of India's plans for their line-up against New Zealand. #INDvNZ | #CWC19 | #TeamIndia | #BACKTHEBLACKCAPS pic.twitter.com/W2ztWzd0yc

— ICC (@ICC) June 13, 2019
12:06 hrs IST
No rain now
At last some good news coming from Trent Bridge, Nottingham. It did rain early morning but there is no rain now and according to the weather forecasts, it will stay this way till toss-time. But don't get your hopes too high as their are heavy showers predicted towards the afternoon.
11:59 hrs IST
Pitch conditions
It is very difficult to judge the pitch considering it has been mostly under cover for the last three days. But the good thing, it is a fresh strip, one that is more towards the centre, therefore helping even out the boundary distances. Teams winning the toss would defintiely want to bowl first. Two reasons - 1. The rain and overcast conditions. 2. The average first innings score that's resulted in a win is 390, so the team that bats second generally wins more here.
11:52 hrs IST
In the news
Shikhar Dhawan: India will miss the services of opener Shikhar Dhawan, who has been ruled out for at least 1-12 days due a hairline fracture on his left thumb. Dhawan will be replaced by KL Rahul at the top, meaning either Dinesh Karthik or KL Rahul will slot in at No. 4 for India. "Shikhar is a big loss to India. The present team plays very well at the ICC tournaments and he has a very good record over here. Rohit Sharma and Dhawan complement each other very well because of right and left hand combination," said Ross Taylor ahead of the match
11:40 hrs IST
Rain threat
This has been a World Cup of rains so far. Lot of social media memes are going around with rain being joint top scorer along with New Zealand as three matches have been washed out because of it - already the most in any World Cup. And unfortunately, the number may just today as it has been raining in Nottingham since Monday and there are chances of heavy showers in the afternoon local time. (Here's the full weather update of Nottingham today)
11:30 hrs IST
Time for India's 3rd match
Hello and welcome to the live coverage of India vs New Zealand ICC World Cup 2019 match at Trent Bridge, Nottingham. This is a clash straight from the top- drawer. Both India and New Zealand come into this match unbeaten. That certainly won't remain same after this match.
Close