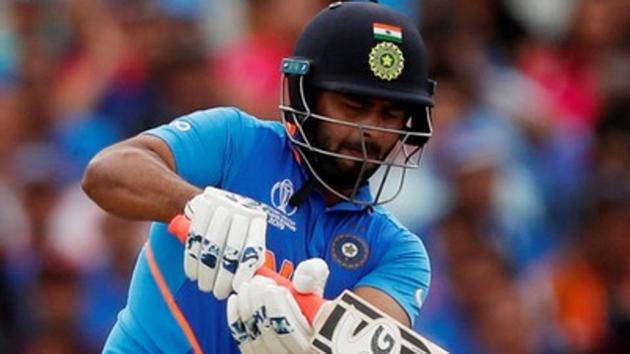 India vs South Africa: Rishabh Pant walking tightrope between 'fearless' and 'careless' cricket
With the first T20 tie against South Africa at Dharamsala rained off, India go into the Mohali game on Wednesday with one eye on wanting to win the now two-match series and another on trying to find the formula that can give Kohli and Co the world title in Australia next year.
UPDATED ON SEP 18, 2019 08:19 AM IST
A fresh batting ethos seems to be the flavour of the season, a brave new approach that the team management believes will give it the best chance to target a second Twenty20 World Cup. Whether the middle-order woes at the 50-over World Cup convinced them, or a deep analysis of their approach in T20, India look determined to ring in the changes.
The slow build-up leading up to a late blitz is likely to go out of the window. Importantly, young Rishabh Pant was again reminded on Tuesday—ahead of the second T20 against South Africa here on Wednesday after the first game in Dharamsala was washed out—that a fortnight short of his 22nd birthday, he needs to show maturity in shot selection from now on.
Skipper Virat Kohli and coach Ravi Shastri have already told Pant the stumper can make his rich batting talent count only if he improves game awareness and doesn't throw away his wicket. On Tuesday, after a long training session with Pant, Shreyas Iyer and Manish Pandey—all three can cement their spots for the 2020 World Cup in Australia (Oct-Nov)—Vikram Rathour, the new batting coach, made two things clear.
He gave Pant, and the other young batsmen, the 'licence to kill' but with a caveat. And that India are likely to showcase a new, aggressive, batting approach.
READ: India batting coach Vikram Rathour has this advice for Rishabh Pant
"In T20, we are fortunate to have all-rounders. Iyer and Pandey have proved their credentials in domestic cricket consistently and have been picked for the middle-order. They need to carry on and be consistent. We have 20-21 games ahead of the T20 World Cup, which will help us prepare well. With such depth in batting, we can come hard in the beginning of the match and maintain momentum," Rathour said in his first media interaction in his new role.
The former Test opener is no stranger to the national set up, having been a national selector from 2012 to 2016. He wants batsmen to be fearless, but sensible. Shastri gave Pant a 'rap on the knuckles' that the team management is running out of patience with his throwing away his wicket at the wrong time.
"Rishabh is phenomenal but needs to sort out his game plan and be more disciplined," Rathour said. "His hits make him special and an impact player. But the young cricketers need to understand that there is a thin line between playing fearless and careless cricket. The team management is asking the players to be fearless, to have intent and back their strength."
"At times, we over emphasise on technique. It is more about the mindset at this level, getting your game plan right. As far as Rishabh is concerned, he is a phenomenal player, he just needs to sort out his game plan, bring in a little bit of discipline in his cricket.
"We want him to play all his shots. That is what makes him special, he is an impact player. But at the same time, you can't be careless."
India were first off the block, winning the inaugural World T20 in 2007. Five editions on, with the finishing mastery of MS Dhoni all but gone, Kohli is keen for younger batsmen to step up. There is an emphasis on all-rounders in the squad, but batsmen will need to deliver before the bonus runs flow seems to be the message.
READ: 'Not many bowl at 150 kmph': Klusener's huge praise of young India bowler
Rathour, who has replaced Sanjay Bangar, made it clear he was on the same page with Kohli and Shastri. The skipper had said five T20Is should be enough to judge newcomers. Rathour said: "They aren't referring to a specific number. What they are trying to say is you need to take your opportunities when you get them. They have played so much cricket … I don't think that's a massive issue. The team management will be supporting them."
Rohit Sharma's wait to kick off a new career as Test opener will soon be over. But after failing in the middle-order, there will be heavy scrutiny. Rathour though backed him. "He is too good a player to be not playing in any team. That's what everybody is thinking. He has done so well as an opener in white-ball cricket, so I don't see any reason why he can't do well in red-ball cricket as well, provided we give him enough opportunities.
"If he gets his game plan right, he can be a phenomenal player. If he comes good, it will be a huge asset for the team."
Close