RCB vs SRH Highlights: Sunrisers Hyderabad maul Royal Challengers Bangalore by five wickets
RCB vs SRH, IPL 2020 Live Score: A six from Jason Holder applies the finishing touches as Sunrisers Hyderabad beat Royal Challengers Bangalore by 5 wickets. SRH lost their fourth wicket with Isuru Udana dismissing Kane Williamson. Yuzvendra Chahal picked up a second wicket, getting Wriddhiman Saha out stumped. Manish Pandey top edged Chahal for Sunrisers Hyderabad to lose their second wicket. Saha and Pandey added a fine fifty-plus partnership for the second wicket after Sunrisers Hyderabad lost captain David Warner to Washington Sundar cheaply. SRH would be glad with their bowling performance having restricted Royal Challengers Bangalore to 120/7 after opting to bowl. Rashid Khan picked up his first wicket getting Josh Philippe out caught in the deep, soon after AB de Villiers fell to Shahbaz Nadeem. Earlier, RCB lost Devdutt Padikkal and Virat Kohli cheaply. It was the seventh time in IPL that Sharma picked up Kohli's wicket. Navdeep Saini was declared fit but Isuru Udana replaced Dale Steyn for RCB.Follow the highlights of RCB vs SRH IPL 2020 match here:
Updated on Oct 31, 2020 11:41 PM IST
Hindustan Times, New Delhi |
hindustantimes.com
22:46 hrs IST
And that's the game! SRH beat RCB by 5 wickets to stay alive in the race for playoffs
Jason Holder smashes a six, his third of the innings to help Sunrisers Hyderabad complete a comprehensive five-wicket win against Royal Challengers Bangalore in Sharjah. The West Indies all-rounder remains unbeaten on 26 with three sixes. SRH bag two crucial points and make the race for the playoffs even more interesting.
22:44 hrs IST
OUT! End of the innings for Abhishek Sharma
Got carried away the youngster, there. After a six off the previous ball, Sharma tried to hit it out of the park. But just that he got no timing on that ball whatsoever. Gurkeerat takes the catch at mid off but nothing to worry for SRH.
22:40 hrs IST
What an over, this should be it
A six and four from Holder off Saini and Abhishek Sharma joins in on the fun with a six of his own. SRH need just 7 more runs off 37 balls.
22:38 hrs IST
Kohli reviews, but to no avail
Navdeep Saini's ball rapped Jason Holder on the pads. Given not out by the umpire, Kohli went upstairs. The replay showed a spike on ultra edge as the ball passed the bat. Leave aside the fact that it would have been missing the top of stumps.
22:36 hrs IST
SIX! Holder gives it a go
What would have been a decent back of a length delivery to other batsmen, for a tall Jason Holder, it was right in the slot. He takes full toll and smashes a six. SRH 96/4 in 13 overs.
22:32 hrs IST
OUT! Williamson goes
Soft dismissal as Williamson chips the ball to Virat Kohli at cover. A wicket for Isuru Idana, his first of the innings. Jason Holder is the new man in.
22:30 hrs IST
12 gone, SRH 87 for 3
The equation has come down to 34 needed off 48 balls. SRH have lost a set Saha but Kane Williamson is still batting out there for them. Chahal has one over remaining and SRH wouldn't mind playing it out. The required run rate is just 4.2.
22:26 hrs IST
Saha OUT Stumped!
Flighted delivery from Chahal and it results in the stumping of Wriddhiman Saha. He comes down the wicket and the turn beats him. A yard outside the crease and de Villiers does the rest. RCB 82/3
22:24 hrs IST
Chahal has Pandey's number?
Chahal gets Pandey for the 4th time in IPL, joint most dismissal by a bowler to dismiss Pandey in IPL. Bhuvneshwar Kumar, Harbhajan Singh and Lasith Malinga have also dismissed him 4 times.
22:20 hrs IST
Boundary to start the over
Fresh over from Chahal and Saha uses his feet well to get to the pitch of the ball and launch it towards the midwicket region for a four.
22:18hrs IST
Half-way through the innings
We're done with 10 overs and SRH will be happy with where they're at. 74/2 after 10 overs and with 47 needed off 60 balls, this should be an easy chase from this stage onward with 8 wickets remaining.
22:16 hrs IST
Udana bowls it high, no-ball not called
And Williamson looks surprised. That clearly was high. Like Sunil Gavaskar pointed out, "He's too much of a gentleman to do anything more than shaking his head". Absolute gold!
22:14 hrs IST
Full toss and Saha helps himself to a boundary
The RCB pacers haven't just clicked for some reason. Udana starts a fresh over with a full toss which is dealt handsomely by Saha, lofting the ball over cover.
22:12 hrs IST
Another fine over from Chahal
Two runs, three dot balls. He's given just five off the two overs he's bowled. And this is when there's so much of dew, making it tough for the bowlers to grip the ball properly
22:10 hrs IST
Reprieve for Williamson?
What happened there? Saha played the drive and with Williamson backing too far. Chahal got a dive and believed that the ball flicked his fingers before hitting the stumps. Third umpire gave it not out on the basis of there not being a conclusive evidence. Williamson survives. Kohli and RCB aren't exactly thrilled about the decision.
22:06 hrs IST
Seventh time David Warner has been dismissed by a spinner this season
Spinners who have dismissed Warner in this season are -
- Amit Mishra
- Piyush Chawla
- Ravi Bishnoi (twice)
- R Ashwin
- Varun Chakravarthy
- Washington Sundar
22:04 hrs IST
Saha making steady progress!
He was 9 from 9 earlier in the innings. From there. Wriddhiman Saha has moved to reach 25 off 20.
21:58 hrs IST
OUT! Pandey departs
And it's Chahal who's struck in his first over. Poor shot from Pandey. With the asking of 4.50, why Pandey went for that hoick this early off Chahal only he knows. Gets a leading edge and Morris takes the catch at long on. Horrible shot. Breakthrough for RCB. SRH 60/2
21:55 hrs IST
Chahal in the attack
Right then! Time to slow things down a bit. Morris, Siraj and Saini haven't worked. Maybe spin will, maybe Chahal will.
21:52 hrs IST
Saha hits a SIX out of the stadium
WOAH! Absolutely smoked. Short ball from Siraj and that one has flown. Bounces twice on the top of the roof before landing outside the stadium. SRH 58/1 and that's the end of the Powerplay.
21:48 hrs IST
Terrific over for SRH
Two boundaries, three wides and an overthrow. What more could SRH have wanted to cap off the fifth over. SRH race to 46/1.
21:44 hrs IST
1000 runs for SRH for Manish Pandey
1⃣0⃣0⃣0⃣ runs in the orange jersey for @im_manishpandey 🧡🧡#RCBvSRH #OrangeArmy #KeepRising pic.twitter.com/PASrqNIzuc

— SunRisers Hyderabad (@SunRisers) October 31, 2020
21:42 hrs IST
FOUR! Pandey goes over the infield
Fuller ball from Morris and Pandey nonchalantly flicks the ball over the infield over midwicket for a boundary. His second of the innings to go with a six. SRH looking so much more assured than RCB did. Runs coming at a reasonable pace too.
21:40 hrs IST
IPL 2020 Live Score, RCB vs SRH: SRH making steady progress
They're not chasing a huge target. Hence, 31 runs in four overs, at over seven an over isn't bad. They would not want to make the mistakes RCB did. Time to give yourself time and go about it patiently.
21:38 hrs IST
Saha sweeps, gets a FOUR
Washington Sundar fires the ball at over 90 kph but an alert Wriddhiman Saha brings out the aerial sweep shot and gets himself his first boundary. He loves to play that shot and it's come out well.
21:36 hrs IST
How Sandeep Sharma dismissed Virat Kohli for the 7th time in IPL
SRH fast bowler Sandeep Sharma had a memorable day with the ball finishing with 2/20, one of those wickets being of RCB captain Virat Kohli, whom he's now dismissed seventh time in the IPL.
21:32 hrs IST
FOUR, SIX for Pandey
A good start to the over from Manish Pandey as he cracks a four and a six off Navdeep Saini's first over. Saini under pressure early. This is his return match after missing the previous game due to a niggle. Three overs gone SRH 21/1
21:28 hrs IST
Sundar to Warner - OUT!
GONE! David Warner tried to repeat the previous shot on the ball and it has spliced it to Isuru Udana. SRH 11/2
21:26 hrs IST
Good start from Morris
Good first over Morris, he just gives away 4 runs in the first over, despite giving away a wide first ball. Washington Sundar on the other end.
21:24 hrs IST
Saha, Warner open for SRH
Wriddhiman Saha, David Warner begin Sunrisers Hyderabad's 121-run chase. In the attack, it is Chris Morris for RCB. CHASE IS ON!
21:20 hrs IST
Sandeep Sharma speaks after innings
"I didn't know that (dismissing Virat Kohli for the record seventh time in IPL). When I got him, someone came and told me. He's one of the greats, getting his wicket is always special, I enjoyed it. I was talking to Bairstow and Holder, they told me that I was bowling good inswingers and it would be hard for the batsmen if I could bowl the straighter deliveries. So I am working hard on the that and it came out nicely today. Very happy with that. I need to change my wrist position which I am working in the nets. Trying to bowl some outswingers as well, working hard. I have been bowling knuckle balls for the last three years, I don't have to practice that much, I know my lengths with that. When we started bowling, it was little bit sticky, but now there's lot of dew. The ball is getting wet and is coming on nicely," SRH pacer Sandeep Sharma.
21:14 hrs IST
RCB in overs 16-20 in last three games
vs CSK: 101/2-145/6 (44/4)
vs MI: 129/2-164/6 (35/4)
vs SRH: 93/4-120/7 (27/3)
21:10 hrs IST
Stat Attack!
27/3 in the last 5 overs (#16-20) is the 2nd lowest runs scored by RCB in IPL 2020.
21:06 hrs IST
RCB vs SRH Live Updates: End of the innings! RCB finish on 120/7
A terrific bowling performance from SRH. RCB would have hoped for some more but judging the slowness of the surface, you never know.
21:04 hrs IST
Last over coming up
Right then. It's been a below par batting performance from RCB. Natarajan to bowl the final over. Can RCB push to 130?
21:00 hrs IST
OUT! Another wicket goes down
Isuru Udana gives Jason Holder his second wicket of the over and Kane Williamson his second catch of the match. Holder finishes with 2/27. RCB 116/7 with 1 over to go.
20:57 hrs IST
IPL 2020 Live Score: Holder to Morris - OUT!
A full toss from Jason Holder but Chris Morris finds SRH captain David Warner at long-on. RCB lose their 6th wicket for 113.
20:54 hrs IST
Sandeep drops a tough chance...
... but he makes matters worse by parrying the ball over the boundary. Natarajan is not happy. Sharma looked like he panicked after he couldn't hang on to the ball running behind. Should have done better. Should have prevented the boundary. RCB 111/5, two overs remain.
20:52 hrs IST
Natarajan strikes...
OUT ! Another one goes. Sundar hits a slower ball right back to Natarajan who completes the catch. Natarajan picks up his first, RCB lose their 5th for 106.
20:49 hrs IST
RCB vs SRH Live Score: How RCB's inning has panned out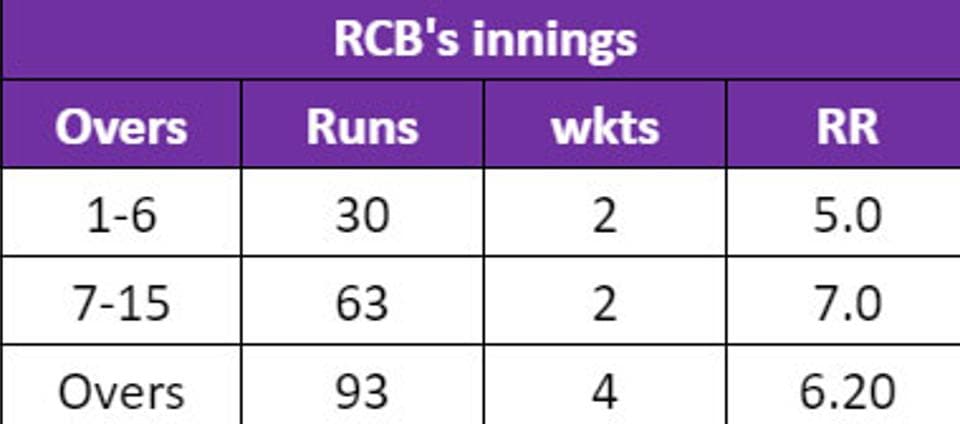 20:47 hrs IST
RCB Vs SRH, 1st innings: Live Updates: Score after 15 overs
At the end of 15 overs of the 52nd match of IPL 2020, RCB's total is 93/4. In the last 5 overs, Royal Challengers Bangalore managed to score 32 runs for the loss of 2 wickets. Click here for more details
20:44 hrs IST
Pandey drops Sundar
Relief for RCB as Washington Sundar gets away with a chance. Manish Pandey dove to his right but as he landed, looked in doubt. The third umpire was called for and it was a clear drop. The ball hit his hand and bounced on the ground. The 100 comes up for RCB though.
20:42 hrs IST
Final over for Rashid
And he's reaching in his bag of tricks to put Sundar and Gurkeerat in all sorts of puzzle. Unable to read the wizard.
20:39 hrs IST
IPL Live Updates: A yorker to finish the over
Delivers the ball right in the block hole. 15 overs gone and RCB still inside 100. They reach 93/4
20:36 hrs IST
Holder returns!
And gets slashed for a boundary by Washington Sundar. Width on offer and Sundar slashes the ball over backward point. RCB need more of those, scoring rate is a concerning 6.28.
20:32 hrs IST
Brilliant over from Natarajan
Just three runs of the 14th over. RCB 86/4 and in desperate need to get a move on. Six overs left and the only cautious over RCB can afford at this stage is of Rashid. The remaining five need to be big.
20:28 hrs IST
RCB vs SRH Live Score: Second time de Villiers has fallen to spinners this season
He was dismissed against Murugan Ashwin against Kings XI Punjab earlier and now to left-arm spinner Shahbaz Nadeem. None the less, pace returns as T Natarajan comes back for his second spell.
20:26 hrs IST
RCB's 10-over summary
At the end of 10 overs of the 52nd match of IPL 2020, RCB's total is 61/2. In the last 5 overs, Royal Challengers Bangalore managed to score 32 runs without losing any wicket. Here are some further details.
20:24 hrs IST
OUT! Now Philippe falls
Oh dear! What is RCB doing here? Another wicket goes down to spin as Rashid Khan has Josh Philippe out caught at deep midwicket. Huge blow for RCB as two set batsmen depart in quick succession. RCB 76/2 in 12 overs.
20:20 hrs IST
IPL Live Updates: OUT! Big wicket for SRH as de Villiers departs
What a wicket to get. Nadeem, after dropping de Villiers earlier, gets his man. He wanted to go over the infield but just wasn't able to clear sweeper cover, where Abhishek Sharma completes a composed catch. RCB lose their 3rd wicket for 71 on the board.
20:18 hrs IST
Nadeem to de Villiers: SIX
No, no! Another short ball, this time from Nadeem and ABD takes full toll. Launches the ball over long on for the first six of the RCB innings. He's gotten his eye in and how eyeing the big boundaries.
20:16 hrs IST
Mumbai Indians fan. You might want to hear this
MI's stand-in captain Kieron Pollard provides an important update related to Rohit Sharma. Check out what he had to say
20:14 hrs IST
RCB vs SRH, IPL 2020 Live Score: BOUNDARY!
De Villiers finally puts Rashid away. Short ball from the leg-spinner and de Villiers rocked back on the backfoot and thumped a boundary towards midwicket. 10 gone, RCB 61/2
20:12 hrs IST
Did you know?
With 23 wickets Sandeep Sharma is joint highest wicket taker vs RCB in IPL. Also, 30/2 is RCB's lowest powerplay score in this season.
20:10 hrs IST
Strategic time out!
Nine overs bowled and RCB are 52/2. Josh Philippe scored his fourth boundary in that over but the scoring rate still remains a concern.
20:08 hrs IST
IPL 2020 Live Score, RCB vs SRH: How the first 5 overs have panned out?
Low scores for Padikkal, Kohli. RCB captain Sharma's bunny? Here's a quick recap of the first five overs of the RCB innings
20:06 hrs IST
Rashid beats ABD!
Not once or twice, but three times in the over. If that doesn't help your confidence, what would? Tidy start from Rashid as RCB get to 42/2 in 8 overs.
20:04 hrs IST
DROPPED!
Oh dear! A chance of a lifetime for Shahbaz Nadeem and he lets it do. AB de Villiers hit the ball right back at him but the left-arm spinner was unable to grab on to the chance. What a body blow that would have been for RCB.
20:02 hrs IST
IPL: Philippe sweeps
With runs tough to come by down the wicket, Josh Philippe tries an unconventional combination of a sweep and a scoop to loft the ball for a four towards fine leg. RCB 38/2 after 7
20:00 hrs IST
Shahbaz Nadeem in the attack
Trying to take the pace further off the ball, David Warner has handed it to left-arm spinner Shahbaz Nadeem. SRH pulling put all the stops here.
19:58 hrs IST
Runs not coming for RCB
End of the powerplay and RCB have scored only 30 in the first six overs. SRH have bowled tremendously. Sure the surface isn't easy to score on but SRH bowlers have stuck to some good line and length.
19:54 hrs IST
IPL 2020: Do we sense a bunny?
𝗦̶𝗜̶𝗫̶
𝗦𝗘𝗩𝗘𝗡

Sandeep OP in the chat, please! 👏👏 https://t.co/GOxskN49Ku

— SunRisers Hyderabad (@SunRisers) October 31, 2020
19:50 hrs IST
OUT! Sandeep gets Kohli again
We mentioned this earlier in our updates... how Sandeep Sharma has Virat Kohli's number. He's done it here again, dismissing the RCB captain out caught at cover. Kohli goes for 7, RCB 28/2 in 4.4 overs
19:46 hrs IST
Kohli off the mark
The RCB captain is in a lot earlier that he'd have liked and gets off the mark with a single. Meanwhile, Philippe thumps the ball over the infield for his second boundary. RCB 24/1 after 4 overs
19:42 hrs IST
RCB vs SRH: OUT! Sandeep Sharma cleans up Devdutt Padikkal
A rare low score for Padikkal this year. Goes for an ambitious shot and the ball swings in just about enough to crash on to the stumps. Sandeep Sharma with the wicket. Virat Kohli in early as RCB reach 13/1 after 3 overs.
19:41 hrs IST
FOUR for Philippe
Not timed well but it's a boundary none the less for Josh Philippe. Takes the aerial route and the ball ambles away to the boundary. Too many dot balls for RCB's liking here and that's one way to get going.
19:38 hrs IST
IPL 2020 Live Score: First four for Padikkal
Padikkal crashes the ball down the ground to bring up RCB's first boundary. Two overs gone, RCB 8 without loss.
19:36 hrs IST
Holder starts second over
And rightly so, there is a weird slowness on the surface. Padikkal tried to pull the ball but the ball simply wasn't there. Quite a few early leaves from the two RCB openers.
19:34 hrs IST
Sandeep on the mark up first
It's been a tidy start from SRH pacer Sandeep Sharma, who gives away just three runs off his first over. Mark Nicholas says he sees early signs of low bounce and that the ball is kind of skidding through low. Well, it is Match no 52 after all.
19:32 hrs IST
Philippe, RCB off the mark
After a dot ball to begin proceedings, Josh Philippe takes a single on the leg side to get off the mark and put the first runs on the board for RCB.
19:28 IST
Right then! The countdown has begun
Padikkal and Philippe punch gloves and we're ready to go. RCB vs SRH. Sandeep Sharma has the new ball and will start proceedings.RCB have the left-hand right-hand combination out for them
19:24 hrs IST
Can Padikkal continue his string of impressive scores?
With 417 runs, Devdutt Padikkal is only the second uncapped Indian player to score more than 400-plus runs in his maiden IPL season. Shreyas Iyer was the first one to do so. Padikkal has been highly impressive and crucial to RCB's success this season. Can be take RCB to the playoffs tonight? Let's find out. First innings about to commence.
19:20 hrs IST
Virat Kohli says he would have batted first anyway...
"We wanted to bat first to be honest. It's pretty dry. We think it'll get slower and slower as the game progresses. Pretty happy to be bating first. It was a strange phase of batting out there (against MI), whatever we hit went to hand. Usually it doesn't happen with our batting line-up, but these things happen on the field. Even then, we put up a good fight to defend 165. We are not too far away from having that professional performance that we have put in a number of times in this tournament."
19:16 hrs IST
Captain's Corner: David Warner
"Vijay Shankar is out, he's done his hamstring. Saha fortunately is fit, so great to have him back in the team. Having positive attitude and coming out here, we obviously have to win both the games to make it to the finals. For us, it's about to come out and start fresh and forget about the last game. It's how I approach every game, try to come out and do my best and get us off to a good start. Obviously different wicket in Dubai compared to here in Sharjah with smaller boundaries. We gotta start well. We only one had one look at this ground that was against Mumbai. It was a challenge, looks like these wickets have slowed up a bit. Got to wait and see how this one plays."
19:12 hrs IST
RCB's Playing XI
Josh Philippe, Devdutt Padikkal, Virat Kohli(c), AB de Villiers(w), Gurkeerat Singh Mann, Washington Sundar, Chris Morris, Isuru Udana, Mohammed Siraj, Navdeep Saini, Yuzvendra Chahal.
19:08 hrs IST
Sunrisers Hyderabad's Playing XI
David Warner(c), Wriddhiman Saha(w), Manish Pandey, Kane Williamson, Abdul Samad, Jason Holder, Abhishek Sharma, Rashid Khan, Shahbaz Nadeem, Sandeep Sharma, T Natarajan.
19:04 hrs IST
IPL 2020 Live Score, RCB vs SRH: Udana replaces Steyn in RCB's XI
Along with that, fast bowler Navdeep Saini is fit and returns to the team in place of Shivam Dube.
19:00 hrs IST
TOSS: Sunrisers Hyderabad opt to bowl after David Warner wins toss
Vijay Shankar out, confirms Warner. But the good news is that Wriddhiman Saha is fit.
18:58 hrs IST
Win toss, do what?
At Sharjah in #Dream11IPL 2020,

Teams batting first : 5️⃣ wins
Teams chasing: 5️⃣ wins

How would you approach tonight's game? 🧐#PlayBold #IPL2020 #WeAreChallengers #RCBvSRH pic.twitter.com/eNjSrEIwKI

— Royal Challengers Bangalore (@RCBTweets) October 31, 2020
18:52 hrs IST
IPL OR IPL 2020: It's the 2016 finalists who meet tonight
The 2016 final was played between SRH and RCB and while it was David Warner's team that emerged victorious, they haven't quite been the same. In fact, both these teams have blown hot and cold and as we are in the business end of the tournament, both teams have a chance to enter the playoffs.
18:45 hrs IST
RCB vs SRH, Live Score: Some interesting nuggets...
- 18: Runs Needed by Pandey to score 1000 runs for SRH in IPL.
- 47: Runs Needed by Shankar to reach 1500 runs in T20s.
- 6: Runs Needed by Williamson to reach 1500 runs in IPL.
- 46: Runs Needed by Holder to reach 1000 runs in T20s.
- 3: Wickets needed by Holder to reach 100 T20 Wickets.
- 4: Runs De Villiers needs to reach 9000 runs in T20s.
- 3: Runs Padikkal needs to reach 1000 runs in T20s.
- 2: Wickets Saini needs to reach 50 T20 wickets.
- 27: Runs Finch needs to reach 2000 runs in IPL.
- 3: Steyn needs 3 wickets to reach 100 IPL wickets.
- 4: 6s Kohli needs to reach 300 6s in T20s.
- 7: 6s Warner needs to reach 200 6s in IPL.
- 37: Runs Needed by Rashid to reach 1000 runs in T20s.
- 65.50: Williamson's average vs RCB, his most against any team in IPL.
- 100: Rashid Khan's average vs RCB in the last 3 matches, he has taken just 1 wicket in the last 3 matches conceding 100 runs.
- 21: Wickets Sandeep Sharma has taken against RCB, his most against any team in IPL.
- 6: Times Sandeep Sharma has dismissed Kohli, joint most along with Nehra in IPL.
- 3: Wickets Sandeep Sharma needs to become the highest wicket taker vs RCB in IPL.
- 25: Runs Warner needs to reach 700 runs vs RCB in IPL, will become the 2nd player to do so
18:38 hrs IST
Meanwhile, MI have beaten DC by nine wickets!
What a commanding win for Mumbai Indians, who have thrashed Delhi Capitals by nine wickets in Dubai. With it, they move to 18 points. Wow! Talk about domination. MI have finally broke their ODD-EVEN jinx.
18:31 hrs IST
The Chahal vs Rashid battle
Chahal has contributed to 29 percent of his team wickets which is the 3rd highest contribution by a top wicket taker for his team this season.
- A lower contribution from Rashid also suggests that they bowlers around him have also been among the wickets and he can concentrate more on attacking the batsman.
- Moreover, they are two of only 3 spinners who are the top wicket takers of their franchise this season
- Rashid and Chahal have picked up 17 and 14 wickets respectively in the middle overs most and the 2nd most wickets in the powerplay. While Rashid Khan has the best economy, Chahal has the 3rd best economy in the middle overs among bowlers who have bowled a minimum of 120 balls
- Chahal holds the upper hand though slightly when it comes to strike rate as he has the best strike rate as compared to Rashid khan who has the 2nd best strike rate in the middle overs
18:24 hrs IST
Top order has been RCB's strength
Virat Kohli has scored 270 runs in RCB wins this season at a strike rate of 138.46 and takes approximately 9 balls to hit a boundary. AB on the other hand has scored 191 runs at a strike rate of 196.91 scoring a boundary approximately every 4 balls. While Devdutt Padikkal and Aaron Finch have played at almost a similar level in wins and losses the exploits of Kohli and de Villiers in losses has proved crucial.
18:17 hrs IST
RCB's middle-overs struggle
RCB's average in the middle overs is the 2nd least, highlighting their struggles in the middle overs in IPL 2020. RCB's tally of 72 boundaries is also the least by a team in the middle overs of IPL 2020.
18:10 hrs IST
Ajit Agarkar says the best of Virat Kohli is yet to be seen in IPL 2020. Agree?
"Expectations are always high from Virat Kohli. He must be disappointed from his performance against Mumbai Indians. It was a big game, and he had gone to bat at a good position, but he was unable to find his rhythm. We have not see the best of Virat Kohli in this tournament yet. And this is a good thing for RCB that he has scored runs, but his best is yet to come, and still they are at 14 points," Agarkar told ESPNCricinfo.
18:03 hrs IST
RCB vs SRH, IPL 2020 Live Score: Nuff said...
4️⃣7️⃣6️⃣5️⃣ of these runs have come in Red and Gold. 😍

Genius indeed. 👏🏻 @ABdeVilliers17#PlayBold #IPL2020 #WeAreChallengers #Dream11IPL #RCBvSRH pic.twitter.com/yjdtTTjRty

— Royal Challengers Bangalore (@RCBTweets) October 31, 2020
17:56 hrs IST
Bowling SRH's strength
Rashid Khan has taken joint most 16 wickets in the middle overs and has conceded at an economy of 4.84, best by a bowler in the middle overs. SRH are the only team along with RCB who have 4 bowlers with less than an economy of 7 in the middle overs (7-16).
17:49 hrs IST
SRH hope to continue middle-overs choke vs RCB
SRH face RCB hoping to continue their dominance in the middle overs. SRH have taken 33 wickets from overs 7 to 16, joint most by a team in the middle overs. They have an economy of 6.76, best by a team in the middle overs.
17:42 hrs IST
IPL 2020 Live Score: Sandeep Sharma has Virat Kohli's number
More power to you for tonight's game, @sandeep25a 💪🏻#RCBvSRH #OrangeArmy #KeepRising pic.twitter.com/MUosXaaGgZ

— SunRisers Hyderabad (@SunRisers) October 31, 2020
17:35 hrs IST
Will Wriddhiman Saha play tonight?
SRH seemed to have cracked their opening woes with Wriddhiman Saha producing a blazing innings of 87 against Delhi Capitals the other night. But there is a chance that he may not play tonight's game after suffering a groin injury earlier this week."Unfortunately, he's (Saha) got a little groin niggle but hopefully, it isn't too bad," Warner had said.
17:28 hrs IST
Sunrisers Hyderabad better off defending?
Chasing doesn't seem to be SRH's strongest trait. Out of the six matches they have lost, five have come when SRH have been chasing. This includes the Super Over defeat to Kolkata Knight Riders.
17:21 hrs IST
IPL 2020 Live Score: Vijay Shankar has been ruled out of IPL 2020: Report
After sustaining a hamstring injury in the match against Delhi Capitals, all-rounder Vijay Shankar has been ruled out of the 2020 IPL, claimed a report in Sports Tak
17:14 hrs IST
Will SRH emerge as party spoilers?
In the previous two matches, bottom-ranked teams have upset a top ranked side. On Thursday, it was the Chennai Super Kings who spoiled the party for KKR, and on Friday, Rajasthan Royals did the same to Kings XI Punjab. SRH, who are one defeat away from guaranteed elimination, will be hoping to take a leaf out of CSK and RR's book.
17:07 hrs IST
What happened the last time around
The last time RCB and SRH did battle seems so long back. It was only the third match of IPL 2020 in which RCB edged SRH by 10 runs. Devdutt Padikkal and AB de Villiers scored half-centuries to take RCB to 163, in reply to which SRH's chase, after a decent start, went off wheels thanks to a middle-order collapse. Once Jonny Bairstow fell for 63, No. 5 to No. 11 batsmen fell in single digits.
17:00 hrs IST
IPL 2020 Live Score, RCB vs SRH
A very warm welcome to all our viewers, to the last weekend double-header of IPL 2020. Although Mumbai Indians taking on Delhi Capitals in Dubai, let that match not take away the attention from an equally potential blockbuster that is headed your way. Now, the rivalry between Royal Challengers Bangalore and Sunrisers Hyderabad may not be spoken of highly, there's plenty at stake in this match tonight at the Sharjah Cricket Stadium. With 14 points, RCB are one win away from all but sealing a place in the IPL playoffs, whereas on the other hand, Sunrisers Hyderabad are hanging on by a thread. A loss here for David Warner and his team will send them backing, but a win would really make things interesting. Not only will it keep them alive mathematically, a result inSRH's favour will extend RCB's wait and make the fight really interesting. We've done our bit to get you all psyched up. Follow us here to keep track of all updates related to the match.
Close Story