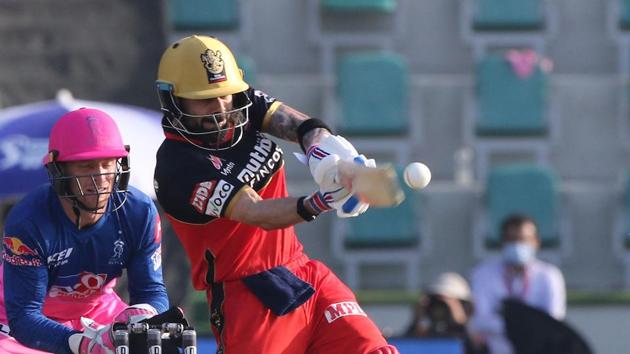 RCB vs RR Highlights, IPL 2020 Match Today: Virat Kohli, Devdutt Padikkal fifties guide Royal Challengers Bangalore to comfortable win over Rajasthan Royals
IPL 2020 Highlights, Royal Challengers Bangalore (RCB) vs Rajasthan Royals (RR): Royal Challengers Bangalore have beaten Rajasthan Royals by 8 wickets to move top of the points-table. Devdutt Padikkal and skipper Virat Kohli scored half-centuries to safely take RCB home. Chasing a 155-run target set by Rajasthan Royals, Kohli remained unbeaten on 72 off 53 balls with seven fours and two sixes, while Padikkal hit 63 off 45 deliveries. After winning the toss and opting to bat, Steve Smith's Rajasthan Royals were reduced to 31/3 and later 70/4, before Mahipal Lomror scored a gallant 47. Rahul Tewatia hit three sixes to finish in 24* off 12 balls in the back end of the innings to ensure that the Royals finished on a decent total. For RCB, Yuzvendra Chahal emerged as the best bowler and finished with 3/24.Follow RCB vs RR, IPL 2020 Highlights here:
Hindustan Times, New Delhi | By hindustantimes.com
UPDATED ON OCT 03, 2020 08:27 PM IST
19:14 hrs IST
AB de Villiers finishes it, RCB win and move top of the table
AB de Villiers scores the winning runs, a boundary, as Royal Challengers Bangalore have beaten Rajasthan Royals comfortably by 8 wickets to move top of the IPL Points-Table. Virat Kohli top scores for RCB and remains unbeaten on 72 off 53 balls.
19:11 hrs IST
And now he runs a three!
If there were any concerns whether Virat Kohli was back to his best, those doubts have been answered. He and AB de Villiers just ran three, in this scorching heat of the UAE. It's taken him time but Kohli has found back the groove that makes him one of the best batsmen in the world to watch. Right then, just three needed now, eight balls remain.
19:08 hrs IST
Back-to-back boundaries for Kohli
Whoa! Kohli is in the zone now. Down the wicket he comes and top edges the ball for his sixth boundary. Next ball, the RCB adds a seventh four, moving acoss the line and and guiding it smartly behind square leg.
19:04 hrs IST
FOUR! Kohli is determined to finish this chase by himself
He starts the over by drilling Tom Curran down the ground for a crisp boundary, his fifth of the innings. The equation has been brought down to 16 needed off 14. This is the Kohli we know, smartly converting singles into doubles with his 'BFF' AB de Villiers.
19:00 hrs IST
31 needed off the final four over
Is there a twist left? Who knows? If Kohli falls, the gates may open. AB de Villiers is the new man in the middle. Fancy these two players to finish off the game?
18:55 hrs IST
RCB vs RR Live Score, IPL 2020: BOWLED HIM! Archer ends Padikkal's knock
Full and straight Archer kept it, and Padikkal gave himself too much room to get his bat down on time. He goes for a well-compiled 63 off 45 balls. He was beginning to tire and Archer, coming round the wicket, hits timber!
18:50 hrs IST
FIFTY for Virat Kohli! Welcome back, champ
It's been a hard first few games for the RCB captain, but Virat Kohli has struck form timely for his time with a half-century off 40 balls. He's been so much better to watch today with two sixes and four boundaries. And are you even surprised that a chase is what's brought him back among runs?
18:46 hrs IST
Just three runs off the over
RR move to 107/1 in 14 overs. The heat seems to be taking its toll on young Padikkal, who is forced to take a breather every now and then. Archer has bowled a fine over, giving away just three singles.
18:44 hrs IST
RCB vs RR Live Score, IPL 2020: Archer back!
Time is running out for the Royals, and Steve Smith understands it. With around 50-odd runs to get now, RR need to pick up a wicket now more than over. Can he break this partnership and give RR a chance?
18:40 hrs IST
That's more like Kohli
The master of the chase, Virat Kohli is finally batting the way the world knows him. He takes on Riyan Parag for a boundary, followed by a six. The 100 is up for RCB, as they reach 104/1 after 13 overs. 51 needed off 42 balls and RCB seem to be on their way.
18:37 hrs IST
What a find this young man has been
FIFTY!@devdpd07 brings up his half-century off 34 deliveries. Becomes the first player to get to three half-centuries in #Dream11IPL 2020.#RCBvRR pic.twitter.com/ma23JPJGVn

— IndianPremierLeague (@IPL) October 3, 2020
18:34 hrs IST
FIFTY for Devdutt Padikkal!
Three fifties in four innings, Devdutt Padikkal's stature continues to grow. It's turning out to be a fine IPL for the 20-year-old. He gets there with a late cut, off 34 balls. Behold, there's so much more to come from him in the time to come.
18:30 hrs IST
Kohli, Padikkal in no hurry
Scoring at almost the same pace as the required run-rate. Neither Padikkal nor Kohli is showing any signs of urgency. And despite that, RCB are scoring at a healthy rate. Milking singles and the occasional boundary. RCB in control of this chase. The score is 82/1 after 11 overs.
18:26 hrs IST
Fifty partnership up between Kohli and Padikkal
An important stand for Royal Challengers Bangalore this for the second wicket as Kohli and Padikkal bring their fifty partnership up. Both batsmen are seemingly growing in confidence of this chase. Padikkal has moved to 46 off 30 and Kohli 23 off 23. RCB are 77/1 after 10 overs.
18:22 hrs IST
IPL 2020 Live Score, RCB vs RR: Another 4 for Kohli
That's more like it. Spots the poor short pitched ball and Kohli latches onto it for his third boundary. The RCB captain is finding his groove, slowly and steadily. RCB 71/1 after 9 overs
18:20 hrs IST
Crisp, crisp cover drive from Kohli
A misfield but Virat Kohli gets his second boundary of the innings. Leans into the drive and as the ball reached the fielder at cover, he makes a mess of it, allowing the ball to race through and hit the boundary cushions. The RCB skipper is getting a move on. He's reached 16 off 17 as RCB get to 64/1 after 8 overs
18:16 hrs IST
Virat Kohli circumspect
Once again, it hasn't been the smoothest of start for Virat Kohli. He is 10 off 14 as we type this with one boundary. Chasing a not too stiff target, this is a good opportunity for him to spend some time on the wicket and set himself up for an IPL to remember.
18:13 hrs IST
RCB vs RR Live Score: Flash drive, Kohli misses
The Shreyas Gopal vs Virat Kohli battle is getting exciting as the leg-spinner had Kohli fetching a wide half-volley and beating him. This is not the end of it. Seven overs gone, RCB making steady progress at 55/1.
18:09 hrs IST
In the air, and safe again
Twice in the same over as Devdutt Padikkal mistimed a shot and on both occasion, luck has favoured him with the ball landing in between two of three converging fielders. Now is his time. Padikkal should go for it
18:06 hrs IST
IPL 2020 Live Score: Padikkal on a boundary spree
What a player Devdutt Padikkal is, hits Curran for two boundaries off three balls, one on either side of the wicket. Six overs gone, RCB reach 50 for 1.
18:04 hrs IST
Close!
Mishit from Devdutt Padikkal and the ball falls in no man's land. Almost a wicket for Tom Curran off his first ball. The ball found the top of Padikkal's bat but fortunately, he's safe.
18:00 hrs IST
Gopal vs Kohli battle is on
The battle we have been waiting to see. Shreyas Gopal bowling to Virat Kohli. Round 1 goes to the RCB skipper, who pulls a short ball for his first boundary. Five overs gone, RCB are 39/1.
17:56 hrs IST
Four! Padikkal gets a smart boundary
Archer drifts the ball down the pads of Padikkal and the left-handed batsman simply tucked it behind for a boundary. The man at short fine leg puts in an ordinary effort.
17:54 hrs IST
OUT! Shreyas Gopal gets Aaron Finch
Wicket! An excellent review taken by Shreyas Gopal and RR. Aaron Finch tried to sweep Gopal but missed the ball altogether. Smith took the review in rather two minds but the replay showed three reds. The umpire had to change his decission and RCB are one down. Finch goes for 8. RCB 27/1 after 3 overs.
17:51 hrs IST
RR turn to spin, Shreyas Gopal given the ball
Second ball of the over, Aaron Finch gives himself some room and even thought he didn't middle it too well, had enough to take it to the boundary.
17:49 hrs IST
Good over for RCB!
15 off the second over as Padikkal begins his innings positively. RCB 20/0 after 2 overs.
17:45 hrs IST
Padikkal welcomes Unadkat with a SIX!
Whoa! How about that for a start. Full ball from Unadkat, into the pads and Padikkal obliges. Flicks the ball into the empty stands. Two balls later, Unadkat pulls back the length a little and Padikkal pulls it away for a four.
17:43 hrs IST
Boundary for Finch!
After the first five balls from Jofra Archer gave just one runs, the final ball was put away for a boundary by Aaron Finch. Short ball and Finch cuts it high for a one-bounce four.
17:38 hrs IST
Finch, Padikkal walk out
Alright then! 155 runs is the target RCB are looking at to go top of the points-table. Devdutt Padikkal takes strike, Jofra Archer runs in.
17:35 hrs IST
What RR's bowlers need to do, explains Brett Lee
Rajasthan Royals' 154 may not be the most competitive total, and former Australia quick Brett Lee in fact thinks RR can make a match out of it. But for that, Lee reckons, the Royals need to pick up at least three wickets in the first six over. Do you think they can do it? Stay tuned, live action returns in 5 minutes!
17:30 hrs IST
Yuzvendra Chahal feels the heat!
"It is very humid. Playing after six months in this humidity. We thought they would get 170 but restricting them to 155 is good. I'm very happy with the way the ball has been coming out from my hand. When I came to bowl in the third over, I realized that it's a slow wicket and didn't go to my googlies a lot. I realised that I'm dropping a few in international cricket, so I'm working on it (catching). Not worried about the Purple Cap, the whole team is just focused on winning the trophy for RCB. One boundary is a bit shorter at one end, so bowling from that side will be tougher. We need a good partnership at the beginning."
17:25 hrs IST
End of the innings, RR post 154/6
Rajasthan Royals end their innings on 154/6, on the back of Mahipal Lomror (47) and Rahul Tewatia's (24*) efforts.
17:23 hrs IST
BOOM! Second Six of the over
Tewatia makes it look ridiculously easy. A full toss bowled outside off and Tewatia simply swipes it on the leg side. Gurkeerat Singh Mann tries but doesn't get underneath the ball. The 150 comes up for the Royals.
17:21 hrs IST
TONKED! SIX
Saini not learning. Length ball on middle and leg and Tewatia goes the arc, sending the ball over the boundary. The Free-Hit goes for a six.
17:19 hrs IST
RCB vs RR Live Score: OUCH! Nasty blow to Tewatia
Tewatia set himself up for a scoop shot, but Navdeep Saini bowled a fiery full toss, which hit him right on his chest. He went down immediately. The impact of the hit was so much that it knocked Tewatia out of one of his shoes. The good news is that he's right back up. Gives a thumbs up. Good signs. Here comes the Free Hit
17:16 hrs IST
Full toss, Saini gets away with it
Saini starts off the final over with a low full toss, which Archer fails to put away. Just a single and the disappointment is visible on his face.
17:14 hrs IST
SIX! Decent start to the over
Archer gets plenty behind that shot. A slower one does not fox Archer as he deposits the ball over midwicket. Udana comes back strong to give three of the final three balls of the over. RR 139/6. Last over coming up.
17:11 hrs IST
Udana to bowl his final over
With two overs to go, big-hitters Archer and Tewati would be hoping for a few lusty blows. RR must definitely be eyeing that 150-run mark!
17:08 hrs IST
RCB vs RR Live Score: Six for Tewatia, Archer gets a boundary
Right in time this for the Royals, Rahul Tewatia crashed a six off Navdeep Saini and Jofra Archer secured a boundary to cap off the over. 13 off the over, a much needed one for Rajasthan Royals at the end of the innings. Two overs remain with RR on 129/6.
17:04 hrs IST
Archer joins Tewatia. Just what RR need
Two clean strikers of the ball have arrived at the right time for Rajasthan Royals. Archer and Tewatia have already shown what they've capable of with the bat. Time to finish off strong, RR
17:00 hrs IST
OUT! RR lose Lomror, third wicket for Chahal
After getting hit for a six, Chahal pulls things back the next ball. Bowls it wide and Lomror, attempting to clear the boundary again mistimes and the ball lands in the hands of Devdutt Padikkal. RR 114/6 in 16.4 overs
16:58 hrs IST
RCB vs RR Live Score: BOOM! Third six for Lomror
Once again, he's smashed Yuzvendra Chahal for a six. All his sixes have come against the RCB leg-spinner. He has a healthy striker rate against RCB and Lomror is proving it.
16:55 hrs IST
OUT! Udana removes Parag
Short ball from Isuru Udana as Parag fails to put bat on ball properly. Tries to thwack it but the ball lands straight down Aaron Finch's throat at long-on. Second wicket for the Sri Lanka quick. RR 106/5 after 16 overs
16:51 hrs IST
Udana back for his third over
In his first spell, Udana took the pace off the ball well. With the surface slowing up and RCB well in control of the innings, can he break this partnership between Udana and Lomror, that's reached 35 off 33 balls.
16:48 hrs IST
IPL 2020 Live Score: A SIX at last!
Chahal pitched the ball up. Lomror goes down the wicket and gets everything behind that shot. A much-needed six that one for the Royals. 10 off the over, RR reach 99/4 after 15 overs. Five overs left.
16:46 hrs IST
Still no boundary
The last three boundaries for RR came in the 7th, 10th and 13th over respectively. One boundary in three overs is not what RR want to see at the moment.
16:42 hrs IST
Boundaries drying up for RR
The last five overs have produced 28 runs for one wicket. Not too many boundaries, which will be a bit of a concern for the Rajasthan Royals. They reach 89/4 in 14 overs. Six left, how many more can they get? They may have an answer to this after the Strategic Time-Out break.
16:40 hrs IST
IPL 2020 Live Updates: One's gone, all eyes will be on the other skipper
Battle of the GOATS. 🤜🏻🤛🏻#PlayBold #IPL2020 #WeAreChallengers #Dream11IPL #RCBvRR pic.twitter.com/CJMNAsozHc

— Royal Challengers Bangalore (@RCBTweets) October 3, 2020
16:36 hrs IST
DRILLED! Down the ground goes Riyan Parag
A thunderous boundary for Riyan Parag. Full ball and Parag thrashed the ball past Zampa for a boundary down the ground. A much-needed boundary for the Royals. 13 overs gone, RR 85/4
16:32 hrs IST
Rajasthan Royals bat deep
With the likes of Rahul Tewatia, Tom Curran, Shreyas Gopal and Jofra Archer to come, it's not like RR are too dependent on this batting pair. Lomror is 3 off 7 and Parag is 4 off 8. Surely, Lomror has to go after the bowling. RR 77/4 after 12 overs
16:28 hrs IST
Another tight over from Chahal
Just three runs and a wicket from Chahal's second over of the innings. Rajasthan Royals reach 73/4 after 11 overs and the ball has now been handed over to Shivam Dube.
16:25 hrs IST
GONE! Another wicket for RCB
Robin Uthappa tries to get a move on but perishes at mid off. His 22-ball struggle comes to an end. A loopy leg-break from Chahal and Uthappa couldn't quite middle it. RR 70/4 after 10.1 overs.
16:22 hrs IST
Half-way through the innings...
10 overs bowled and Rajasthan Royals have reached 70/3: It seems to have been a bit of a recovery from Uthappa and Lomror but now is when the scoring rate has to accelerate.
16:20 hrs IST
IPL 2020 Live Score, RCB vs RR: Four for Lomror
Navdeep Saini back in the attack and Mahipal Lomror thumps a boundary down the ground that beats the diving fielder at mid-on.
16:16 hrs IST
RR 61/3 after nine overs
11 runs off Adam Zampa's second over as Uthappa and Lomror continue to take Rajasthan Royals forward. Besides that six, Zampa and Chahal have been able to tighten the screws on RR's batsmen.
16:12 hrs IST
SIX! A slog sweep from Lomror clears the boundary easily
It's an 84-metre long six for Mahipal Lomror. He's welcomed Azam Zampa's second over by tonking the ball over midwicket. As the fielders continue to search the ball, the strategic time out has been taken.
16:10 hrs IST
50 up for Rajasthan Royals
But the worrying part is that it's come after eight overs. None the less, nothing better than rebuilding after regular losses of early wickets. This partnership between Uthappa and Lomror has reached 20 off 24 and it's important for RR that these two bat out there longer.
16:06 hrs IST
Four! First boundary for Uthappa
Zampa gives the flight but Uthappa is on to it. Reached the pitch of the ball and sends it down the ground for his first four. Fine diving effort from Gurkeerat Singh at long-on but the ball comfortably stayed clear of him. RR 46/3 after 7 overs
16:04 hrs IST
RCB vs RR Live Score, IPL 2020: Kohli hands the ball to Zampa
More spin for RCB as Adam Zampa enters the bowling attack. The last 14 balls have accounted for 2 wickets and just eight runs. Extremely crucial for RR is this partnership but the bad news is that neither batsman is coming off on the back of much crease time.
16:00 hrs IST
Lomror, Uthappa cautious
The surface is already slowing up and Sundar and Chahal are slowing it even further. Robin Uthappa and Mahipal Lomror are circumspect. Uthappa trying to be a little adventurous with a few audacious sweep shots but no harm done so far. End of the Powerplay and RR are 38/3.
15:56 hrs IST
Chahal starts, well, finished the over equally well
Just two runs and a wicket off that over as RR reach 33/3 after 5 overs. It could have been a fourth wicket for RCB as Uthappa mistimed a shot, but the ball landed short of the diving fielder at mid-on.
15:52 hrs IST
RCB vs RR Live Score, IPL 2020: OUT! First-ball wicket for Chahal
RCB bring Yuzvendra Chahal and he immediately gets a wicket. Sanju Samson falls for 4. RR 31/3 in 4.1 overs
15:49 hrs IST
Wicket-maiden for Saini
Only the fourth of the IPL 2020 as Saini, after dismissing Jos Buttler, prevents Robin Uthappa from getting off the mark off his first five balls. Four overs gone, RR 31/2.
15:46 hrs IST
GONE! Saini takes out Buttler
What a wicket. First ball of the match and Saini has Jos Buttler out caught behind. Full, straight and quick. Buttler drives but the ball takes the outside edge and carries safely to Devdutt Padikkal at slips. The umpire double checks whether there was a bump along the way, but it was as clear as a crystal. RR 31/2 in 3.1 overs.
15:42 hrs IST
OUT! Smith plays on
It may have been an expensive over but Isuru Udana has gotten the prized wicket of Steve Smith. Short and wide outside off and Smith tries to cut the ball, only to chop it back onto the stumps. Once again, he gives it no pace and RCB have an early strike here. RR 27/1 after 2.4 overs.
15:40 hrs IST
Back-to-back boundaries for Buttler
Start of a new over and immediately, Buttler puts the pressure on Udana. First ball of the over, he takes the aerial route to clear the boundary comfortable. The next ball, he drops the pace but Buttler punishes the bad length for a second boundary on the trot.
15:36 hrs IST
And now a boundary to Buttler
Washington Sundar shares the new ball with Isuru Udana and he makes an early error. Bowls a quicker ball and Buttler is equally quick to spot the length and sweep the ball for the third boundary for RR. All three fours in the same area. Royals 16 without loss after 2 overs
15:34 hrs IST
FOUR! Second boundary already
Once again Udana strays on the pads and gets flicked for a boundary. Udana is already rolling his fingers to take the pace off the ball, but Smith, on that occasion was alert like a hawk. Two boundaries for him already in the first over. RR 9/0 after 1 over
15:32 hrs IST
RCB vs RR Live Score: FOUR! RR are away
Udana drifts the ball to Smith's pads and the former Australia captain whips it away for his and his team's first boundary. Just took the second ball of the innings for RR to send the ball away to the boundary.
15:30 hrs IST
Isuru Udana to open the bowling for RCB
Buttler and Smith will be facing the left-arm pace of Sri Lanka quick Isuru Udana, who starts by taking inducing an edge odd Smith's bat.
15:28 hrs IST
Battle of the GOATs
GOAT afternoon everyone. 😉

Ready for Battle Royale? 🔥#RCBvRR | #HallaBol | #IPL2020 pic.twitter.com/g7pIAkoSjd

— Rajasthan Royals (@rajasthanroyals) October 3, 2020
15:24 hrs IST
An important trivia for Virat Kohli fans
Out of his five IPL centuries, three of Virat Kohli's hundreds have come in a day game. Could today be the opportunity the RCB captain is looking for? These hot conditions promise to make Kohli feel like home, as the temperature in his home town Delhi, in summers, is pretty much in the same range as today.
15:20 hrs IST
First duel coming up - Navdeep Saini vs RR openers
You've got to give it to Navdeep Saini for his brilliant bowling and maintaining composure in the Super Over against the likes of Kieron Pollard and Hardik Pandya. That sort of performance must have Saini high on confidence. Against Jos Buttler and Steve Smith, it won't be easy, but a good contest should certainly be up for grabs.
15:16 hrs IST
RCB vs RR Live Score: A look at RCB's unchanged XI
Devdutt Padikkal, Aaron Finch, Virat Kohli (Captain), AB de Villiers (Wicketkeeper), Shivam Dube, Gurkeerat Singh Mann, Washington Sundar, Isuru Udana, Navdeep Saini, Adam Zampa, Yuzvendra Chahal
15:12 hrs IST
RR's Playing XI
Jos Buttler (Wicketkeeper), Steven Smith (Captain), Sanju Samson, Robin Uthappa, Riyan Parag, Rahul Tewatia, Tom Curran, Shreyas Gopal, Jofra Archer, Mahipal Lomror, Jaydev Unadkat
15:08 hrs IST
RCB are unchanged
So still no Chris Morris as Virat Kohli expectedly announces an unchanged RCB Playing XI. He did want to bat first in these hot and humid conditions though. "We wanted to bat first as it's a day game, better to get into the game in the first six overs of the match," Kohli said at the toss.
15:04 hrs IST
IPL 2020 Live Score: Rajasthan Royals team news
Only one change in the RR camp, as explained by skipper Steve Smith. Mahipal Lomror gets a game. He comes in for Ankit Rajput.
15:00 hrs IST
TOSS: Steve Smith wins toss, Rajasthan Royals opt to bat
Steve Smith has no hesitation. He has opted to bat after winning the toss against Kohli's RCB
14:56 hrs IST
IPL 2020 Live Score, RCB vs RR: Irfan Patham, Scott Styris dissect Aaron Finch's footwork
Is Aaron Finch's footwork on point? 🤔

Let Scott Styris and Irfan Pathan break this down for you! 🙌#SelectDugout, #RRvRCB & #DCvKKR | 3:20 PM onwards | Star Sports Select 1/Select 1HD & Disney+Hotstar VIP pic.twitter.com/pUZupz9FXN

— Star Sports (@StarSportsIndia) October 3, 2020
14:49 hrs IST
Who is Super V's Kryptonite?
Rajasthan Royals leg-spinner Shreyas Gopal has dismissed Virat Kohli three times in three matches. And with just 18 runs from three matches, Gopal couldn't have hoped for better timing to bowl at RCB captain. Can he make it four dismissals in four matches today, or will Kohli conquer his kryptonite and make it big?
14:42 hrs IST
In case you needed another reason to watch Mr. 360 bat
No Match Day is complete without an AB milestone. 😎🔝 #PlayBold #IPL2020 #WeAreChallengers #Dream11IPL #RCBvRR pic.twitter.com/NeoKVGFKKN

— Royal Challengers Bangalore (@RCBTweets) October 3, 2020
14:35 hrs IST
How many rivalries in IPL get bigger than Kohli vs Smith?
In terms of individual rivalries, there aren't many that get bigger than Virat Kohli vs Steve Smith. You can name Kohli vs Rohit, Kohli vs Rahul, Rahul vs Rohit, but when it comes to RCB vs RR, with Smith and Kohli set to lead opposition sides, the match just has that extra reason to be followed a little more.
14:28 hrs IST
IPL 2020, RCB vs RR: Royals fans! Look who's on his way to the Emirates
Stoked. 😁✈️#HallaBol | #RoyalsFamily | @benstokes38 pic.twitter.com/pcAvyIcaaF

— Rajasthan Royals (@rajasthanroyals) October 3, 2020
14:21 hrs IST
Aakash Chopra, Jimmy Neeshan trading barbs...
Correct my friend. That's why nobody picks me anymore. I get paid for doing something else 😇🤗 I'm glad that you don't have an issue with my observations but with my cricket stats. Go well for the rest of the #IPL. https://t.co/FFuYAyFtMZ

— Aakash Chopra (@cricketaakash) October 3, 2020
14:14 hrs IST
Are RCB's openers the best among all 8 franchises?
Devdutt Padikkal and Aaron Finch have been among the runs for RCB this season having scored 111 and 101 runs respectively. They are one of only two pair of openers this season to have scored 100 runs each.
14:07 hrs IST
RCB vs RR: Kohli vs Smith, Archer vs de Villiers...
These two battles are set to be the highlight of today's game. The sight of a red-hot Archer steaming in to bowl to Mr 360, ABD, will be one to behold.
14:00 hrs IST
Interesting RCB nugget
RCB's bowling at the death may have raised a few eyebrows, but when it comes to bowling in the Powerplay, they are right up there. The franchise has the 4th best economy in the Powerplay, of 7.39, which alarmingly shoots up to 15.70 in the death overs. What can RCB do to curb this?
13:54 hrs IST
RCB vs RR Live Score: Rajasthan Royals mentor Shane Warne comes up with interesting idea.
In order to make T20 cricket more even-sides, legendary leg-spinner Shane Warne has an interesting idea up his mind. Do you agree with this?
I would improve T/20 cricket by

1 Boundaries as big as poss at each venue & on small grounds keep grass on the outfield long
2 Bowlers a max of 5 overs not four
3 Pitch must = day 4 test match pitch & not be a flat rd
As we all want a contest between bat & ball not just 6's

— Shane Warne (@ShaneWarne) October 2, 2020
13:47 hrs IST
The only batsman not be dismissed in the Powerplay this year?
Among all openers of the eight franchises, Aaron Finch is the only batsman who has not been dismissed inside the first six overs in the IPL 2020.
13:40 hrs IST
What can RR's Playing XI look like?
In the first two games, Rajasthan Royals proved that they can chase any total, gunning down back to back 200-plus targets. But the loss against KKR exposed a few chinks in their armour. Keeping that in mind, we believe that Smith may tinker a bit with his Playing XI against RCB. To find out the changes, click here
13:33 hrs IST
IPL 2020 Live, RCB vs RR: The importance of 82 runs for Virat Kohli
If he scores 82 runs against Rajasthan Royals today, RCB captain Virat Kohli will become the first Indian batsman to enter the 9000-run club in T20 cricket. Overall, he will become the seventh in the world.
13:26 hrs IST
RR's bowling a concern?
Despite conceding over 200 runs in their first two games, the Rajasthan Royals are bound to fret over their bowlers, who have combined to pick up 14 wickets in three matches. It's the second least by a team in IPL 2020.
13:19 hrs IST
IPL 2020 Live Score: Like Michael Scott in The Office would say, "It's happening, it's happening"
Hi guys, quick question. How long does it take from Christchurch to UAE? ✈️👀#HallaBol

— Rajasthan Royals (@rajasthanroyals) October 3, 2020
13:14 hrs IST
What could RCB's XI look like?
All-rounder Chris Morris is yet to get a game in the IPL due to his side strain, but as per reports, he seems to be recovering well. If the RCB management considers him fit to play, who do you think he will replace? Adam Zampa or Isuru Udana? Because rest assured, Finch and de Villiers are going nowhere.
13:07 hrs IST
Individual milestones up for grabs
- Provided he plays, Dale Steyn will need three dismissals to completing 100 wickets in IPL.
- English all-rounde Tom Curran is 43 runs runs away from 1000 T20s runs.
- Royals captain Steve Smith needs 3 sixes to completing 100 sixes in T20.
13:00 hrs IST
IPL 2020 Live Updates: Time for RR fans to rejoice?
12:56 hrs IST
Stokes on his way to the UAE?
Well, if the latest reports are to be believes, all-rounder Ben Stokes is on his way to the UAE from New Zealand and will join his Rajasthan Royals teammates on Sunday. Upon his arrival, Stokes will undergo a mandatory six-day quarantine.
12:49 hrs IST
How the last five games ended...
Rajasthan Royals have beaten Royal Challengers Bangalore three times in the last five matches, one of which was abandoned due to rain, which means only once has RCB gotten the better of RR in their previous five encounters.
12:44 hrs IST
Head-to-head record
Rajasthan Royals and Royal Challengers Bangalore have played 20 IPL matches before this and RR enjoy a slight 10-8 advantage over RCB. Two games have finished in draws and one ended in no-result.
12:37 hrs IST
IPL 2020 Live Score, RCB vs RR: How will this rivalry pan out?
Remember the 2017 Border-Gavaskar Trophy? When things went out of control between Kohli and Smith? The brain-freeze, the excessive chirping, and the famous Smith impersonation from Ishant Sharma... It's no secret that Virat Kohli and Steve Smith do not share the best of friendships. But having said that, it was quite something to see Kohli stand up for Smith when he got booed during the India-Australia World Cup match last year. Things may have mellowed a little but do not miss Kohli's reaction if Smith loses his wicket today.
12:30 hrs IST
IPL 2020, RCB vs RR live score
Hello and welcome dear readers! The time has finally come. The IPL 2020 will host its first double-header, and to kick things off, we couldn't have hoped for a fixture more exciting fixture than the one between Royal Challengers Bangalore and Rajasthan Royals. This will be the 15th match of the IPL 2020 and it will pit Virat Kohli against Steve Smith. How about that for a rivalry. So much history between these two men and the teams they'll be leading would be eager to set the equation straight. In terms of points, there's nothing to separate these two teams, but form wise, the edge may just go to the Royals. Who will emerge supreme today? Stay tuned, we're getting closer to the action.
Close