After Pune rout, Virat Kohli advised to sack these two top bowlers from 2nd Test
New Delhi |
Press Trust of India
Feb 27, 2017 11:59 AM IST
Ishant Sharma should be replaced by Bhuvneshwar Kumar and Jayant Yadav with Karun Nair in the second India-Australia Test in Bengaluru, starting on March 4, according to former India captain Mohammed Azharuddin
Former India captain Mohammed Azharuddin feels that Indian team will be forced to make a couple of changes in their playing XI for the second Test against Australia after the hammering it took in the opening match. India trail Australia 1-0 in the Test series, with three more matches to go.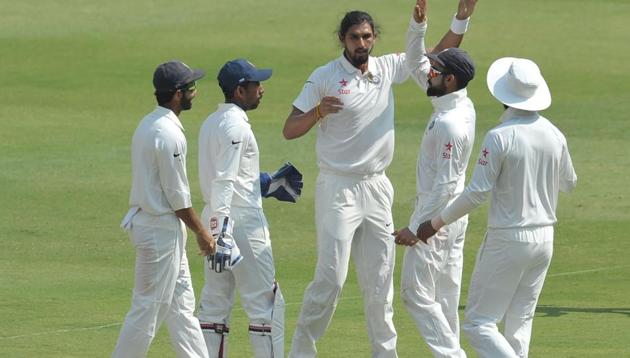 "Any batting debacle leaves a team on the backfoot. I am not saying series is lost but one needs to look at the kind of track that you want to play. I reckon Chinnaswamy won't have this kind of turn. So my gut feeling is that Jayant Yadav and Ishant Sharma may be dropped from the playing XI," Azharuddin said.
India lost the match by a whopping 333 runs and the second Test will be played in Bengaluru, from March 4.
Extra batsmen
Asked to explain his observation, Azhar said: "Going by their batting performance, I expect them to play an extra batsman -- that is Karun Nair. He should be replacing Jayant in all likelihood."
Read | Steve Smith consolidates top spot in ICC rankings, Virat Kohli still No.2
"Also on the tracks that we are playing, Ishant's back of the length stuff is not going to work. It is better that a swing bowler like Bhuvneshwar is brought into the team by Virat."
For someone who has played 99 Tests and captained India for close to a decade, Azharuddin was critical of the performance by the Indian spinners on a rank turner.
"I think a similar pitch was prepared when Michael Clarke got his 6 for 9 in Mumbai. This was a bad pitch to bat on. But I am not at all happy with how the spinners bowled on a track like this -- especially Ravindra Jadeja," said Azhar.
Bowling technique
In fact, the stylish Hyderabadi feels that Steve O'Keefe showed exactly how to bowl on a turner.
"O'Keefe bowled the line that Jadeja should have bowled. If you looked at Jadeja's line, it was on off-stump or slightly outside the off-stump trying to make use of the rough. That was where he made the mistake. On this track, Jadeja's channel would have never got him wickets and that's precisely what has happened.
Read | Australian media hails their 'heroes' after unexpected win against India in Pune
"Now what did O'Keefe bowl? He bowled on the middle and leg line and didn't try for big turn. The batsmen can't leave such deliveries. As a result, he got four lbw decisions. An orthodox left-arm spinner when he is getting 4 lbws means that he was bowling straight, knowing pitch will do the rest," said Azharuddin, who has 22 Test centuries along with 6000 plus runs.
"The Indians in their mind were all playing for the turn. It meant, O'Keefe read the pitch better than Jadeja. As far as Ashwin is concerned, 100 plus runs on this track is poor show," he said.
Steve Smith's stellar show
Azhar was full of praise for Steve Smith's performance. "I believe this was one of the best Test hundreds scored on a bad pitch. This is not something Aussies are used to.
"Even if you do hours of match simulation, it's very different while playing a Test match. Smith didn't try and play for the turn. What he did was playing Jadeja's incoming deliveries not thinking it would turn. That was the trick," he said.
As far as the batting is concerned, Azhar blamed it on the lack of application and better performance from the Aussie spin duo of O'Keefe and Nathan Lyon compared to England.
"Against England on better tracks, they got one loose ball per over from guys like Adil Rashid and Moeen Ali. Here they didn't get loose deliveries. The application needed to be far better. I am not saying you could just come down the track and attack mindlessly. That doesn't happen always. But on a turner, you don't play for the turn. Indian batsmen erred exactly in that area," said Azharuddin.