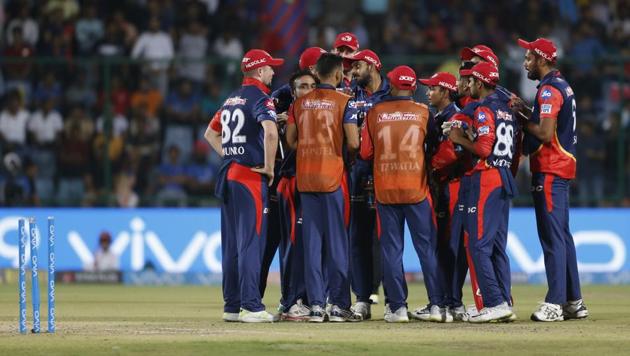 Highlights, Delhi Daredevils vs Rajasthan Royals, IPL 2018: DD win by 4 runs (D/L method)
Delhi Daredevils defeated Rajasthan Royals by four runs (D/L method) in an IPL 2018 thriller which went till the last ball at the Ferozeshah Kotla in New Delhi tonight. Get highlights of Delhi Daredevils vs Rajasthan Royals, Indian Premier League (IPL) 2018 here.
UPDATED ON MAY 03, 2018 12:45 AM IST
Delhi Daredevils put together 196/6 in 17.1 overs against Rajasthan Royals before rain halted play in the Indian Premier League 2018 game taking place at the Ferozeshah Kotla in New Delhi tonight. The game began at 9:30 PM instead of 8 PM after heavy rain delayed the start. The game was reduced to 18 overs per side. Prithvi Shaw took off brilliantly with his 47 before Daredevils captain Shreyas Iyer (50) and Rishabh Pant (69) scored half-centuries to put together a superb 92-run stand. Rajasthan Royals captain Ajinkya Rahane had won the toss and opted to field. In reply, Jos Buttler gave a superb start for the visitors with a 26-ball 67 with D'Arcy Short also scoring 44 runs. Eventually, RR fell short by 4 runs according to the D/L method as they were chasing a revised target of 151 off 12 overs following the rain delay. Get highlights of Delhi Daredevils vs Rajasthan Royals, Indian Premier League (IPL) 2018 here. (SCORECARD | LIVE STREAMING INFO)
00:45 hrs IST: Hope you enjoyed the coverage. Thanks for joining in
00:40 hrs IST: Delhi Daredevils win by 4 runs (D/L method). What a thriller!

00:35 hrs IST: RUN OUT! Rahul Tripathi departs for 9
00:33 hrs IST: 15 needed off the last six balls after Gowtham hit a four and a six!
00:30 hrs IST: This is turning out to be one thrilling chase
00:27 hrs IST: Rahul Tripathi and Krishnappa Gowtham at the crease. Both have not faced a ball yet
00:24 hrs IST: OUT! D'Arcy is caught! He scored 44 (25)
00:21 hrs IST: Three back to back sixes by D'Arcy Short
00:17 hrs IST: Ben Stokes departs early. Just 1 off 2 balls as Trent Boult takes his second wicket
00:14 hrs IST: Ben Stokes is the new man in joining D'Arcy Short
00:11 hrs IST: Sanju Samson is out for 3 as Trent Boult takes his wicket
00:06 hrs IST: That was the 24th time in IPL when Amit Mishra dismissed someone stumped, ten more than the next best
00:02 hrs IST: Delhi Daredevils get the big wicket! Jos Buttler is stumped 67 (26). He is 4 fours and seven sixes. Spinner Mishra is the man for Delhi Daredevils

00:00 hrs IST: 13 runs off the second Avesh Khan over
23:58 hrs IST: This is some innings by Jos Buttler, he has scored 59 runs off 21 balls
23:55 hrs IST: SIX and Buttler scores an 18-ball fifty, the fastest ever by a Rajasthan Royals batsman
23:53 hrs IST: Pant drops Buttler! Oh....
23:52 hrs IST: Another six by Buttler, he has raced away to 43
23:49 hrs IST: 23 runs came in that Avesh Khan over. Shreyas Iyer immediately under pressure
23:47 hrs IST: Three sixes off four deliveries and then a boundary! What an over for Rajasthan Royals. Buttler is on fire!
23:45 hrs IST: Jos Buttler welcomes Avesh Khan with two sixes off his first two deliveries, the second one scooping it to fine leg
23:42 hrs IST: 22 runs off the first 2 overs
23:38 hrs IST: 14 runs off the first over! RR have begun well but every over has to be like this one
23:35 hrs IST: Shahbaz Nadeem to bowl the first over D'Arcy Short and Jos Buttler
23:32 hrs IST: The players are stepping out on to the field. Game about to begin. 151 runs off 12 overs is a very stiff target. It is certainly advantage Delhi
23:30 hrs IST: News from the centre - RR need 151 off 12 overs, game restarts at 11:30 PM
23:25 hrs IST: Meanwhile, Shreyas Iyer has been the man in-form. He has scored 4 half-centuries in the last 5 games
23:20 hrs IST: Covers are coming off but what an innings it was from Rishabh Pant! His sixth half-century in IPL and it came in only 29 balls which included seven fours and five sixes. Read about it here
23:15 hrs IST: Rain stopped but it is drizzling again now... will we get to see the second innings tonight?
23:12 hrs IST: All Royals bowlers were expensive with all of them going for 9 or more per over
23:10 hrs IST: Jaydev Unadkat picked up three wickets but was expensive, going for more than 11 per over
23:06 hrs IST: So here we are. The start was delayed due to rain by 90 minutes. The game was reduced to 18 overs per side. Prithvi Shaw (47), Shreyas Iyer (50) and Rishabh Pant (69) batted brilliantly to take Delhi Daredevils to 196/6 in 17.1 overs before rain interrupted play yet again
23:04 hrs IST: That is likely the end of the innings as DD are 196/6 after 17.1 overs
23:00 hrs IST: Covers coming in! Drizzling again!
22:58 hrs IST: One over left, DD are 196/5
22:55 hrs IST: DD lose another! Vijay Shankar is out for 17 off 6
22:53 hrs IST: That Pant and Iyer partnership stood for 92 runs
22:49 hrs IST: What a turnaround! Jaydev Unadkat has removed both Shreyas Iyer and Rishabh Pant in his over as DD are 172/4 after 15 overs
22:43 hrs IST: Shreyas Iyer scores 10th IPL fifty. Delhi Daredevils 161/2 in 14.1 overs vs Rajasthan Royals
22:40 hrs IST: 15 runs off that over as Rishabh Pant brings up his half-century, his sixth in IPL as well his fastest
22:36 hrs IST: 20 runs in the 13th over! Both Iyer and Pant in form! DD are 145/2
22:34 hrs IST: Both Rishabh Pant and Shreyas Iyer in 40s
22:31 hrs IST: Kulkarni is feeling the pressure -- three back to back wides!
22:29 hrs IST: Shreyas Iyer and Rishabh Pant have put together 50 runs
22:25 hrs IST: After 11 overs, Delhi Daredevils are 109/2
22:20 hrs IST: Skipper Shreyas Iyer is taking Delhi Daredevils forward
22:15 hrs IST: Interestingly, the tournament's most expensive player, Ben Stokes, sold at Rs.12.5 crore, has only taken one wicket so far in IPL 2018
22:10 hrs IST: Bang! Rishabh Pant's first run comes off a six! Daredevils are 80/2 after 8 overs. This is a good start from the hosts
22:07 hrs IST: Shreyas Gopal and Dhawal Kulkarni are the two wicket-takers for Rajasthan Royals so far
22:04 hrs IST: Oh no! Prithvi Shaw gives it away while batting at 47. He was near his second fifty in IPL 2018 in only his fourth game
21:59 hrs IST: This is impressive batting by Prithvi Shaw who could be heading for his second half-century in IPL
21:54 hrs IST: Leg-spinner Shreyas Gopal has been brought in to roll over his arm
21:52 hrs IST: Brilliant stuff from Prithvi Shaw. He lofts a slower cutter from Jaydev Unadkat to long on and crisply punches a length ball over mid off. He ends the over in style with a lofted shot over long off for his third six. He is nearing a fifty is Shaw
21:47 hrs IST: After two sixes, Shaw gets going with two boundaries off Krishnappa Gowtham. The 19-year-old is looking in great touch.
21:44 hrs IST: Brilliant striking from Prithvi Shaw. He pulls two big sixes over deep mid wicket off Kulkarni and hammers a short ball over extra cover. 16 runs in the over.
21:39 hrs IST: Good start for Shreyas Iyer as he glances a full ball on the pads from Jofra Archer to the fine leg fence.
21:33 hrs IST: WICKET - Sensational start for Rajasthan Royals. Dhawal Kulkarni angles a full ball across just outside off and it holds its line, Colin Munro goes for the drive and gets an inside edge that is taken by Jos Buttler. Colin Munro c Buttler b Kulkarni 0 (1).
21:30 hrs IST: Colin Munro and Prithvi Shaw come out to open for Delhi Daredevils. Dhawal Kulkarni will open the bowling.
21:17 hrs IST: So we have basically lost four overs tonight but this match is going to end late
21:10 hrs IST: The game will start at 9.30 PM. It will be 18 overs per side. Three bowlers will bowl 4 overs each while two others will bowl 3 each
21:05 hrs IST: The players are out and they are warming up. Sawdust was being scattered at different spots
21:00 hrs IST: We are 10 minutes away from the inspection
20:52 hrs IST: We will start losing overs after some time
20:42 hrs IST: Covers have been removed! There will be an inspection at 9:10 PM
20:37 hrs IST: It has stopped raining! That is the big news!
20:33 hrs IST: The rain is starting to ease out now
20:28 hrs IST: Super-soppers getting into action though the drizzle is still steady
20:25 hrs IST: The last DD vs RR match too was marred by rain in Jaipur. It seems rain is following this match-up
20:21 hrs IST: More of a drizzle now, spectators filling back now. Steady pitter-patter now. This could take some while as the entire ground barring the square and the run-ups is getting soaked
20:16 hrs IST: The rain is very, very heavy now
20:11 hrs IST: Rain literally lashing the Kotla now. The groundsmen are running off the ground and the stands have been emptied
20:05 hrs IST: Oh boy the skies have really opened up. It is pouring now in Delhi. Lightning, thunder storm, heavy wind, what not!
20:00 hrs IST: Rain rain now and we have a delayed start
19:57 hrs IST: A light drizzle has begun at Kotla. One super sopper mobilised and more covers coming in. The start could get delayed here. The bowlers' run-ups covered
19:55 hrs IST: Bigger covers coming on and the right square being covered now
19:54 hrs IST: Stumps have been removed! The pitch is being covered
19:51 hrs IST: THIS IS NEWS! COVERS ARE COMING IN. But no rain though
19:48 hrs IST: "We are looking to chase. Wicket looks pretty good. We are going to back our bowlers in the first innings. We have been playing some good cricket but we need to do that over a period of 40 overs. The mood in our camp is very good," said RR skipper Ajinkya Rahane
19:42 hrs IST: D'Arcy Short and Shreyas Gopal have come in for Rajasthan Royals as Ish Sodhi has been left out
19:40 hrs IST: Shahbaz Nadeem comes in for Rahul Tewatia in Delhi Daredevils
19:35 hrs IST: Rajasthan Royals captain Ajinkya Rahane has won the toss and opted to field against Delhi Daredevils
19:30 hrs IST: Sparse crowd so far at the Kotla. The teams just did a huddle. Gautam Gambhir has been taking throw downs, this could be interesting
19:28 hrs IST: Delhi Daredevils, on the other hand, are eighth and last in the standings with two wins but six losses in eight matches in IPL 2018
19:25 hrs IST: Rajasthan Royals are sixth in the standings with three victories and four losses out of seven games
19:20 hrs IST: The two teams had earlier met in Jaipur on April 11 with Rajasthan Royals coming out on top by 10 runs (D/L method)
19:15 hrs IST: Both teams will be eager to win after losing their previous games
19:10 hrs IST: A cool breeze is sweeping the Kotla. The players will enjoy today's weather
19:05 hrs IST: Delhi Daredevils are hosting Rajasthan Royals at the Ferozeshah Kotla in New Delhi today
19:00 hrs IST: Hello and welcome to the live blog of the 32nd match of IPL 2018
After Gautam Gambhir stepped down as captain following a string of losses, Iyer was left with the responsibility of guiding the team to the play-offs and the young skipper did score a 40-ball unbeaten 93 to power his side to a massive 55-run win over Kolkata Knight Riders to renew hopes of a turnaround.
But DD's 13-run loss to Chennai Super Kings almost dashed all hopes of a comeback and Iyer has an uphill task of inspiring his team in the remaining matches to salvage any hopes of staying alive in the tournament.
Iyer and Rishabh Pant have done the bulk of the scoring for Delhi, amassing 306 and 257 runs respectively so far and the onus would be on the duo to lead the batting unit.
Among the bowlers, Trent Boult has been among the wickets, claiming 11 scalps so far but he didn't get support from the rest. It has resulted in their failure to defend totals, putting their batting under pressure.
Rajasthan Royals, on the other hand, are placed fifth in the table with six points from seven matches. Ajinkya Rahane's team has been inconsistent this season as most times a win has been followed by a loss and they will also have to find a way to stem the rot if they have to make it to the play-offs.
Close