India vs England, 3rd Test Day 2 at Trent Bridge, highlights: Hardik Pandya puts India in charge- as it happened
Updated on Aug 20, 2018 06:22 AM IST
Highlights: Hardik Pandya picked up five wickets in an inspired spell of bowling as India rolled over England for 161 in reponse to India's total of 329. The visitors were 124 for two in their second innings, a lead of 292 runs, at stumps on the second day of the third Test against England at Trent Bridge on Sunday. Cheteshwar Pujara was 33 not out and Virat Kohli, the India captain, eight not out. India vs England 3rd Test, Day 2 - as it happened: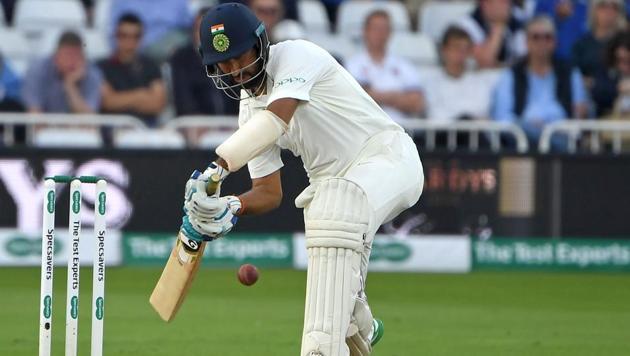 23:44 hrs IST
Signing off
That's it from us, thank you so much for joining us. Do join us again tomorrow for more live coverage. Until then, goodnight and goodbye!
23:37 hrs IST
Stumps
It's stumps and India are 124/2 vs England after two days of exciting action at Trent Bridge. With both Pujara and Kohli still at the crease, India will be confident going into the third day.
23:28 hrs IST
England seek wickets
England bowlers have tried everything - good line outside off, short balls, full on the stumps - and Pujara and Kohli haven't seemed too troubled just yet. The longer these two can bat, the better it will be for the visitors. India are 124/2 after 30 overs.
23:12 hrs IST
Kohli, Pujara steady
The departure of Dhawan has seen Pujara play in a more reserved manner now. Although given how near the end of the day is, no one will mind a cautious approach at all. India are 119-2 after 26 overs.
23:01 hrs IST
Dhawan goes
OUT! Adil Rashid gets Shikhar Dhawan stumped and that is the wicket England were craving. India 111/2 after 23.2 overs.
22:53 hrs IST
India seek to consolidate
Dhawan has - surprisingly - been the quieter of the two batsmen thus far. Both seem keen to bat for as long as they possibly can, which makes sense given that it is only Day 2 in the Test after all. More of the same will be good for India. They are 103/1 after 22 overs.
22:39 hrs IST
Pujara breaks shackles
Pujara, who's copped a bit of criticism for not scoring as many runs as he should, has played a decent innings thus far. He's looked his usual solid self but has backed himself to go for the attacking shots when the option becomes available. India are 96/1 after 18 overs.
22:25 hrs IST
India steady ship
Rahul's departure hasn't changed much for India. Both Dhawan and new man Cheteshwar Pujara have been solid thus far and the lead is now nearing the 250-run mark. India are 81/1 after 15 overs.
22:08 hrs IST
Stokes gets Rahul
OUT! Ben Stokes gets the breakthrough, cleaning up KL Rahul's stumps. The opener looks distraught. He really did look set for a big innings there, but it wasn't meant to be. India are 60/1 after 11.2 overs.
22:01 hrs IST
India bring up 50
KL Rahul is in no mood to stop scoring and he ends Ben Stokes' first over of the innings with a boundary that clipped his inside edge. India are 56/0 after 10 overs.
21:51 hrs IST
Rahul cutting loose
Anderson and Broad are straying too far outside off too often and they are getting punished by KL Rahul. The opener is in his element and dispatching loose balls to the boundary on a regular basis. India are 46/0 after 8 overs.
21:43 hrs IST
Dhawan, Rahul steady
Both Dhawan and Rahul are not looking to play any foolish shots and are most certainly making Broad and Anderson work hard. Both are hitting good lines but are erring on occasion - especially Broad. India are 29/0 after 6 overs.
21:26 hrs IST
English bowlers look for wickets
Anderson and Broad are looking to pitch the ball up and get it to move to bring the slips into play. The lead has already crossed 186 as the score reads 18/0 after 3 overs. Dhawan and Rahul are also looking to mix caution with aggression here and anything over 250 will be a good target considering that England will have to bat last on this wicket.
21:16 hrs IST
Dhawan and Rahul take strike
Shikhar Dhawan and KL Rahul have come out to bat and are looking to stay positive. England were bundled out for 161 as India lead by 168 runs. Anderson and Broad will look to make early inroads if they want to stay in the game. Any score over 250 will not be easy to chase in the fourth innings.
20:52 hrs IST
Bumrah gets Buttler
With just Anderson for company, Buttler was now looking to hit every ball out of the park. But that was not going to go on for long. Bumrah pitches one up and the batsman hits that straight up for Shardul Thakur to complete an easy catch. England bundle up for 161 with Buttler finishing on 39. India lead by 168.
20:42 hrs IST
Kohli replaces Pandya with Bumrah
After bowling a brilliant spell, Pandya has been handed a much-deserved break as Bumrah is back in the attack. India will be looking to clean up the tail at the earliest here and get back on the field with the batsmen looking to build on the lead. Buttler is trying to add as many runs as he can with Anderson for company.
20:24 hrs IST
Pandya gets fifer
Poetic justice for Pandya as he gets his fifth wicket of the game. This has been a great spell from the all-rounder and he has kept things simple and let the ball do the talking. After getting the batsmen to edge, Pandya now traps Broad right in front as England are 9 down with the score reading 128. This has been a clinical performance from the Indian boys.
20:20 hrs IST
Pandya gets his fourth
Adil Rashid is the new casualty as Pandya is bowling a dream spell here. He has troubled all with his line and length and Pant meanwhile picks another catch in his debut game. The wicket-keeper has been really good behind the wicket here. The score reads 128/8 as England trail by 201 runs.
20:07 hrs IST
Pandya gets Bairstow & Woakes
Hardik Pandya seems to have hit a purple patch here. He is bowling beautifully here and getting the ball to move at the last moment. Gets one to take the edge of Bairstow's bat and Rahul takes another good catch at second slip. The Indian players are celebrating as England have now lost their sixth wicket and looking down the barrel. Matters go from bad to worse as Woakes is dismissed off the last ball of the over as Pant takes a smart catch down the leg side. Seven down as England are in trouble here.
20:00 hrs IST
Shami gets Stokes
Having looked to bowl a much better length in the post-lunch session, Shami has finally been rewarded with the wicket of all-rounder Stokes as KL Rahul once again takes a catch at second slip. The Indians are celebrating as England is five wickets down here and looking at conceding a big lead to India in the first innings.
19:50 hrs IST
Close shave for Stokes
Pandya seems to have hit a good rhythm here as he gets the ball to hit Stokes on his pad. The umpire said no, but the Indians reviewed it. Even though the ball is kissing the top of off, the decision stayed with the umpire and that gives Stokes a life. Luckily for India, the review is also retained. Stokes is looking slightly shaky at the crease and another wicket here will mean that India is very much back on top in this game.
19:40 hrs IST
Shami looking to hit right areas
Having disappointed with the new ball, Shami is now looking to hit the right areas and make it count as the other bowlers have clearly been more impressive in their display. Shami has turned out to be the weakest link in this innings as he has leaked runs and failed to bowl a consistent line and length. With Pandya also starting well, the time is perfect for Shami to get back into the groove.
19:30 hrs IST
Pandya gets Root
Brilliant change of bowling here from Kohli. Gives Bumrah a break after a longish spell and Pandya strikes immediately and gets the edge of Root's bat as Rahul completes the catch at second slip. The umpires take a look at the replays before the batsman is asked to walk back to the pavilion. The score reads 86/4 as Root goes for 16.
19:20 hrs IST
Concern over Ashwin
After bowling at the indoor nets, Ashwin has gone back to the dressing room with Patrick Farhart. There seems to be some stiffness on the right part of his hip as the Indian team management had a long discussion on his injury status before he walked back to the dug-out on the ground. Trainer Shanker Basu and Farhart have come and sat next to him.
19:10 hrs IST
Bumrah bowling brilliantly
Bumrah has looked a very different bowler after the lunch break. Looks like he has definitely had a word with the bowling coach during the break. Ishant has played perfect second foil to him and the two have ensured that the pressure is on the English batsmen. The duo of Bairstow and Root have a tough task at hand.
19:00 hrs IST
Ishant sends back Pope
Ishant gets the reward for bowling a testing line and length. Would probably be his worst ball in the spell, but Ishant gets a wicket. Going down leg, Pope manages to get his bat onto that and Pant completes a good catch down the leg side. Pope goes for 10 as the score reads 75/3
18:44 hrs IST
Probing spell from Bumrah & Ishant
Bumrah has looked a different bowler after the lunch interval. Clearly, he has understood the line and length after bowling his first spell before the lunch interval. Ishant too has been brilliant with the ball and clearly his stint in county cricket going into the series has helped him immensely in this series. Pitching the ball right up and in the corridor on and around the off stump.
18:34 hrs IST
Root and Pope look to consolidate
After the twin blows from Ishant and Bumrah, England skipper Root and Pope are looking to make this count and show resilience at the crease. Bumrah has hit a good rhythm after the lunch break and Ishant has been brilliant to hit the right channels. The score reads 62/2 after 14 overs.
18:22 hrs IST
Ishant gets Cook, Bumrah has Jennings
Dropped by Pujara in the slip cordon, Ishant persists with the line outside the off-stump and Cook edges again. This time Pant makes no mistake as the Indian players celebrate. Cook goes for 29 after being dropped two balls earlier. Bumrah follows as he now picks up Jennings for 20. This is just the start that the Indians would have wanted coming after the lunch break. They must make early inroads here as the score reads 54/2.
17:30 hrs IST
Lunch on Day 2
Cook and Jennings have done well in this short session of 9 overs before the lunch break. They have scored 46 runs in the 9 overs at just over 5 runs per over. Cook is batting on 21 and Jennings is unbeaten on 20 as the players head off for lunch on the second day.
17:24 hrs IST
Kohli turns to Ashwin
With the opening duo of Shami and Bumrah spraying it around and showing little consistency, the India skipper Kohli has turned to Ashwin to get him a breakthrough before the lunch break. Ashwin has had Cook's number so far in this innings. Can he answer the call of his skipper once again? The score reads 38/0 after 7 overs.
17:16 hrs IST
Indian bowlers spraying it around
The Indian bowlers have been slightly inconsistent in their effort in this session. Despite overcast conditions on offer, the bowlers have failed to stop the flow of boundaries off the bad balls. Cook and Jennings will want to bat well and ensure they don't lose a wicket till the lunch break. The score reads 29/0 after 5.4 overs
17:10 hrs IST
English batsmen struggling
Cook and Jennings are looking uncomfortable in the middle as both Shami and Bumrah are bowling a probing line on and outside the off-stump. The Indian bowlers need to be patient and will have to keep bowling this line to induce the false shot from the openers. They have got the perfect conditions to make use of the Duke ball.
17:00 hrs IST
Shami and Bumrah looking good
Even though Shami has been slightly expensive to start with, he has combined well with Bumrah as the Indian bowlers are clearly looking to make the most of the overcast conditions and make early inroads. With 329 on the board, there is a sense of confidence visible on the Indian players. Cook and Jennings definitely have their task cut-out here before the lunch break.
16: 40 hrs IST
Anderson sends back Shami & Bumrah
Virat Kohli has a smile on his face as Anderson hits the top of Bumrah's stumps. The batsman is completely squared up and has no clue of what just happened. The tails fails to wag and the Indian innings ends on 329. The Indian bowlers will look to make most of the overcast conditions now and make early inroads into the English batting line-up before the lunch break.
16:33 hrs IST
Broad Castles Ashwin
After dismissing Pant, Broad bowls an absolute ripper to clean up Ashwin. The middle stump goes for a walk in the park as the England players celebrate. The Indians are 8 wickets down and the score is 329. Broad has come back beautifully after an erratic start. Ashwin goes for 14.
16:22 hrs IST
Broad dismisses Pant
Having shown good resilience, Pant looks to go for an expansive drive and drags it onto the stumps. Pant looks devastated as he is bowled for 24. Not the start that the Indian batsmen would have looked for on the second morning. The score reads 323/7
16:12 hrs IST
English bowlers a bit wayward
With the new ball in hand, Anderson and Broad would have ideally wanted to hit the area on and around the off-stump. But they have been inconsistent this morning, especially Broad as both Pant and Ashwin have been able to leave the ball with ease. Need to get the batsmen to play more and bring in the slip cordon. The score reads 315/6 after 90 overs.
16: 03 hrs IST
Pant and Ashwin take strike
After a rain delay, the players are on the field for the second day's play and the Indian batsmen are looking pretty positive in their approach. While Pant is looking to stay away from the balls outside the off-stump, Ashwin is flashing hard outside off. One flies over Buttler's head and into the boundary boards.
15:44 hrs IST
Wet outfield delays start
Start time 11.30 AM local. https://t.co/OhhnRc6juM

— BCCI (@BCCI) August 19, 2018
15:40 hrs IST
Kohli surpasses Ganguly
India captain Virat Kohli has been leading from the front in the ongoing Test series against England and missed out on a well-deserved century on Saturday as Adil Rashid dismissed him on 97 at Trent Bridge. But during his knock, he became the country's highest run-getting Test skipper on foreign shores, surpassing Sourav Ganguly. Ganguly had scored 1693 runs and Kohli needed 59 runs to sit atop the table and he did just that on the opening day of the third Test. Kohli now has 1,731 runs under his belt.
15:18 hrs IST
Bhajji wishes team luck
Covers coming off @TrentBridge Game on #IndiaVsEngland 3rd Test day 2.. Go well 🇮🇳 pic.twitter.com/1jHczty9yY

— Harbhajan Turbanator (@harbhajan_singh) August 19, 2018
15:02 hrs IST
Play to start at 15:45 IST
UPDATE - Day 2 play to start at 11.15 AM local time.

15.45 IST.#ENGvIND

— BCCI (@BCCI) August 19, 2018
15:02 hrs IST
'Hitman' Pant
Rishabh Pant (before this Test)
FC - 75 sixes in 1831 balls (a six every 24 balls)
List A - 25 sixes in 736 balls (a six every 29 balls)
T20s - 97 sixes in 1084 balls (a six every 11 balls)
--
Total 197 sixes in 3651 balls (a six every 19 balls)#EngvInd

— Mohandas Menon (@mohanstatsman) August 19, 2018
14:50 hrs IST
Landmark awaits Ishant
Ishant Sharma, India's most experienced bowler needs five more wickets to reach the milestone of 250 wickets in Test cricket. Having made his Test debut against Bangladesh in 2007, Ishant currently has 245 wickets in 84 matches played for India. Should Ishant reach the landmark he will become only the third Indian fast bowler to pick up 250 wickets. Only Zaheer Khan (311) and Kapil Dev (434) are ahead of him in pace bowling department. Overall Ishant is seventh on the list of leading wicket takers for India. Ishant has been one of the brightest sparks for India having picked up seven wickets at an average of 28.28 on what has been a disastrous Test series so far for India, having lost the opening two matches at Edgbaston and at Lord's.
14:38 hrs IST
Bangar happy with effort
Indian batsmen made a collective impression on Day 1 of the third Test against England on Saturday and batting coach Sanjay Bangar praised them for putting technical tweaks into practice after the heavy loss in the Lord's Test. Opener Shikhar Dhawan made only 35 after being recalled in place of Murali Vijay but was a transformed version from the one who nicked twice walking into swing bowling in the first Test at Edgbaston. His 60-run stand with KL Rahul (23) set the tempo for India go on and reach 307/6 at stumps. Bangar said the 18.4 overs the openers played out against the Dukes new ball that encourages swing bowling made the difference as skipper Virat Kohli (97) and Ajinkya Rahane (81) cashed in later. "In the previous two Tests, we were losing two or three wickets inside the first 15 overs. Because of that the middle order batsmen were walking in early in difficult conditions. It was not just the start but also the way they were batting was good," he said.
14:28 hrs IST
Rain in the air
The covers are on and it looks like we'll have a delayed start.#ENGvIND pic.twitter.com/BNbK5W4VRY

— BCCI (@BCCI) August 19, 2018
14:24 hrs IST
Woakes not perturbed
England all-rounder Chris Woakes has gone from strength to strength since his emphatic return after injury in the Lord's Test, where his show with bat and ball won him the Man of the Match award. He dismissed openers Shikhar Dhawan and KL Rahul before removing Cheteshwar Pujara in quick succession. But Woakes had to share honours with India skipper Virat Kohli (97) and Ajinkya Rahane (81), who led a fightback with a 159-run partnership on Day 1 of the third Test encounter at Trent Bridge. "When you do win the toss and go out there and have a bowl, there's always that added pressure to skittle them early," Woakes said after play on Saturday. "But credit to India, I thought they played pretty well."
14:14 hrs IST
Club 100
James Anderson became the second bowler to take 100 Test wickets against India when he dismissed Hardik Pandya on the final ball of Day 1 in the third Test match at Trent Bridge on Saturday. Sri Lanka spinner Muttiah Muralidharan leads the charts with 105 wickets against India while newly-elected Pakistan Prime Minister Imran Khan is third in the list with 94 wickets. Anderson bowled a peach of an out-swinger to Pandya, who looked to defend inside the line but ended up edging one to Jos Buttler at second slip who made no mistakes with the catch. This is the second instance that the England fast bowler has taken 100 wickets against a single team. He previously achieved the feat against rivals Australia (104 wickets from 31 matches).
14:04 hrs IST
Pant serves Bangar a reminder
Rishabh Pant made instant impact as Test debutant, launching the second delivery he faced from England spinner Adil Rashid straight into the stands for six. Pant's audacity left India batting coach Sanjay Bangar grinning, taking his mind back to another left-hander who could tonk the ball some distance – Vinod Kambli. "We were all very surprised, but he is a confident cricketer," Bangar said. "He has come through the ranks. He has played Ranji trophy, graduated in the India A format, so his has been a gradual rise. He has tremendous faith in his abilities. The moment he hit a six, my mind went back to Vinod Kambli, because even he started his first-class career with a six. It requires some gumption to do that. The spunk was pretty evident. So we are pretty happy with that."
13:54 hrs IST
Rahane's special gift for coach Amre
The relation between a coach and his ward can often be as close as that of a father and son. So, it came as no surprise to coach Praveen Amre when Ajinkya Rahane was one of the first to call him from England on August 14 and wish him a happy 50th birthday. But Amre wanted a special gift for his 50th. He wanted Rahane to play an innings that would remind everyone why India's Test vice-captain is considered one of the country's best when it comes to playing on overseas conditions.
13:44 hrs IST
Litmus Test
Australian cricket great Ian Chappell feels India losing back-to-back Test series — in England and against a depleted side Down Under — would be a "bookable offence". Former captain Chappell also said the next few months will be a defining period in Virat Kohli's captaincy career. "Now Kohli's team are in danger of not only wilting tamely against England but also of providing a depleted Australian team with a confidence boost, to the point where they will feel their chances of victory at home have greatly improved. If India were to lose both series, it would be a bookable offence," he wrote in his column.
13:15 hrs IST
Hello and welcome
England seamers ran amok at Lord's in near-perfect seaming conditions, but on a pitch that offered far more balance forced skipper Joe Root – who chose to bowl -- to fall back on Plan B, which included getting Ben Stokes and Stuart Broad to pitch it short. But Kohli and Rahane were ready for the challenge on offer. Kohli fell for 97, a cruel dismissal short his second century of the series and 23rd overall after leading a brilliant fightback with Ajinkya Rahane, who made 81 after being dropped on 57 but shook off his batting blues. Their 159-run partnership would be the launch pad if India push on and put England under pressure. India finished on a solid 307/6 at stumps on the first day on Saturday and the lower order will look to add useful runs though the second new ball is only a few overs old.
Personalise your news feed. Follow trending topics