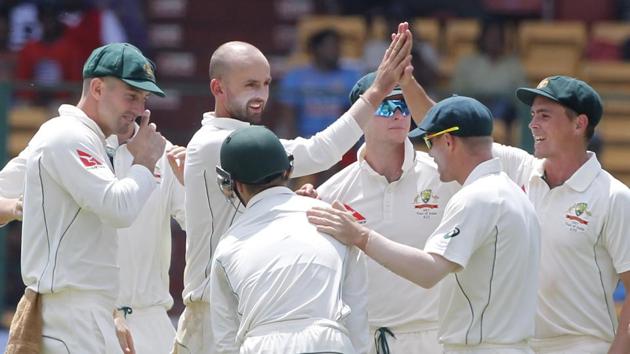 India vs Australia, 2nd Test, Day 1, highlights: IND in dumps after Nathan Lyon's record 8/50
Nathan Lyon took 8/50 as India slumped to 189 all out in the first innings against Australia on Day 1 of the second Test at M Chinnaswamy Stadium, Bangalore. In reply, Australia were 40/0 at stumps. Get India vs Australia Day 1 highlights here.
UPDATED ON MAR 04, 2017 05:10 PM IST
Nathan Lyon's 8/50, best bowling figures by an overseas bowler, helped Australia dismiss India for 189 on Day 1 of the second Test against in Bangalore. KL Rahul (90) top-scored for India. In reply, Australia were 40/0 at stumps. Get highlights of India vs Australia here. (SCORECARD | LIVE STREAMING – WHERE TO SEE)
Lyon (54) also surpassed Brett Lee for most wickets by an Australia bowler on Indian soil.
Lyon credited his spin mentor John Davison, who has not travelled to India, for his success. "I don't know what to say," he says. "That last hour was big for me, I had my pads on so this is the first time I have smiled. I worked a lot with John Davison in the lead-up to the BBL games, used to bowl an hour every day. He can take a lot of credit as well.
"There were some cracks there, and I was trying to hit some. I watched a lot of Ashwin tapes, but I stuck to my strength of getting bounce. I bowled about 1200 balls in Dubai. We worked hard as a bowling group. We discussed how to bowl in India, the toughest place to tour for us."
16:33 hrs IST: STUMPS! Australia 40/0 trail India (189) by 149 runs
16:30 hrs IST: Jadeja comes into attack and gives away five runs.
16:25 hrs IST: Australia 29/0 after 13 overs
16:24 hrs IST: Three minimum overs remaining for today. If India revive late, it will be a day completely dominated by Australians.
16:17 hrs IST: Umesh is constantly clocking over 140 and Renshaw is cautious. He is leaving the ball too well.
16:11 hrs IST: India are yet to employ spin from both ends, despite the pacers showing little sting. Australia 25/0 after nine overs
16:00 hrs IST: Rahane misses a difficult catch of Warner at gully. Ishant must be a frustrated man. Rahane dived but could not hold on to the ball.
15:55 hrs IST: R Ashwin comes into the attack and gives away just one run.
15:48 hrs IST: FOUR! Renshaw gets a boundary off a length delivery Umesh. Australia 17/0 in four overs
15:37 hrs IST: Umesh Yadav from the other end and he is hit for a four off the first ball.
15:30 hrs IST: Australia are here to bat! Ishant Sharma will open the bowling for India. He gives away one run.
15:20 hrs IST: India 189 all out - Nathan Lyon 8/50
This is absolute devastation. This is the sixth best figures by an Australian bowler. Lyon has been a nightmare for Indians! Can they revive?
15:19 hrs IST: OUT! Rahul (90) gone
He is caught by Renshaw off Lyon, who gets his seventh.
15:15 hrs IST: Another review. O'Keefe's delivery hits Rahul's shoulder and Smith goes upstairs. But the balltracker show that the ball was going over the wicket. Another life-line Rahul
15:10 hrs IST: OUT! Jadeja (3) departs
Jadeja edges one to Smith off Lyon. Six-wicket haul for Lyon. Another edge and another wicket. Australia are on top.
Read | Ajinkya Rahane's horror run against spin continues in India vs Australia Tests
15:05 hrs IST: Nathan Lyon is the fifth overseas spinner to take a five-for in Bangalore and every time the visiting team has won
14:54 hrs IST: OUT! Saha (1) departs
Lyon gets his eighth five wicket haul. Saha plays against the turn and edges to Smith at first slip.
14:50 hrs IST: Rahul is 86 now and is eyeing his fifth ton.
14:39 hrs IST: OUT! Another wicket for Nathan Lyon as Ashwin (7) departs!
14:34 hrs IST: A good start by Nathan Lyon as India batsmen look to steady their innings.
14:32 hrs IST: We are back for the final session of the day!
14:20 hrs IST: Kohli's LBW was bizarre. Sanjay Manjrekar comes up with an explanation.
14:14 hrs IST: That's Tea! India 168/5
The session belonged to Australia who got the wickets of Kohli, Rahane and Nair. Rahul is batting on 79 while Ashwin is on 5. After the duo, Wriddhiman Saha is the only reliable batsman. So, it will be a crucial third session for the hosts.
Lyon has been the pick of Australian bowlers taking three wickets.
14:06 hrs IST: OUT! Karun Nair (26) departs, India 156/5
O'Keefe tosses the balls well as Nair comes down the track but misses the line and is stumped by Wade.
13:57 hrs IST: FOUR! Nair hits one off Starc towards backward square leg boundary. He punishes the bowler 's full-toss
13:52 hrs IST: Another top edge off O'Keefe as Nair goes for a sweep. No fielder to take it. But Indian batsmen need not go for these slogs. Get live cricket score of India vs Australia here
13:46 hrs IST: India's DRS calls have been pathetic.
Read | Virat Kohli and his saga of wasted reviews in India vs Australia series
13:44 hrs IST: FOUR! Nair hits one off Starc
13:41 hrs IST: Rahul has moved into 70s. He has been the lone ranger so far for India. Get live cricket score of India vs Australia here
13:30 hrs IST: Karun Nair has come in to bat. The last time he wore the India jersey, Nair became only the second Indian to score a triple hundred
13:26 hrs IST: OUT! Rahane (17)
Lyon gets his second as Rahane goes down the wicket for a big hit, but only to miss the delivery completely and be stumped by the wicketkeeper
13:16 hrs IST: FOUR! Rahane hits one off O'Keefe. This is India's first boundary after five overs. However, Rahane and Rahul have been able to hold fort after the big dismissal of Kohli. Get live cricket score of India vs Australia here
13:10 hrs IST: Lucky escape again for Rahul off Lyon! Rahul hit a paddle sweep but Warner could not hold on to the ball at leg gully.
13:06 hrs IST: O'keefe and Lyon attacks from both ends. Rahane and Rahul have entered a shell it seems.Only one run last three overs. India 106/3 in 43 overs
12:57 hrs IST: 100 comes up for India in 39.2 overs. Rahul on 61, Rahane on 3
12:50 hrs IST: Rahane has been inconsistent in the last few Test matches with some growing murmurs about his place in the team. Today is his golden chance to shut up the critics.
12:51 hrs IST: Relive Rahul's fifty here
12:45 hrs IST: Virat Kohli's decision to take review against what looked a plumb dismissal was surprising. Kohli took it despite the umpire giving him out. Always tricky to take DRS against LBW decisions
Sourav Ganguly had earlier said: "We need to get the DRS right. I think now India's DRS are more emotional than logical." Time for introspection Team India?
12:35 hrs IST: Ajinkya Rahane is the No. 5 batsman. Get live cricket score of India vs Australia here
12:33 hrs IST: BIG BIG WICKET! Kohli (12) out
The India captain decides to leave the flat delivery from Lyon and is trapped plumb in front of the wicket! India takes DRS and it is turned down quite expectedly. India's tryst with wrong DRS calls continues
12:24 hrs IST: Fifty No. 3 comes up for Rahul! It has been a patient knock from the Karnataka batsman and he has been lucky at times.
12:20 hrs IST: Great contest going on here. After the yorker, Starc questions Kohli with a terrific bouncer.
12:17 hrs IST: A yorker at 143 kmph from Starc as Kohli defends it the gem of a delivery! A wide smile on Indian captain's face
12:16 hrs IST: Rahul moves to 49 with a single off Lyon. India 75/2 in 30 overs
12:12 hrs IST: Rahul is eyeing his third Test half-century but he has stuck in the 40s for quite sometime now
12:10 hrs IST: We're back for the second session. Kohli and Rahul at the crease!
11:32 hrs IST: Lunch: India 72/2. Honours even in this session.
11:30 hrs IST: OUT! Pujara (17) departs!
Lyon, who was constantly troubling Pujara, gets an edge and the Indian batsman is caught by Handscomb at short leg.
11:21 hrs IST: LUCKY BOY? He sweeps one off Lyon that stay n the air for quite some time but no fielder is there to catch it.
11:18 hrs IST: Rahul hits back Starc! After being constantly troubled, he gets his revenge as picks the fast bowler low full toss towards short cover. Moves to 47. Live cricket score continue here.
11:12 hrs IST: Inside edge and almost gone! KL Rahul went for a drive against Mitchell Starc's delivery that was going outside. The ball hit the pad.India 58/1 in 23 overs
11:10 hrs IST: KL Rahul has been uncomfortable against the short deliveries so far. He flicks one off Starc but gets lucky as the ball doesn't reach short leg.
11:05 hrs IST: LBW shout from Lyon but KL Rahul is outside the line! India 58/1 in 22 overs
11:03 hrs IST: Another spinner Nathan Lyon into attack now and he is given a welcome treat by Rahul! A boundary towards fine leg as the batsman paddles the ball away to move to 42.
10:57 hrs IST: Rahul-Pujara stand has reached 40. Barring one dropped catch of KL Rahul, the two have given no chance.
10:51 hrs IST: Another bowling change! Mitchell Marsh to attack for Australia now! Stay tuned for live cricket score.
10:46 hrs IST: DROPPED! Rahul (30*) gets a life as he is dropped by Peter Handscomb at mid-off with spinner Steve O'Keefe being the bowler.
10:41 hrs IST: India 34/1 in 15 overs as Rahul hits Hazlewood for another four straight down the ground.
10:35 hrs IST: FOUR! After nine long overs! Rahul eases the pressure with a boundary off Hazlewood towards backward point.
10:30 hrs IST: Meanwhile, Eoin Morgan's 10th one-day international century helps England defeat the West Indies by 45 runs in an ODI.
10:22 hrs IST: Close Shave! Australia appeal for a LBW against Rahul off O'Keefe but umpire Nigel Long is not interested. Aussies thought of a review but didn't take it. Right decision as the ball was going down leg stump.
10:20 hrs IST: Hazlewood two consecutive edges off Pujara in successive deliveries. But no danger for the batsman.
10:19 hrs IST: After Mukund's early departure, Rahul and Pujara have held fort well.
10:09 hrs IST: India's nemesis in the first Test Steve O'Keefe comes in to bowl in the eighth over of the day.
10:07 hrs IST: KL rahul was the only Indian batsman to score a half-century in the first Test. Much depends on him in the first session
10:02 hrs IST: The Bangalore pitch is flat , it's a batting paradise. It would be interesting to see how India can cope playing with four bowlers.
9:56 hrs IST: A maiden from Starc as he troubles No.3 Pujara with short deliveries. After five overs India are 15/1.
9:45 hrs IST: WICKET! Mukund (0) departs!
The 27-year-old Mukund is trapped plumb in front of the wicket by Starc. India 11/1
9:35 hrs IST: Another boundary! Lucky there. Starc gets a thick edge off Rahul but the ball races to boundary. No fielder at third man. India 10/0 after first over.
9:30 hrs IST: FOUR! WHAT A START! KL Rahul gets off the mark in style with a beautiful cover drive off MItchell Starc. India
9:29 hrs IST: The teams are out for national anthems. Big Test for Virat Kohli and Co.
9:14 hrs IST: India (Playing XI): Abhinav Mukund, Lokesh Rahul, Cheteshwar Pujara, Virat Kohli(c), Ajinkya Rahane, Karun Nair, Ravichandran Ashwin, Wriddhiman Saha(w), Ravindra Jadeja, Umesh Yadav, Ishant Sharma
9:12 hrs IST: Australia (Playing XI): Matt Renshaw, David Warner, Steven Smith(c), Shaun Marsh, Peter Handscomb, Mitchell Marsh, Matthew Wade(w), Mitchell Starc, Steve O'Keefe, Nathan Lyon, Josh Hazlewood
9:10 hrs IST: India have also gone for an extra batsman in Karun Nair, in place of Jayant Yadav.
9:08 hrs IST: Vijay injured his shoulder while diving for a catch in the Pune Test. So, KL Rahul will be joined by Mukund for opening the innings. Mukund last played for India in 2011 against England in an away Test
9:05 hrs IST: Two changes for India - Abhinav Mukund comes in for Murali Vijay, who suffered a shoulder injury. Karun Nair will play in place of Jayant Yadav.
9:02 hrs IST: Virat kohli has won the toss and has opted to bat against Steve Smith's Australia
8:59 hrs IST: Virat Kohli's men are 1-0 down in the four-game series.
8:58 hrs IST: Welcome all to the live coverage!
Kohli blamed the Pune setback on his team's lack of intent but promised a better display in Bangalore Test.
India were bundled out for 105 and 107 in their two innings with Australia left-arm spinner Steve O'Keefe picking up 12 wickets in the Pune Test.
The poor performance drew flak from the local media but Kohli, 28, said the players were not really perturbed.
"Our focus was always to win games, every game that we play and the focus remains the same. It doesn't matter whether we lose or win. It's the way we play," he said.
Australia have won two of the five Tests played in Bangalore. This is their best in any Indian venue in the last 20 years.
Close