Sunrisers Hyderabad vs Kings XI Punjab, IPL 2018 highlights: SRH hold nerve to win by 13 runs
Get highlights of IPL score of Sunrisers Hyderabad vs Kings XI Punjab here. Ankit Rajpoot's 5/14 went in vain as Kings XI Punjab lost their way to lose by 13 runs against Sunrisers Hyderabad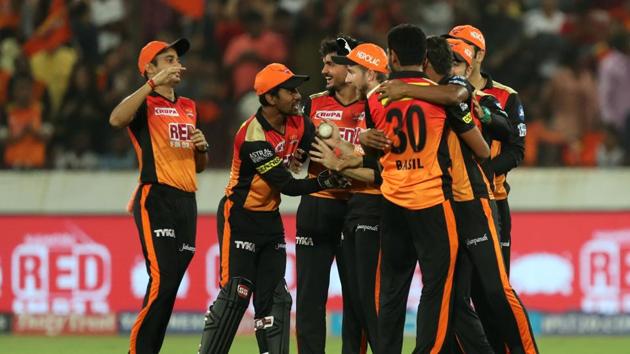 Updated on Apr 26, 2018 11:56 PM IST
Kings XI Punjab (KXIP) put in a magnificent performance with the ball after opting to field against Sunrisers Hyderabad (SRH). Ankit Rajpoot was the star as he became the first Indian uncapped bowler to take a five-wicket haul. Chasing 133, Chris Gayle and KL Rahul started well but Rashid Khan's three-wicket haul and vital contributions from Sandeep Sharma and Shakib Al Hasan gave Kane Williamson's side a 13-run win. Get highlights of Sunrisers Hyderabad vs Kings XI Punjab here. (STREAMING INFO) (SCORECARD)
23:56 hrs IST: That is all from us here. Join us tomorrow for the game between DD vs KKR. Bye.
23:55 hrs IST: Williamson: The Kings XI bowled really, really well, but the boys fought really hard. It's nice to be able to defend this totals. We want to be more smarter with the bat.
23:54 hrs IST: Rashid Khan:Getting KL's wicket was great, he's a class player, one of my favourites, the plan was to bowl wicket-to-wicket, mix up my lengths. It gives a lot of confidence defending small totals, with our bowling
23:45 hrs IST: Ashwin: It is disappointing. It was not the greatest of wickets and we succumbed to it. These losses can happen in this format and these sort of games do happen in IPL, we have to move on. We need to address our fielding. It is always difficult to catch under the lights but there are no excuses, we are professional cricketers and we have to put it behind and work harder
23:37 hrs IST: Brilliant from Basil Thampi and Ankit Rajpoot falls. Sunrisers Hyderabad win by 13 runs against Kings XI Punjab. Brilliant stuff from the 2018 IPL's best bowling side.
23:31 hrs IST: Ankit Rajpoot gets a streaky boundary and KXIp need 15 off the last over. Can it be done?
23:25 hrs IST: Brilliant stuff from Rashid Khan as he gets R Ashwin, poor batting this as the skipper miscues the lofted shot to mid on but Mujeeb Ur Rahman keeps the game alive with two boundaries.
23:12 hrs IST: WICKET - Andrew Tye hits a boundary but Sandeep Sharma gets his second wicket with a leg-cutter knuckle ball to trap him in front. This is spectacular stuff from the best bowling side of the tournament.
23:06 hrs IST: WICKET - Tiwary flicks Sandeep Sharma to mid wicket and Kane Williamson almost loses it in the lights but hangs on. KXIP are imploding spectacularly.
22:57 hrs IST: WICKET - Brilliant from Rashid as he traps Karun Nair in front with a ripping googly. Manoj Tiwary survives an LBW and a caught-behind. Sunrisers Hyderabad on top now.
22:50 hrs IST: WICKET - Excellent stuff from Shakib as Mayank Agarwal miscues a lofted shot and is caught by Manish Pandey at long on. The pressure is on.
22:47 hrs IST: The required rate has climbed to seven. Another good over from Rashid Khan.
22:44 hrs IST: Another tight over from Siddarth Kaul. Somehow, Sunrisers Hyderabad are hanging in there. However, the asking rate is not too daunting for Kings XI Punjab.
22:40 hrs IST: Agarwal and Karun Nair have to build a good stand. Sunrisers Hyderabad are putting in some good overs.
22:36 hrs IST: WICKET - That is the big wicket. Gayle miscues the pull shot and Basil Thampi runs towards the ball and catches it off his own bowling. Superb stuff and Sunrisers Hyderabad are fighting hard. Chris Gayle c and b Basil Thampi 23 (22).
22:29 hrs IST: WICKET - Brilliant ball from Rashid Khan. The quick, straight googly and Rahul plays down the wrong line to get castled. Rashid Khan holds the key for Sunrisers Hyderabad. KL Rahul b Rashid Khan 32 (26).
22:18 hrs IST: Two fours by Rahul and Gayle, one over mid on and the other past cover have ensured Kings XI Punjab have ended the powerplay on a strong note at 44/0 after six overs.
22:11 hrs IST: Rahul finds the boundary with a glorious cover drive off Sandeep Sharma. Kings XI Punjab are cruising.
22:06 hrs IST: Brilliant batting this from KL Rahul. He pulls Mohammed Nabi into the stands at deep mid wicket, slices a flatter ball past cover and sweeps a full ball to fine leg. 16 runs in the over.
21:57 hrs IST: Chris Gayle blasts Mohammad Nabi for a six over long off as he survives a stumping chance. After two overs, KXIP are 10/0.
21:54 hrs IST: Steady start in the first over for Kings XI Punjab. Sandeep Sharma gets some swing as both Rahul and Gayle get off the mark.
21:34 hrs IST: Manish Pandey is bowled for 54 and Ankit Rajpoot takes the first five-wicket haul of the 2018 IPL as Sunrisers Hyderabad end on 132/6 after 20 overs. KXIP will fancy their chances of chasing this down.
21:25 hrs IST: Manish Pandey hits his 11th fifty. Can he get Sunrisers Hyderabad past 140?
21:21 hrs IST: Ashwin finishes his spell, slightly expensive but he was a bit unlucky. After 18 overs, Sunrisers Hyderabad are 117/4
21:16 hrs IST: Third dropped catch by Kings XI Punjab off Manish Pandey. They have been really poor in the field. Manish Pandey is nearing a fifty.
21:09 hrs IST: Mujeeb Ur Zadran concedes just two runs after Manish Pandey hammers Ashwin for a four and a six to near his fifty
21:02 hrs IST: WICKET - Mujeeb Ur Rahman breaks the stubborn stand. Flighted delivery on leg stump and Shakib launches it high to deep mid wicket but holes out to the fielder. Shakib Al Hasan c Agarwal b Mujeeb 28 (29).
20:59 hrs IST: First boundary after seven overs as Shakib pulls Andrew Tye to the fine leg fence. However, Kings XI Punjab are maintaining the pressure.
20:52 hrs IST: Pandey and Shakib are struggling to find the boundary and Kings XI Punjab are building the pressure. Andrew Tye concedes five runs in his first over.
20:48 hrs IST: Good first over from Mujeeb Ur Rahman. At the half way stage, Sunrisers Hyderabad are 57/3 and they cannot seem to accelerate.
20:40 hrs IST: Manoj Tiwary comes into the attack and he bowls a mixture of Kedar Jadhav-like off-spin and legbreaks. He concedes just 10 overs. Sunrisers Hyderabad have reached 50/3.
20:35 hrs IST: Good start for Ravichandran Ashwin as he concedes just three runs in his first over.
20:32 hrs IST: Poor over from Barinder Sran. He gets Shakib Al Hasan as the batsman plays a poor cut shot to third man but the bowler has overstepped. Shakib gets going with two boundaries, one through deep square leg and through deep point.
20:23 hrs IST: WICKET - Another terrible shot and Ankit Rajpoot has his third wicket. Full ball on leg stump and Saha slogs it to deep square leg, no timing at all and Andrew Tye gobbles up the catch. Wriddhiman Saha c Tye b Rajoot 6 (9).
20:19 hrs IST: Manish Pandey gets off the mark with a whipped four through mid wicket for a boundary but he survives on the last ball as he miscues the lofted shot to long off but Ashwin cannot take the catch.
20:15 hrs IST: WICKET - Another wicket for Ankit Rajpoot as the extra bounce accounts for Shikhar Dhawan, who pokes at a delivery that bounces a bit more and Karun Nair takes the catch. Shikhar Dhawan c Nair b Rajpoot 11 (8).
20:09 hrs IST: Wriddhiman Saha gets off the mark with a glance off Barinder Sran to fine leg while Shikhar Dhawan caresses a full ball through cover for his first boundary. Sunrisers Hyderabad need a good start after Kane Williamson's dismissal.
20:03 hrs IST: Terrible start for Sunrisers Hyderabad. Kane Williamson is surprised by a short, lifting delivery from Ankit Rajpoot and top-edges the pull tamely to mid off. Kane Williamson c Ashwin b Rajpoot 0 (3).
19:36 hrs IST: Kings XI Punjab have won the toss and chosen to bowl. Sunrisers Hyderabad are unchanged, so still no Bhuvneshwar Kumar. However, Yuvraj Singh misses out for KXIP and Manoj Tiwary comes into the side. Chris Gayle also returns. Here are the playing XIs.
Sunrisers Hyderabad: Shikhar Dhawan, Kane Williamson(c), Wriddhiman Saha(w), Manish Pandey, Shakib Al Hasan, Yusuf Pathan, Mohammad Nabi, Rashid Khan, Basil Thampi, Siddarth Kaul, Sandeep Sharma
Kings XI Punjab: Lokesh Rahul(w), Chris Gayle, Mayank Agarwal, Karun Nair, Aaron Finch, Manoj Tiwary, Ravichandran Ashwin(c), Andrew Tye, Barinder Sran, Ankit Rajpoot, Mujeeb Ur Rahman
19:25 hrs IST: A warm welcome to the game between Sunrisers Hyderabad and Kings XI Punjab. Kane Williamson's side were blown away by a special from Chris Gayle in their previous encounter and they will be eyeing revenge.
Punjab openers KL Rahul and Chris Gayle have been a major reason behind their success. While Rahul has accumulated 236 runs from six games, the Caribbean self-proclaimed "Universe Boss" has amassed 229 runs from just three matches.
On the other hand, Sunrisers have their tails up after defending a paltry 118 against Mumbai Indians on Tuesday. The Sunrisers' bowlers dished out a superb performance to trigger a batting collapse of Mumbai and eventually defend the total by 31 runs at the packed Wankhede Stadium.
Close Story