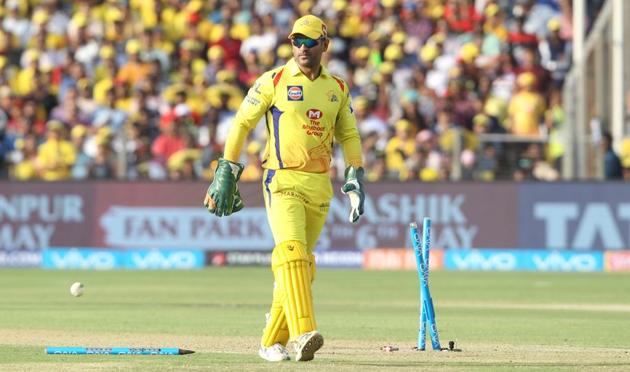 How MS Dhoni is scripting resurgence story in IPL 2018
India's World Cup-winning skipper MS Dhoni rediscovering his explosive finish with the bat for Chennai Super Kings has been the compelling story of Indian Premier League (IPL) 2018.
UPDATED ON MAY 06, 2018 01:19 PM IST
MS Dhoni's stature as one of the most destructive batsmen in the world was not built merely on the runs he made, but it was the strike-rate that caught the imagination.
Sample this: April 2004, India versus Pakistan ODI at Visakhapatnam: 148 off 123 balls; October 2005, India versus Sri Lanka ODI at Jaipur: 183 not out off 145 balls; February 2006 versus Pakistan ODI at Lahore: 72 not out off 46 balls; February 2006 versus Pakistan ODI at Karachi: 77 not out off 56 balls.
Even Dhoni's 91 not out in the 2011 World Cup final took just 79 balls.
However, in the last few years, Dhoni was getting the runs but had slowed down. Naturally, it led to the question whether he was approaching the finish; like the painstaking innings at Antigua in 2017 when Dhoni faced 114 balls for 54 but still couldn't take India home chasing a modest 189.
READ | Virat Kohli reveals his lack of emotion after 2011 World Cup win – Watch video
For his critics it was the final proof the legend was done and dusted. Twitterati had a field day, mocking his game. Since then, runs have been coming off his blade but not at the rate at which Dhoni is expected to score.
DHONI'S IPL RESURGENCE
Back in his favourite yellow jersey of Chennai Super Kings in IPL 2018, he has turned the clock back spectacularly, rebutting all trash-talk that his reflexes were slowing.
Now, Dhoni is batting like he used to when he first came on the scene, looking to smash from the first ball to emerge the most destructive batsman in IPL 2018.
Written off some time ago, among the first questions to his IPL teammates now is about Dhoni's hitting. There's nothing copybook about his game. The technique is all 'Made in Ranchi'. He is just allowing his instinct to take over.
READ | Brett Lee hails Kolkata Knight Riders' Shivam Mavi as 'future of Indian bowling'
BETTER BAT SWING
From sources close to the player, his bat swing is better and may have made the difference. He is now using bats weighing 1185 gm and 1230 gm and is no longer hung up on using only a heavy bat. He has the habit of using bats with two different weights in the same innings, and Dhoni is known to change bats in between, depending on the stage of the match.
"Being in the later stage of his career, timing is more important. By using a lighter bat, he is getting the extra time. The last shot he played to finish the game against Royal Challengers Bangalore (April 25 in Bangalore) best showed he's got the swing back. You can see that with a lighter bat the swing is better, like a golfer."
The other thing about Dhoni's bat is he has understood the science of wood better. The fascination of batsmen to have more grains on their bat is well known. But Dhoni is not falling for the look of the willow. "He now prefers a good ping over the look of the bat. He has understood that knots and spots are also good; it's not just about more number of grains."
To simplify the term "having a good ping", it's the sound and bounce that comes off the sweet spot of the blade. The willow may have 16-17 grains, but if it doesn't have the sound it will not have the same stroke; a bat may have just five-six grains, but if it has that sweet sound then it's the one.
READ | Rohit Sharma becomes first Indian cricketer to hit 300 Twenty20 sixes
FEEL OF BAT
For his unconventional game, feel is the key. Somehow, it had gone missing for a long time. To be back for CSK meant a lot to him. The desire to do well for the team on their return from a two-year suspension has certainly had an impact on his game as well.
It showed in the way he prepared for this edition. Leading up to IPL 2018, he was training like a man possessed; it was difficult to get him out of the nets. That is where he discovered the old feel from his Ranchi days, when crowds filled up when they heard 'Dhoni mar raha hai'.
CSK opener Shane Watson said in an interview to the official broadcaster after the last game at Pune: "Seeing (Dhoni's) desire to do well for Chennai Super King on their return was an inspiration for me as well."
In nine innings before Saturday, Dhoni has aggregated 329 runs, averaging 82.25 with a strike rate of 169.58.
And with knocks of 25 (12 b) versus Sunrisers Hyderabad, 79 not out (44 b) versus Kings XI, 70 not out (34 b) versus Royal Challengers Bnagalore, 26 (21 b) versus Mumbai Indians, 51 not out (22 b) versus Delhi Daredevils and 43 not out (25 b) versus Kolkata Knight Riders, Dhoni is filling up the stadiums again.
Close