'Only Dhoni has mastered it. And I'm doing it at such early stage in my career': Riyan Parag 'not even close' to goals
Nov 26, 2022 09:39 AM IST
Ahead of the IPL 2022 mini auction, Rajasthan Royals released nine players but Riyan Parag was not one of them.
Ahead of the IPL 2022 mini-auction which will be held on December 3, all 10 franchises revealed their list of retained and released players. For Rajasthan Royals, nine players were released but Riyan Parag was not one of them. Despite not setting the tournament alight the way RR would have wanted him to in the previous few editions of the IPL, RR have showed faith in the 21-year-old. In reply, Parag, who has been with the franchise for the last five years, expressed his gratitude towards the Royals and revealed how everyone in the unit has backed him to the hilt despite two very low-key seasons in the IPL.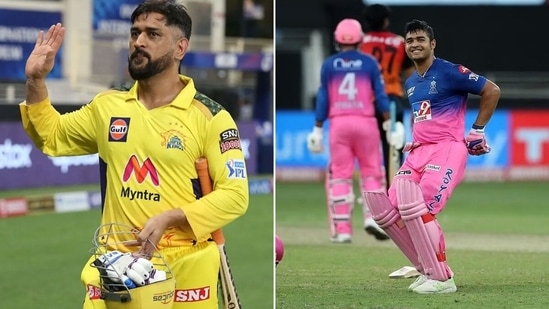 "I think it's very simple for me. The message is always clear: they believe in my abilities. 90 percent of the people don't see what's going on inside the team, how I am performing in practice matches, what I am doing. Everyone just sees the end product, which has been a bit rough for me. So everyone judges me on that. But the whole Royal family knows what I am capable of and what I have done in practice or even shown glimpses of it in matches. So the belief has always been there. They have backed me for four years. This is my fifth year now and I hope to repay them soon," Parag told SportsKeeda.
Stay tuned with breaking news on HT Channel on Facebook.
Join Now
Parag had a decent IPL 2022, scoring 183 runs 17 innings including one half-century. Decent, because the previous two editions were quite disastrous for the youngster. With 86 runs from 12 matches in IPL 2020 and 93 runs from 11 games the year later, the swords were out on social media and Parag had to cope with endless trolling. The youngster opened up on the low phase and explained how he dealt with it.
"2020 was a very low point in my career. And then, I talked a lot to myself and I figured out that only my opinion matters and no one else's does. Even if Sangakkara and Sanju Samson tell good things about me and if I don't believe in them, I think it doesn't really make any sense or doesn't have any impact on myself. So I think the outside noise is always there and will always be there. I do well and the same people are going to praise me and keep me as a king. So it doesn't really matter. I know what I think of myself and I'll stick to that," he added.
This year was slightly better as Parag got a lot more chances, even if they came lower down the order. With RR boasting of a strong top order, the 21-year-old mostly batted at either No. 6 or 7, and while some of his antics on the field did catch the attention of certain former players in the wrong way, Parag stood his ground. He admits that batting lower is an art that not many have mastered barring the great MS Dhoni, but Parag is readying himself for the role and is confident that he will attain success at it.
"It's the tougher job in T20 cricket, to just come in and slog. Numbers six and seven are the hardest places to play in T20 cricket. Only some of the guys have mastered it. Not even some, I'll just say only MS Dhoni has mastered it and no one else has. And I am doing it at such an early stage in my career. Not even master it, I am just getting to close to knowing what it all feels like – I am just sorting my way through it. So people can just talk whatever they want, but I know how hard a job it is and my team believes in me," Parag added.