'Rohit's pause at toss was longer than New Zealand's innings. They were WC finalists': Ex-India cricketer's savage dig
Jan 21, 2023 05:38 PM IST
Speaking on Star Sports, Sanjay Manjrekar made a savage dig on New Zealand's first innings performance and stated that Rohit Sharma's pause at toss was longer.
Team India were in blistering bowling form as New Zealand were bowled out for 108 in 34.3 overs in the ongoing second ODI, in Raipur on Saturday. The home side's batting order crumbled as Mohammed Shami went on to grab three wickets, with Hardik Pandya and Washington Sundar taking two each. Meanwhile, Mohammed Siraj, Shardul Thakur and Kuldeep Yadav bagged a dismissal each.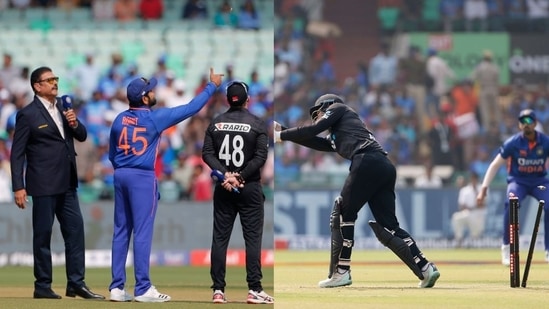 Initially, visiting captain Rohit Sharma won the toss and opted to bowl. New Zealand had a poor start as opener Finn Allen was dismissed for a duck off five deliveries by Shami. Meanwhile, Devon Conway (7), Henry Nicholls (2), Daryl Mitchell (1) and skipper Tom Latham (1) also failed miserably.
Also Read | 'I am not so sure…': Sanjay Bangar names batter who could challenge Shubman Gill for India's opener spot in World Cup
Glenn Phillips (36), Michael Bracewell (22) and Mitchell Santner (27) did try to rebuild New Zealand innings, but failed to make an impact. Meanwhile, Lockie Ferguson (1) and Blair Tickner (2) were sent packing without having much to do and Henry Shipley (2*) remained unbeaten.
Speaking on Star Sports, former India player Sanjay Manjrekar felt that New Zealand's collapse was a bigger story than India's lethal bowling performance. With a pinch of salt, he said, "New Zealand are World Cup finalists and for a team like that on an afternoon pitch that didn't look like it was too notorious to have this kind of a performance, I think that is something which is very hard to understand. So I can understand India being quality. Once again the bigger story is New Zealand, collapsing at this score. In fact, I think Rohit Sharma's pause at the toss was longer than the New Zealand innings."
Manjrekar also hailed India's seam bowling attack and pointed out their ability to adjust after the first ODI. "What's been really impressive is the maturity of the seam bowling attack. In the last game, we found out there was nothing much, bowling second, ground pitched up. They started bowling short and that's how they got their wickets today. They were back to their primary objective and now this is their second one-day international, which is today and we can see a lot of wickets are in the slot and close to the full length. So I love the way they have adjusted", he said.