'There may be alliances forming. KL and Hardik are really close': Vettori on why Mumbai Indians decided to let go Pandya
Dec 02, 2021 09:34 PM IST
Former New Zealand captain Daniel Vettori has listen two reasons that could have led to Mumbai Indians releasing all-rounder Hardik Pandya.
Former New Zealand captain Daniel Vettori has listed two reasons which he feels could have led to Mumbai Indians ending their association with Hardik Pandya, at least for the time being. The first reason which Vettori points to is money, and how after spending a lot of their first two retentions, Rohit Sharma and Kieron Pollard, Pandya and the franchise could not have reached an agreement.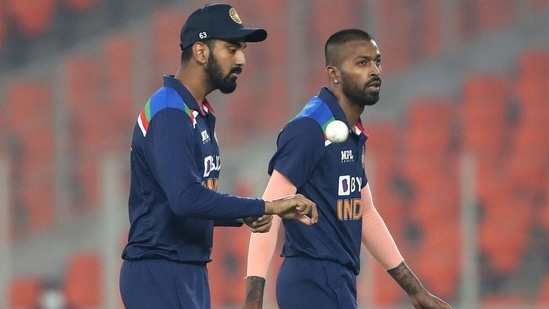 With MI retaining Rohit, Bumrah, Suryakumar Yadav and Kieron Pollard as their four players, they let go a plethora of stars who have been instrumental in the team reaching unprecedented heights in the IPL. But with Rohit going for INR 16 crore, and Bumrah for INR 12 crore, Vettori reckons the two parties may have failed to find a common ground.
Also Read | Virat Kohli takes on Rahul Dravid in nets as India head coach gives throwdowns to the captain, BCCI shares video - Watch
"It's simply about money, it has to be. There's no way that Mumbai [Indians] didn't want Hardik Pandya, every franchise wants him. But they would have only been able to offer him that third spot because and Bumrah and Rohit rightly take up those two slots," Vettori said on ESPNCricinfo.
"So unfortunately for Mumbai, they are the product of their own success. And this was Venky's point when we were discussing with him that you develop players and you get them to a point where they are critical to a franchise but then it's incredibly difficult to hold onto them. I am sure that Hardik Pandya would have been a top priority but they just couldn't fit him in."
Also Read | 'Kapil Dev is at the top. But Ashwin should be considered one of India's very good all-rounders', says New Zealand great
The second reason why MI and Pandya parted ways, as per Vettori could be individual interest and the all-rounder's urge to play with a different set of players, and in Pandya's case, could be KL Rahul. With Rahul also leaving Punjab Kings and deciding to head into the mega-auction pool, Vettori brought to attention the close bond the two players share and feels it could have been another factor behind the decision.
"He probably feels like he has developed himself and there maybe alliances forming. That may be a factor as well. KL and Hardik are extremely close so there may be an opportunity for them to all join up with luck now. All these things in the background may be happening at the moment and we will only find out in the coming days and weeks if it comes to fruition. I think there are a lot of players trying to play together," added the former New Zealand spinner.