Wasim Jaffer says he doesn't know anything other than cricket after Ranji Trophy win
Wasim Jaffer guided Vidarbha to their maiden Ranji Trophy title when they Delhi in the final on Monday.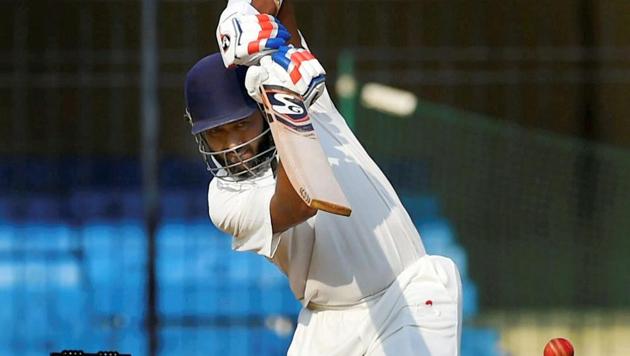 Updated on Jan 02, 2018 08:57 PM IST
Wasim Jaffer has been one of the most consistent performers in India's domestic circuit for over two decades.
After serving Mumbai for 19 seasons, which included eight Ranji Trophy wins, the former India batsman moved to Vidarbha in 2015. And on the first day of 2018, he won his ninth Ranji title with a team nobody would've thought could last the distance against seven-time champions Delhi.
Jaffer, 39, who scored 595 runs in nine games this season, conceded he didn't have many years left in him but will continue to play as long as fitness permitted.
READ | Gautam Gambhir's sweet message to Ranji Trophy champions Vidarbha wins hearts
"I don't know anything other than playing cricket. I can do a bit of coaching and commentating but it won't give me as much joy. There's always a lot of time to do all these things. I'll look to play as long as I can," said Jaffer, who has 17,824 runs in 241 first-class matches.
Asked what this victory meant for Vidarbha, he said: "To win the title, you need a little bit of luck. I always told the players to believe in themselves. From the start of the season, I always believed we could do something special.
"Vidarbha needed this kick-start. They need to carry this forward. They've got the quality and belief. It's all about maintaining the consistency now."
READ | Ranji Trophy final: Vidarbha skipper Faiz Fazal thrilled with 'biggest win'
Team over self
Jaffer, who played 31 Tests and two ODIs, said: "You don't need to play for statistics; you need to enjoy the game. You don't need to put too much pressure (on oneself) through statistics. As long as you enjoy the sport, as long as you enjoy what you are doing and you are contributing to the team, you don't need to be a burden on the side. That holds a lot more importance than statistics."
READ | Wasim Jaffer turns Santa Claus for Vidarbha in Ranji Trophy final vs Delhi
Asked how the win was different for him compared to the Vidarbha players who have won the Ranji Trophy for the first time, Jaffer said: "It is different. When we played against Karnataka, I don't think many people gave us a chance. Even on the second day, when they were 80 runs ahead, myself and Chandu (coach Chandrakant Pandit) told the team 'you need to believe things can change, there are so many overs to play and the pitch is doing all sorts of things, we just need to keep the belief'. We said even if we lose, people won't be surprised, but we need to lose fighting the battle, we shouldn't give up. That's what we said and things changed."
Vidarbha produced a sensational bowling performance led by Rajneesh Gurbani to win the semifinal by five runs after setting a modest fourth-innings target of 198 for Karnataka.
Close Story