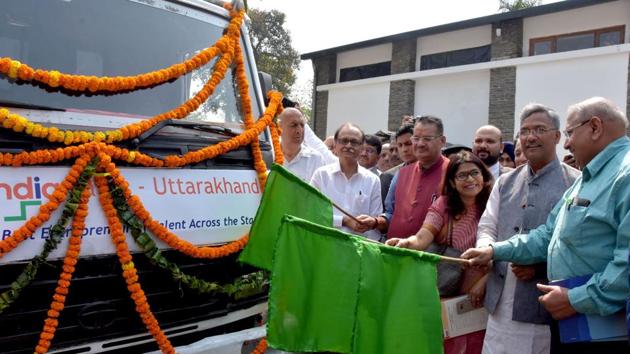 CM flags off 'Uttarakhand Startup Yatra' to promote entrepreneurial talents
Chief minister Trivendra Singh Rawat on Monday flagged off 'Uttarakhand Startup Yatra' to promote entrepreneurial talents
PUBLISHED ON APR 02, 2018 10:12 PM IST
Chief minister Trivendra Singh Rawat on Monday flagged off 'Uttarakhand Startup Yatra' to promote entrepreneurial talents.
During its 27-day state-wide itinerary, the yatra on a van, with experts on board, will cover 22 colleges to identify talents and provide them incubation facility to set up businesses under the 'Startup India' scheme.
Speaking on the occasion, the chief minister cautioned that the 'Startup Yatra' should succeed in its mission to select entrepreneurial talents, so the government could support them to set up their business ventures.
"The 'Startup Yatra' shouldn't turn out to be like other yatras that yield no results except hitting newspaper headlines for a few days.
"I hope this yatra will be purposeful and result oriented," he said before flagging off the 'Startup Yatra' being organised under the department of industrial policy and promotion's 'Invest India' and 'Startup India' schemes. On the occasion, Apoorv Sharma, co-founder, Venture catalyst, a start up incubator company, announced to invest Rs 100 crore in the state.
Uttarakhand is the fourth state where the 'Startup Yatra' is being taken out after Gujarat, Odisha and neighbouring Uttar Pradesh.
"I hope after their selection during the nearly moth long yatra the local entrepreneurial talents will be provided all support and proper ecosystem by officials to help them set up their business ventures," the chief minister said.
On the occasion, he unveiled a Startup Policy-2018. He asked officials to prepare an action plan so that a select group of entrepreneurial talents "would feel encouraged to launch startups based on natural resources the hill state is richly" endowed with.
"Such a system will help the local youth (comprising 57.5% of the state's population) to set up startups," Rawat said. "Through such business ventures they will also be able to create jobs for many local unemployed youth like them."
Rawat revealed that Uttarakhand that figures among the front ranking states on the parameter of 'ease of doing business', had further improved its position. "The state recently jumped into the sixth place from its ninth ranking in ease of doing business," he said.
Chief secretary Utpal Kumar Singh said the chief minister "has given us" the target of setting up 200 new startups in the next two years.
"The 'Startup Yatra' launched today is a very crucial step towards achieving the target we have been given," he said, adding 'Startup India' "provides entrepreneurial talents an opportunity to challenge the status quo.
"It (startups) is something that gives them an opportunity to challenge the existing system," he said, adding such an opportunity "is also" called the creative destruction.
"When you challenge the system the companies like Uber, which began as startups, find birth," Singh said.
He suggested that the department of industry introduce "a dedicated App or a website" so that entrepreneurial talents who would soon start establishing startups could be provided instant solutions.
"They are likely to face problems while starting their businesses. A dedicated app will help them share their problems with experts and officials, so they could get immediate guidance," he said.
"Any delays in providing them guidance could land them in trouble."
Manish Rai of Shrofile, a technological partner of 'Startup India', said during the yatra boot camps would be held in 22 colleges.
"Experts will pose three questions to students and their answers will be recorded. Later, a panel of officials will select them on the basis of those answers," he told Hindustan Times on the sidelines of the function.
Those selected would be entitled to a fund of ₹5 lakh each to be distributed by the state government.
"For such prospective entrepreneurs the Centre has also set aside a fund of ₹10,000 crore, which will be distributed among them depending upon the requirement of their start-ups," said Rai.
Close