Dalit youth killed allegedly over use of canal water in Haridwar village
Updated on May 12, 2018 05:03 PM IST
20-year-old Vikas, who had come to save his father Vedpal, was shot dead by one of the villagers. Vedpal and his cousin were also injured in the firing.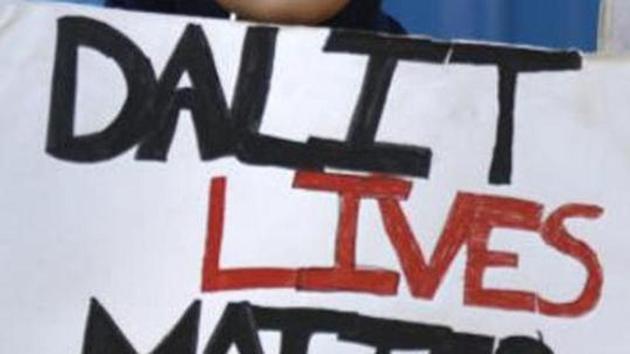 Hindustan Times, Haridwar |
, Haridwar
Sandeep Rawat
Tension prevailed in a Haridwar village after a Dalit youth was killed and his kin injured in shooting allegedly by people of a dominant caste who opposed their use of the village canal water for irrigation.
Villagers of Hatshyampur in Jhabreda block of Haridwar staged a sit-in demanding the arrest of the accused and refused entry to an ambulance bringing the body of the killed youth. District authorities deployed heavy police force and suspended internet services.
On Thursday evening, Vedpal, a Dalit, was irrigating his farm using the village canal when some villagers of a dominant caste tried to stop him. A war of words ensued which gave way to a physical fight.
Vedpal's son, Vikas (20), who came to save his father, was shot dead by one of the villagers. They also fired on Vedpal and his cousin Anit, injuring them seriously.
The assailants escaped after the incident. Injured Vedpal and Anit were taken to a hospital for treatment. Police later took Vikas's body for post-mortem. But, when they brought back the body on Friday, angry villagers stopped the ambulance at the village border. They demanded the arrest of the four accused and ₹20 lakh ex-gratia immediately for the kin of the victims.
Villagers were also angry at police for conducting the post-mortem at night and stalled the ambulance for about seven hours. As the situation became tense, district magistrate Deepak Rawat, superintendent of Haridwar police Krishan Kumar VK and SP City Mamta Vohra arrived at the spot.
Jhabreda legislator Deshraj Karnwal also arrived at the village but was drawn into a verbal altercation with some of the villagers. After much persistence by the DM and SSP, and with the announcement of the arrest of two persons in connection with the case and ₹8 lakh compensation, the villagers agreed to allow the ambulance.
Accused Lalit, Mehkar, Amit and Lokesh have been arrested, with three country-made revolvers and live cartridges, on Saturday.
After the final rites of the deceased were performed, some villagers pelted stones at a house in the village playing bhajans as they felt it disrespected the family of the deceased. However, it was learnt that someone had wrongly put on the music system.
SP Vohra said additional police personnel have been deployed and round-the-clock monitoring was being done.
Only a few days back, the brother of a local Dalit leader was shot dead in neighbouring Saharanpur in Uttar Pradesh.