'Doon Hospital sandwiched between being a medical college and dist hospital'
Updated on Sep 06, 2017 08:17 PM IST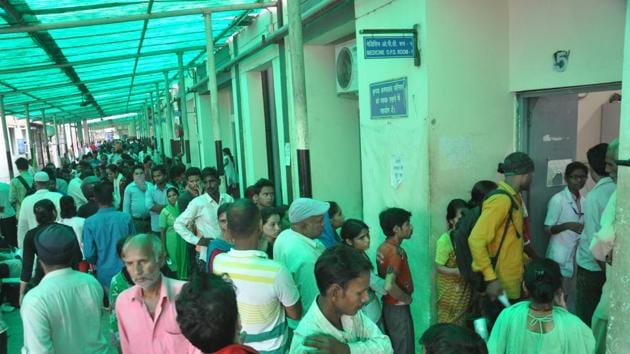 DEHRADUN: The opposition Congress has lashed out at the BJP government for failing to improve services at the Government Doon Medical College Hospital.
Previously a district hospital, the facility was turned into a medical college hospital in January last year. The hospital receives more than 2,000 outpatient department (OPD) patients every day. The hospital was transferred from the control of health department to its medical education counterpart. Since the change, several problems - including shortage of beds and medicines for patients and dearth of doctors have been reported.
Alleging how the facility at the Doon Hospital was "sandwiched between being a district hospital and a teaching hospital of a medical college", the Congress demanded a separate district hospital be established immediately. Lack of a district hospital in the state capital - where patients from across the Garhwal region arrive - was affecting public healthcare significantly, it alleged.
"Patients not just from Dehradun, but also from hill districts of Garhwal and adjoining towns of Uttar Pradesh arrive at the Doon Hospital with the hope of getting good treatment. But, even getting a bed becomes a major struggle for them," former Congress legislator Rajkumar said.
Citing his personal experience, even former chief minister Harish Rawat has written an open letter highlighting how many people are forced to seek treatment at private hospitals due to absence of advanced medical treatment at government hospitals in Dehradun. "I believe in the doctors of Doon Hospital, but I had to take the help of private hospitals in order to save my life," Rawat, who is suffering from a medical condition and undergoing treatment at a Delhi hospital, wrote in a social media post.
"We'd been waiting here since early morning for a doctor...and now we've been told that he'd not come," Jagdish Kumar, a resident of Shimla Bypass Road, who had brought in his son for an OPD visit on Wednesday, told HT. Another patient Jivan Ram, who had come from Tehri district, said he'd been coming since two days for a lab test but to no avail.
Chief Minister Trivendra Singh Rawat holds the health portfolio in Uttarakhand. Rawat's health advisor Navin Baluni asserted that the state government would certainly set up a full-fledged district hospital in the long run. "The long term plan is certainly there…but since right now the requisite funds are unavailable, we are going in for temporary measures to provide the best of facilities possible (at Doon Hospital)," Baluni told HT. "The CM has already asked officials to identify a plot for setting up a district hospital."
Underlining how one of the main hurdles in the hospital functioning was slow movement of funds, Baluni said he had held a meeting with health and medical education officials to ensure proper coordination. "Within 10 days, we're going to put in place a system wherein financial powers for running the hospital will be allotted to the chief medical superintendent of the hospital after which 90% of the problems will be sorted out."
Close Story
Personalise your news feed. Follow trending topics