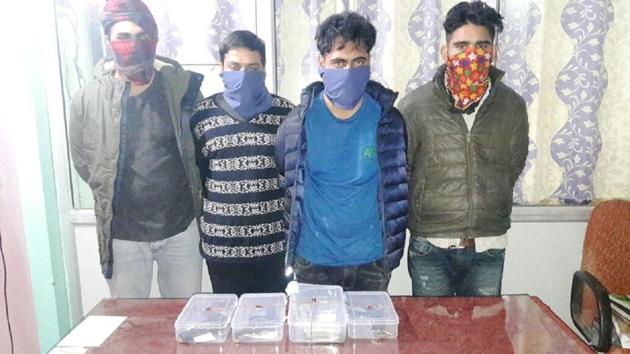 From Nabha jailbreak aides to Punjab gangster: criminals chose Dehradun as a hideout
UPDATED ON JAN 14, 2018 08:46 PM IST
Punjab's wanted gangster Harsimrandeep Singh alias Simma, who was arrested by a joint team of the Punjab and Dehradun police on Saturday, is not the only hardened criminal who chose to lie low in Dehradun.
In one of the most sensational arrests, two aides of the high-security Nabha jailbreak mastermind Parminder Singh alias Penda were found staying at Raipur area in November 2016. It was suspected that the jailbreak – which saw Khalistan Liberation Force chief Harminder Singh alias Mintoo along with five others escape from the Punjab prison – was planned at their hideout.
Last November, it came to light that three shooters, who fatally attacked gangster Devpal Rana at a Roorkee court, had been living in a rented apartment in Race Course area. Hired by another gangster Rishipal Rana, the flat was used by the shooters to plan the murder.
In April, Doon was shocked when the Jharkhand police along with its Uttarakhand counterpart arrested dreaded criminal Vikram Sharma from Aman Vihar area. Wanted in many cases and carrying a reward of Rs 30,000, Sharma was hiding in Dehradun since 2012 to evade arrest.
Even Shahrukh Pathan, a sharpshooter who worked for the notorious interstate Jeeva Gang, confessed to have stayed in Dehradun for about a month last year. Wanted in the murder of Haridwar-based businessman Amit Dixit in March 2017, the hardcore criminal carrying a reward of Rs 60,000 was arrested from Delhi by the Special Task Force of the Uttarakhand police in November.
Former director general of police Aloke Bihari Lal said a criminal rushing away to evade arrest has two things in mind. "They run away from the safest escape route and they'd like to go to a place (to hide) where there's possibility of an easy hideout."
Being a gateway to the Garhwal hills and the base for hill towns like Mussoorie, Dhanaulti and Chakrata, Dehradun gets more than 20 lakh tourists annually. It is well connected with Punjab, Himachal Pradesh, Uttar Pradesh and Delhi by roads. "The distance can be easily covered in a matter of few hours."
Additional director general of police, law and order, Ashok Kumar said such criminals often take advantage of interstate boundaries as officials in other states may not know about 'wanted status'. "Likewise, criminals from here hide in other states. Moreover, it is easy for people to hide in tourist places like Dehradun which have a high floating population (almost 1 lakh)."
With full-fledged functioning of state-of-the-art, technology based criminal tracking network and system (CCTNS), things will become difficult for such criminals looking to enter Uttarakhand, he added.
Superintendent of police (city) Pradeep Kumar Rai said the police would take action against the owner of the house (where Singh and accomplices were hiding) for not carrying out police verification of tenants. Later in the day, a challan was also slapped against the house owner under the Police Act.
A hardened criminal, Harsimrandeep Singh alias Simma has a long history of crime and carried a reward of Rs 2 lakh in Punjab. He had allegedly murdered a rice mill owner in Punjab's Faridkot in July last year and confessed to having committed the crime on a Facebook post.
Singh along with three other accomplices was arrested after a joint operation by the Dehradun and Punjab police from Rajendra Nagar area here late on Saturday, Dehradun senior superintendent of police Nivedita Kukreti Kumar said. A revolver and six live cartridges were confiscated from Singh, who has been allegedly involved in several cases of extortion, murder, loot at gunpoint and abduction in Punjab. He hails from Bewal Kalan village in Bajakhana area of Faridkot.
His accomplices - Phoolvinder Singh from Faridkot and Ramesh Kumar and Rohit Badu from Hanumangarh (Rajasthan) - were also arrested with arms. All the accused were booked under the Arms Act. The four were produced before a court on Sunday which sent them to police custody for two days.
Close