Modi govt protecting secular ethos, says vice-president Naidu
The vice-president says the Centre is acting in the spirit of 'Sarva Dharma Sambhav (equal respect for all religions) and 'Sabka Sath, Sabka Vikas'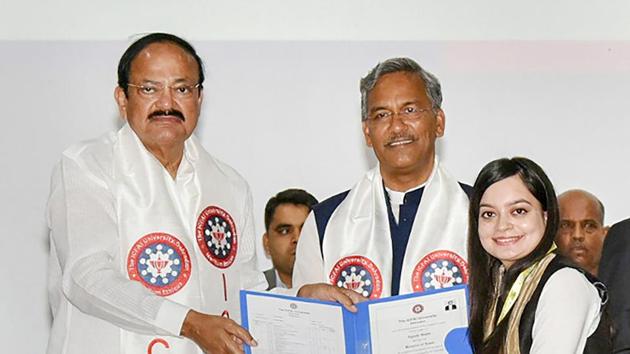 Updated on Jul 14, 2018 08:22 PM IST
There is no threat to secularism and the Centre is "strongly" protecting India's age-old secular ethos, vice-president M Venkaiah Naidu said on Saturday, making a veiled attack on the opposition parties accusing the Narendra Modi-led BJP government of targeting the country's secular fabric.
"The (central) government is acting in the spirit of 'Sarva Dharma Sambhav (equal respect for all religions) and 'Sabka Sath, Sabka Vikas', which means nationalism," he said while speaking at the convocation ceremony of ICFAI (Institute of Chartered Financial Analysts of India) University in Dehradun. "By acting in that spirit, it (the central government) is also protecting secularism."
Naidu urged the youth to be nationalists in their approach. "Similarly, be proud of your mother and the motherland, and speak in the local language or mother tongue," he said. "The kind of feeling you experience while addressing your mother as 'Amma' you will not experience it when you will address her as 'Mom'," he said. "You should be allowed to speak in your respective mother tongues (even on campuses)."
Appreciating the Modi government for "pushing forward" economic reforms, Naidu expressed satisfaction at the way the projects and schemes are being implemented. "A number of schemes have been introduced by the Centre and the state governments but the problem is in implementation," he said, adding governments "are answerable to the people, if problems crop up" in execution of schemes.
Naidu gave credit for economic reforms to the previous Congress governments headed by former prime ministers Narsimha Rao and Manmohan Singh. "Both of them were instrumental in introducing economic reforms," Naidu said, appreciating Modi for accelerating the process.
"The Prime Minister is pushing forward economic reforms…But there will also be hiccups and challenges," he said, referring to the recently introduced goods and services tax (GST), a uniform tax regime. "But all such glitches are getting sorted out…The latest case in point is the goods and services tax," he said, adding India "is the world's sixth biggest economic power, which is a matter of pride for all of us."
Naidu urged the youth to seize the opportunities thrown up by economic reforms. "There are a number of schemes, which you can benefit from, owing to the expertise you have acquired while being trained in institutes and universities like ICFAI University," he said, referring to the schemes, such as 'Make in India', 'Skill India' and 'Digital India'.
Naidu gave the youth the mantra of 'reform, perform and transform' so as to utilise their expertise in giving boost to the country's inclusive growth. "Growth should not be confined to a few sections but it should be widespread," he said, appealing to the youth to "dream big and also work real hard to realise" those dreams.
On the occasion, degrees were conferred upon 249 students who passed out from ICFAI University. Out of them, 24 students were conferred silver, gold and bronze medals. The students were from disciplines, such as law, engineering, education and management.
Close Story