Nainital's 'Neki Ki Deewar' making locals, tourists happy
Inspired by an initiative of Madhya Pradesh's happiness department, hundreds of kilometres away, people in this Himalayan hill station have also started a 'Neki Ki Deewar' that is being appreciated even by tourists, who arrive here in large numbers these days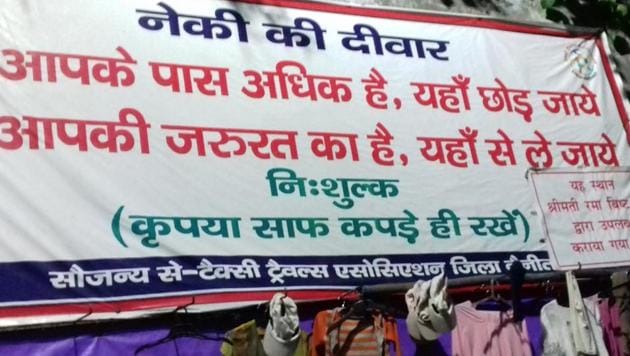 Published on May 13, 2018 09:57 PM IST
Inspired by an initiative of Madhya Pradesh's happiness department, hundreds of kilometres away, people in this Himalayan hill station have also started a 'Neki Ki Deewar' that is being appreciated even by tourists, who arrive here in large numbers these days.
'Neki ke deewars' or Annandams are places people share their surplus, especially clothes and other household items, with the lesser privileged.
In 2016, after the Shivraj Singh Chouhan government set up the country's first happiness department, now called as 'Rajya Anand Sansthan', over 172 anandams or neki ke deewars were been set up in Madhya Pradesh.
Taking inspiration from the same concept, Nanital's Taxi and Travel Association, which has nearly 400 members, set up a 'Neki ki Deewar' on Mall Road that meanders around the mango-shaped Nainital lake.
Neeraj Joshi, president of Nainital's Taxi and Travel Association, said they liked the initiative started by Madhya Pradesh's happiness department and wanted to start something similar here.
"And it has been a success. I think it is the first such initiative in Uttarakhand. People leave their clothes and other stuff here and needy, especially those working here as labourers or workers in the shops, hotels and restaurants, take them. Sometimes poor labourers, come here to search for warm clothing. And when they find some good clothes, they are very happy," he said.
Mohammad Kamil, who runs a travel agency here, said the best thing about the Neki Ke Deewar, which was set up nearly six months ago here, "is that it is not locked here like many are in Madhya Pradesh".
"The 'Neki ki deewar' here is open day and night and nobody steals or takes more stuff than they require. It has been a good experience so far," he said.
Tourists, who see the initiative on busy Mall Road, are appreciative of the local people and traders.
"Suddenly, we came across this wall where there is a banner saying it is 'Neki ki Deewar'. And then there is a message that reads 'what you have in excess, leave here and what you need, take from here'. I was very happy to see it. People here have done a good thing," said Shashi Shekhar Deshpande, a tourist from Faridabad.
Another tourist, Ramesh Chander Dixit, from Delhi said it was inspiring to see such noble initiatives at a time when society was increasingly becoming consumerist and self-centred.
"We need more such initiatives here and elsewhere in the country," he said.
It was in August 2016, MP became the first state in the country to set up a happiness department.
The concept has its roots in Bhutan's concept of measuring 'gross domestic happiness'– adopted in 1972 by the Himalayan kingdom's fourth king Jigme Singye Wangchuck.
People who volunteer to work for the happiness department are called Anandaks or happiness volunteers, who besides their routine work, are required to work for making people happy and start initiatives like 'Neki Ke deewar', Anand Clubs and organise Anand sabhas.
Close Story
Personalise your news feed. Follow trending topics