Nainital traffic crawls to halt as weekend tourists' vehicles hog roads, parking lots
Published on Jun 10, 2018 09:53 PM IST
With a large number of tourists, especially from Delhi, flocking Nainital, the small hill station is witnessing its worst traffic problems. Traffic jams and parking issues are reporting from both within the city and on approach roads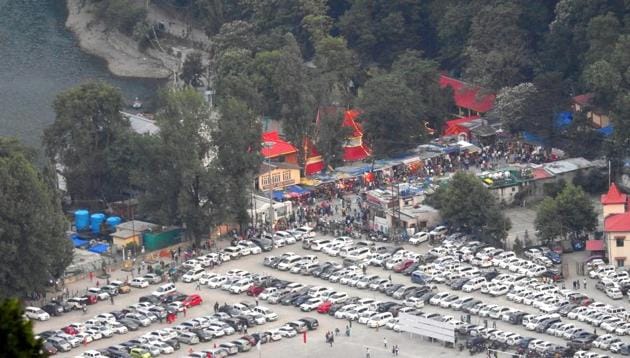 With a large number of tourists, especially from Delhi, flocking Nainital, the small hill station is witnessing its worst traffic problems. Traffic jams and parking issues are reporting from both within the city and on approach roads.
In the current peak tourist season, the number of tourists and tourist vehicles arriving in Nainital has gone beyond its carrying capacity, forcing authorities to stop tourist vehicles temporarily on the city outskirts -- Kaladunghi, Narayan Nagar, Roosi Bypass and so on.
Local sources said on weekdays around 1,000 vehicles enter Nainital, which increases to over 2,000 on weekends.
On Saturday, authorities had to stop tourist vehicles from Kaladungi side and on Sunday, the vehicles have been again stopped on approach roads at Narayan Nagar, Kaladungi and so on.
District authorities are having a tough time to manage the traffic pouring into the small hill station. District magistrate Nainital Vinod Kumar Suman said the situation was likely to continue for next 10 days.
"Very large number of tourists are coming here these days. Despite our efforts to temporarily restrict their entry into Nainital by stopping their vehicles on the approach roads for some time, tourists somehow want to reach here. This is leading to traffic chaos in some areas," he said.
He said more spacious parking arrangements were being created at Narayan Nagar and Roosi Bypass to ease the traffic management in the coming time. The worst affected is the Mall Road and the side roads.
The number of tourists in Nainital is so large that people are finding it difficult even to walk on the crowded Mall Raod, where the traffic is banned between 6 to 9 pm.
As the traffic during these hours is diverted, there are traffic jams on the side road and other approach roads.
Tourists, who come to the hill station to get respite from the heat of the plains, are feeling annoyed once they get caught in the traffic chaos and have difficulty in finding the parking for their vehicles.
"We have come here with a family of six, including children. I never thought there would be much traffic jam here and we would have to wait for such a long time to reach our hotel. It took us three hours more to reach our hotel," said Dhananjay Pandey from Gurgaon.
Another tourist Suketu Sharma from Faridabad said he was not aware of the high court directions that visitors getting their vehicles here have to ensure their parking.
"First I didn't know that. And second, I don't think with so many tourist vehicles here, it is possible for hoteliers to provide parking for all of them. The fact remains that authorities should create big parking spaces in the approach roads and then start a good shuttle service for the tourists. Otherwise, such traffic problems will further worsen in the coming time," he said.
In April, the high court given directions to the state government to ensure though national dailies that "those coming to Nainital with their own vehicles should first make advance arrangements for parking their vehicles".
The court had also directed the divisional forest officer (DFO) and cantonment board that they should cooperate with the district authorities in their efforts to create more parking spaces in and around Nainital.
Drivers, who have been plying on Nainital roads for years, said it was high time authorities should take some concrete steps to resolve this issue.
"A few big parking spaces should be built on the outskirts of Nainital. There should be a ban on tourist vehicles within Nainital for local sightseeing, They can go to tourist spots outside Nainital in their vehicles, but not in the city. Also, the hotel and resort owners should create more parking spaces to lessen the burden on authorities," said taxi driver Sahil Sharma.
Mahesh Chandra, in-charge traffic police in Nainital, said on Saturday on a particular road stretch they recorded that 80 vehicles were entering Nainital in 10 minutes.
"If you work out the maths based on this, roughly 3,000 to 4,000 vehicles are arriving in Nainital daily. This is a huge number. We are trying our best to manage this by temporarily stopping vehicles on the outskirts to ease out the traffic pressure inside Nainital. Our men on the roads are coordinating with each other to ensure the situation doesn't become messy," he said.
Personalise your news feed. Follow trending topics