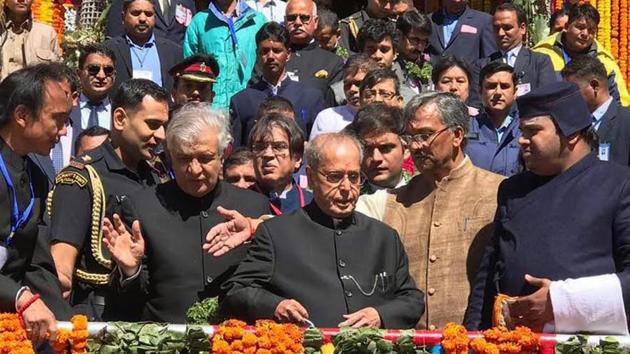 President offers prayers at Badrinath
Hindustan Times | By Arvind Moudgill
UPDATED ON MAY 06, 2017 07:49 PM IST
JOSHIMATH: President Pranab Mukherjee offered prayers at the Badrinath shrine - one of the Chardham - whose portals were reopened for pilgrims on Saturday.
The temple was opened after a six-month winter break in the morning amid chanting of Vedic mantras. With this all the four dhams, Gangotri, Yamunotri (April 28) and Kedarnath (May 3) are now opened for pilgrims.
Mukherjee spent nearly an hour at the temple and offered prayers to Lord Badri Vishal. Governor KK Paul, chief minister TS Rawat, tourism minister Satpal Maharaj, Badrinath MLA Mahendra Bhatt and his Srinagar counterpart Dhan Singh were present at the temple.
The temple's head priest, Raval Ishwari Prasad Namboodari, presented a shawl and a memento of the temple to Mukherjee with at 'Singh Dwar', the main gate of the temple. The President was also given 'prashad' in a cane basket.
Officers said Mukherjee is the fifth President to visit Badrinath. Though a palanquin was arranged for the President to cover the distance of about 1.5 km from the helipad, Mukherjee walked all the way to the temple.
More than 15,000 devotees had reached the Badrinath Dham by Friday night. The devotees lined up in the queue nearly 12 hours before the opening of the portals despite the cold at night. They were allowed to enter the temple premises after 10:30 am once the VIP visit was over.
The temple was decorated with yellow and saffron flowers. Women from Bamni and Mana villages performed the ritual dance to the tune of folk songs to celebrate the homecoming of Lord Badri Vishal.
The 2013 flashflood had almost stopped the inflow of the devotees to Badrinath. It was only after two years that the pilgrimage revived when more than 3.5 lakh devotees visited the shrine. The number of devotees almost doubled in 2016 when 6.25 lakh pilgrims reached Badrinath. Officials of Badri Kedar Temple Committee are expecting more than 10 lakh devotees this year.
Close