Storm and rains kill two; leave behind trail of destruction
Updated on May 03, 2018 10:01 PM IST
The weather department said there were chances of rain in some parts of the state in the next 24 hours.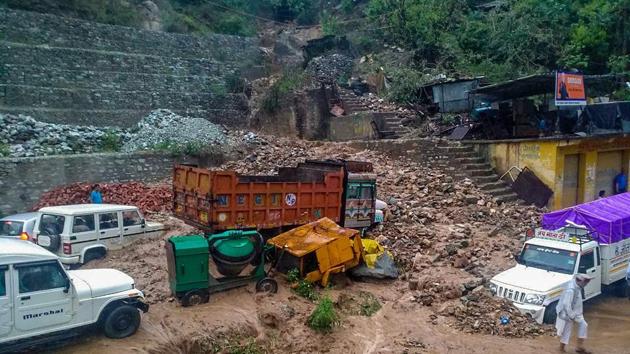 letters@htlive.com
The powerful storms followed by rain that tore across northern India late Wednesday killed two people in Kumaon region of Uttarakhand and left several others injured. It also left behind a trail of destruction, uprooting trees, bringing down electricity poles, and damaging houses.
The weather improved on Thursday and officials remained busy restoring broken water supply and power lines. The weather department, however, said there were chances of rain in some parts of the state in the next 24 hours.
According to state disaster and mitigation centre, two persons were killed due to thunderstorm related incidents in the Kumaon region. One Ajay Kumar (32) was killed after a tree fell on him on Almora – Jageshwar highway on Wednesday noon. Another Md Arif was crushed to death by an oncoming vehicle, which he failed to spot in sudden squall in US Nagar district. Arif was returning home after closing his shop in Kelakhera area.
The sudden rain also put on halt for some time the ongoing Chardham pilgrimage. Officials, however, claimed that normalcy was restored after debris were cleared particularly in Chamoli and Utttarkashi districts. There were reports of a cloud burst in Narayan Bagar of Chamoli after rainwater brought down tonnes of debris. The Chamoli police, however, denied the cloud burst. In an official communiqué it said "some vehicles were trapped as the rain and debris blocked Badrinath highway. The highway has been cleared now."
Kedarnath MLA Manoj Rawat toured Narayan Bagar area. He accused the officials "of being least concerned" towards restoring normalcy in the area.
In Dehradun, the storm uprooted many trees. The high-speed winds also had an effect on the electricity supply. The villages in the Jaunpur area near Mussoorie were reeling in the dark. Reports suggested electricity and water supply had also been affected in Nainital, Haldwani and several other locations in the interiors.
Meanwhile, a fresh Western Disturbance is approaching and likely to affect Western Himalayan region from May 5, warned the Uttarakhand metrological centre.
The untimely rains and storm since Sunday left an adverse impact on the fruit flowering in Uttarakhand, officials said . As per Nainital's district horticulture officer TN Pande, the rains and storm have affected roughly 25% of fruit belt in the region.
"Mango and litchi growers have particularly suffered heavy loss," Pande said.
The Ramnagar region in Nainital district is the major lichi and mango growing belt. Agriculture department officials said some 20% vegetable crops and 25-30% potato crop has been damaged in the hills. A detailed field survey will be carried out soon to ascertain the exact loss. Nihal Singh, a vegetable grower from Dehradun's Sahaspur area complained that half of the crop has been damaged due to untimely rains.
Personalise your news feed. Follow trending topics