Water sources in Uttarakhand depleting at alarming rate: Experts
Updated on Feb 23, 2018 09:50 PM IST
Dr JS Rawat has been researching on Kosi river, that originates near Almora, since 1992.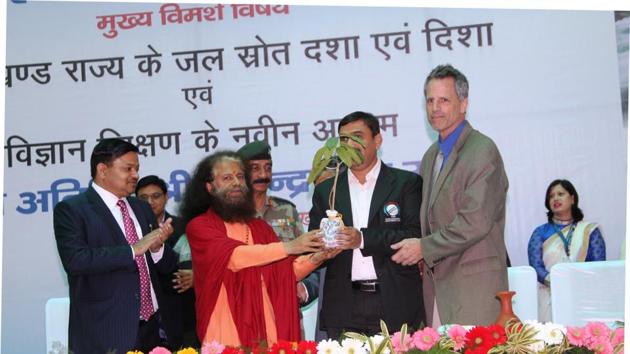 The rate at which non-glacial rivers in Uttarakhand are drying up has escalated in the last two decades. Rivers like Kosi, Rispana, Gagas, Saryu and Gaula have lost most of their catchment areas, said Dr JS Rawat, from Kumaon University on Friday.
He was speaking at a two-day science conclave organised by the Uttarakhand Science Education and Research Centre (USERC) and inaugurated at Graphic Era University here on Friday. Dr Rawat has been researching on Kosi river, that originates near Almora, since 1992.
In his presentation on river Kosi, Dr Rawat said that 2003 was historic for it because this was the year when Kosi was officially declared a seasonal river from being a perennial river earlier. "The lean annual flow of Kosi has decreased from 790 litre per sec in 1992 to 48 litre per sec in 2017. Non-glacial rivers are important as majority of population in the hills are dependent on them," he said, adding that even Saryu is now a non-glacial river.
Speaking on Nainital lake, Dr Charu C Pant, department of geology, Kumaon University, said that the water storage capacity of Nainital lake is decreasing with the increasing rate of sedimentation. "The lake in Nainital gets nearly 40% of its water from Sukhatal. But the recharge area has dried up due to encroachment. The discharge volume of other natural springs has also dwindled in the recent past."
He added that Nainital is no longer a self-sustaining lake. "The entire town is dependent on it for water. The quantity of water that is being pumped out to meet the needs of tourists and locals is far more than what natural sources feed the lake with."
The seminar also focused on rejuvenation of the Rispana river that flows through Dehradun.
Col HRS Rana, commandant of the Eco Task Force said, "We are carrying out a massive tree plantation drive in the catchment area of the river. Besides this, other interventions are being brought in to clean the river in a systematic manner."
However, it is not that the source of Rispana has dried up. "The interesting part with Rispana is that water is available at its source and its end, but in between the river has dried and turned into a drain," said Dr Durgesh Pant, chairperson of USERC.
Experts were unanimous in their opinion that to revive rivers, the interventions have to be first made in the catchment. "We must understand that the groundwater level in the catchment has to be recharged for the revival to regain its flow," said Dr RP Pandey, scientist at the National Institute of Hydrology, Roorkee.
He added that the institute is working on a year-long project to study a one-year climatic cycle of Rispana. "Once the study is completed, we will be able to present specific micro interventions that are required to revive the river," he said.