AAP govt report card: Here's what Arvind Kejriwal has done for Delhi in 3 years
Hindustan Times |
Sweta Goswami and Ashish Mishra
Feb 15, 2018 01:28 PM IST
In 2014 Lok Sabha elections, AAP failed to win a single seat but got a thumping majority a few months later in the assembly polls. Take a look at the government's report card as it completes three years.
The Aam Aadmi Party, that came to power in 2015 after a massive victory in Delhi assembly polls, completed three years on Wednesday. While the Arvind Kejriwal-led government continues to pursue its populist schemes such as power and water subsidy, it failed to address the critical problems of pollution and poor public transport.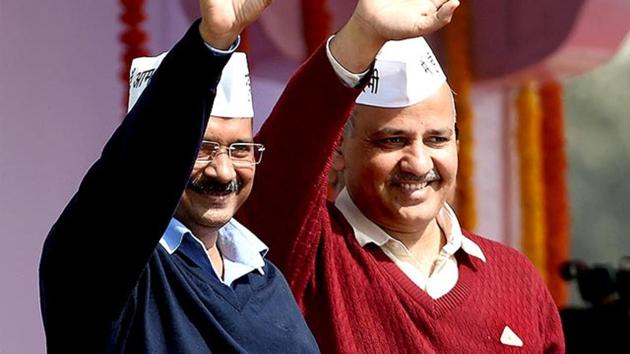 In an interview earlier, Deputy chief minister Manish Sisodia had said that governance in Delhi is now in the "fourth gear". "Our main projects have been streamlined and approvals have been taken. Now, the stage is set for implementation. People will see results in the next two years," Sisodia said.
Here is a look at how successful the government has been so far in translating its promises on ground:
Performance vs promises
Power subsidy 50% subsidy on electricity bills continues, no major hike in power tariff
Free water Free 20 kilolitre water scheme continues
Education Over 8,000 classrooms, including refurbished ones, built. Teachers get specialised training, private schools not allowed to hike fee, Rs 10 lakh loan for higher education
Mohalla clinics Of 180 clinics, 160 providing free healthcare. Sites identified for 668 more. Total target is 1,000
Minimum wages Minimum wages of unskilled workers have been increased from Rs 9,724 to Rs 13,350 per month, for semi-skilled workers from Rs 10,764 to Rs 14,698 and for skilled labourers from Rs 11,830 to Rs 16,182
Pension hiked Disability pension, old age pension and widow pension have been increased by Rs 1,000 each
Compensation scheme Rs 1 crore compensation for the family of security personnel in case of their on-duty death
Development in illegal colonies Laying drains, sewer lines and water pipelines underway. Government claims all colonies to be covered by December
Ease of documents 200 categories of affidavits sought by various departments, local bodies and other organisations junked. Only self-certification is required now
Lowest VAT regime VAT rates reduced in several categories from 12.5% to 5%. However, in July last year, the GST was implemented in Delhi
Swaraj bill The government called it the Mohalla Sabha Bill. The L-G did not approve the proposal
Jan Lokpal Bill The Delhi Assembly passed the Bill in 2015 but it is pending Centre's approval
Yamuna's revival Promise to develop a 5-km riverfront on Yamuna not fulfilled. Former water minister Kapil Mishra had announced to make Yamuna fit for bathing in 36 months. There is no concrete plan yet
Free Wi-Fi Project yet to take off, no tender issued yet
Aaam Aadmi Canteen Plan to open 100 canteens, offering low-cost food. One canteen was opened in LNJP Hospital on pilot basis, but it was shut down after two months
New Degree Colleges Plan to open 20 new degree colleges was junked since affiliated colleges can be opened only with Delhi University.
Public Transport No new DTC buses have been. But, 2,000 buses are likely to be rolled out by end of this year. Last-mile connectivity also remains poor
Regularisation of illegal colonies Government has begun the survey to identify such colonies now
2 lakh public toilets The government has only built 21,000 community toilets out of the 1.5 lakh target
Roads and infrastructure The Rs 5,000-crore-plan to redesign 10 roads to decongest them is stuck in bureaucratic hurdles. The plan to build an east-west elevated corridor (Anand Vihar terminal to Peeragarhi) and north-south corridor (Wazirabad to Airport) yet to see light of the day
WHAT LIES AHEAD
Here are some the schemes and projects that the AAP government plans to bring in over the next two years.
Doorstep delivery of services: Birth, death, income, caste certificates, driving licence and ration to car holders to be delivered at doorstep
Health card: A smart card with ID details and medical history of the patient. But tender has no mention of medical history
24X7 surveillance: 1.4 lakh CCTV cameras to be installed in all residential areas and markets by October. Plans afoot to put cameras in buses and schools
Electric buses: 1,000 AC electric buses will be rolled out over the two years
Decentralised STPs: 600 locations have been identified to set up small scale sewage treatment plants in unauthorised colonies
Skill centres and anganwadis: 25 skill centres across Delhi to be opened in the next two years. One such centre has been approved at Jonapur. Anganwadis will also be revamped
Landscaping roads: 500 kms of PWD roads will be beautified with plants, shrubs and artworks
"Exciting news! Hindustan Times is now on WhatsApp Channels
Subscribe today by clicking the link and stay updated with the latest news!"
Click here!