Ahead of Delhi half marathon, air quality in city 'very poor'
Updated on Oct 20, 2018 11:22 PM IST
Early on Sunday, athletes and running enthusiasts will set off on a 21km loop at the Jawaharlal Nehru Stadium and cross several stretches of central Delhi before the event ends at its starting point.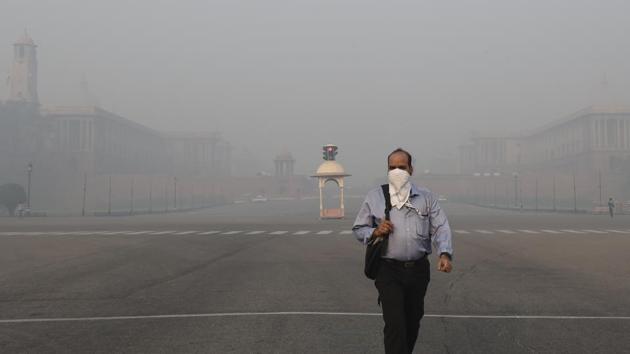 Hindustan Times, New Delhi |
HT Correspondent
Delhi's air quality deteriorated to "very poor" on Saturday, a day before the Airtel Delhi Half Marathon, exposing participants to the risk of exposure to atmospheric pollutants that are expected to remain at elevated levels for at least the next couple of days .
Early on Sunday, athletes and running enthusiasts will set off on a 21km loop at the Jawaharlal Nehru Stadium and cross several stretches of central Delhi before the event ends at its starting point.
For the participants, the India Meteorological Department (IMD)'s forecast, sent to the Central Pollution Control Board (CPCB) on Saturday, didn't seem benign. Stubble burning in the farms of Punjab and Haryana, a north-westerly wind blowing pollutants into the city and low wind speeds of about 5 kilometers per hour don't promise any immediate improvement.
"We are not expecting any improvement in air quality in the next couple of days. Even on October 22 (Monday), the wind direction will be westerly," a CPCB official said on condition of anonymity.
Over the past week, air quality in the Capital has been in the "poor" category, except on October 17, when it touched "very poor." Apart from stubble burning in nearby states, pollution is stoked by local factors such as vehicular emissions, and road and construction dust. Absence of rains and low wind speeds don't help.
"While the wind direction is north-westerly, there is also an easterly component near the surface. There is a cyclonic circulation over Rajasthan, but we are not expecting rain. The conditions are not favourable for dispersal of pollutants. If there is more influx of pollutants from outside and increase in local emissions, pollution levels will rise," said BP Yadav, deputy director general at IMD.
NASA data shows there have been 2,056 fires in Punjab and 1,985 in Haryana between September 18 and October 19. The stubble burning fires are likely to continue for another week. NASA aerosol optical depth (AOD) maps of north India including Delhi showed high levels of AOD, an indirect proxy for air quality. It's a measure of the solid and liquid particles in air that block sunlight and lead to smog .
In an advisory, meanwhile, organisers of the half marathon said they were spraying water on the ground and using mist fans to reduce the effects of pollution along the route. The organisers also said they were using a technology that reduces carbon dioxide, nitrogen oxide, sulfur dioxide and particulate matter in the coverage area.
Dilip Jayaram, CEO, Procam International said: "For the last three days we have been monitoring the effectiveness of deploying the Devic Earth Pure Skies system for the first time. The systems and additional sensors are deployed at two locations -- Le Meredien and Jawaharlal Nehru stadium. The system has been effective and has managed to bring down the micro pollutants covering the entire stretch of the half marathon route by more than 33%."
Anumita Roychowdhury, head of the Centre for Science and Environment (CSE)'s clean air programme, said: "During all high-profile sporting events, there is requirement from the organiser's side that the host city should maintain air quality." "We all know that athletes breathe more air when they are physically active so they are exposed more to polluted air and that has short-term health effects. It also affects performance. So it's a binding requirement on local governments to maintain safe air quality. Scheduling of sporting events should be thorough. Our AQI (air quality index) also says that one shouldn't do heavy exercise outside when the air is polluted," she added.
The minimum temperature in the Capital has started falling, leading to a slight chill in the morning and at night. The minimum temperature on Saturday was 17.4 degrees Celsius, 1 degree below normal. The forecast for Sunday is a clear sky with mild mist in the morning. The maximum and minimum temperatures are likely to be around 32 and 17 degrees, respectively.
Personalise your news feed. Follow trending topics